BITCOIN PRICE – CRYPTO MARKET SEES REMARKABLE RECOVERY AFTER MASSIVE CRASH TAKES IT TO 2021 LOW
By Crypto Global News
Bitcoin has bounced back on Wednesday after a series of price crashes over the last few days took the cryptocurrency to its lowest point of 2021.
After briefly reaching below $29,000 on Tuesday, bitcoin is now back above $34,000 and appears to be trending upwards.
Ethereum (ether), Cardano (ada), dogecoin and other leading cryptocurrencies have mirrored this movement, adding $200 billion to the market overnight.
The rebound means crypto analysts remain divided over whether the losses are part of a broader bear market, or simply a price correction midway through a bull run that will take bitcoin to new record highs later this year.
Major investors appear convinced it is the latter, with MicroStrategy ploughing another half a billion dollars into bitcoin earlier this week. The founder of dogecoin also revealed he invested in the cryptocurrency for the first time in eight years.
We'll have all the latest news, analysis and expert price predictions right here.
El Salvador president shares 'sneak peak' of volcano-powered bitcoin mines
President Nayib Bukele from El Salvador has shared some mocked up images of the geothermal bitcoin mines that are being constructed in the country.
President Bukele made monetary history earlier this month by passing the Bitcoin Law through congress, making El Salvador the first country in the world to adopt the cryptocurrency as legal tender.
He then ordered the country's state-run geothermal energy utility to use power from volcanoes for bitcoin mining. It will be "very cheap, 100 per cent clean [and] 100 per cent renewable", he claims, and form part of the solution to shifting away from fossil fuel-powered operations.
Multi-billionaire says bitcoin is 'the modern world's gold'
Mexican billionaire Ricardo Salinas Pliego, whose net worth is $13.2 billion, has likened bitcoin to gold and argued that every investor should have some in their portfolio.
Speaking to José Rodriguez, former payments chief at crypto exchange Bitso, Pliego said 10 per cent of his liquid assets are in bitcoin due to its finite supply.
"All of bitcoin's benefits, in my opinion, are sufficient to make it the modern world's gold," he said in Spanish during the interview on YouTube.
"It's pointless to argue over whether it's a currency or not. the fact that Bitcoin is limited in supply, easy to transfer, and has a high level of worldwide liquidity are compelling reasons to consider it as part of an investment portfolio."
UN report cites 'promise' of cryptocurrency in fight against climate change
Cryptocurrencies and blockchain technology can be allies in the fight against climate change, according to UN experts.
A new report acknowledges recent criticism of the environmental impact of bitcoin mining but says there are solutions to this issue, and that its underlying technology actually holds "promise" for building a sustainable global economy and combatting climate change.
"The UN should continue experimenting in the blockchain space", says Minang Acharya, one of the authors of a recent UNEP foresight brief on the applications of blockchain.
"The more we experiment, the more we learn about the technology. This is likely to improve our UN-wide knowledge on blockchain, our understanding of the environmental and social implications of mining operations, and improve our chances of coping with any problems the technology may bring in the future."
Bitcoin price prediction model 'invalidated'?
The creator of a price prediction model that gained widespread attention during the latest bull run has said that the latest crash has made him "uneasy", as it could invalidate his analysis.
The pseudonymous Dutch analyst PlanB first published his Stock-to-Flow (S2F) model in 2019, when bitcoin was languishing below $4,000 and in the middle of a bear market. The model is based on bitcoin's in-built scarcity – only 21 million will ever exist – and puts the cryptocurrency on a path to $100,000 before the end of 2021.
PlanB updated his model in March 2020, when bitcoin was below $5,000, with the new peak set at $288,000. For the next year, bitcoin actually outperformed the model, but is now reaching the lower bands.
"I will call S2F invalidated if we have not reached 100k by Dec this year," he wrote. "We can not stay at current levels for the rest of the year."
Bitcoin-owning Senator 'buys the dip'
US Senator Cynthia Lummis says she was "really excited" by the recent bitcoin crash because it would allow her to buy more of the cryptocurrency at a cheaper price.
Speaking to Fox Business News when bitcoin was below $30,000 yesterday, the Republican lawmaker batted away comments from anchor Stuart Varney about bitcoin's "decline".
She said: "I'm really excited about it because as soon as it drops a little more I'm going to buy some more."
She also said she hoped any regulation that is introduced in the US will be "simple", "easy to understand" and "not overly restrictive".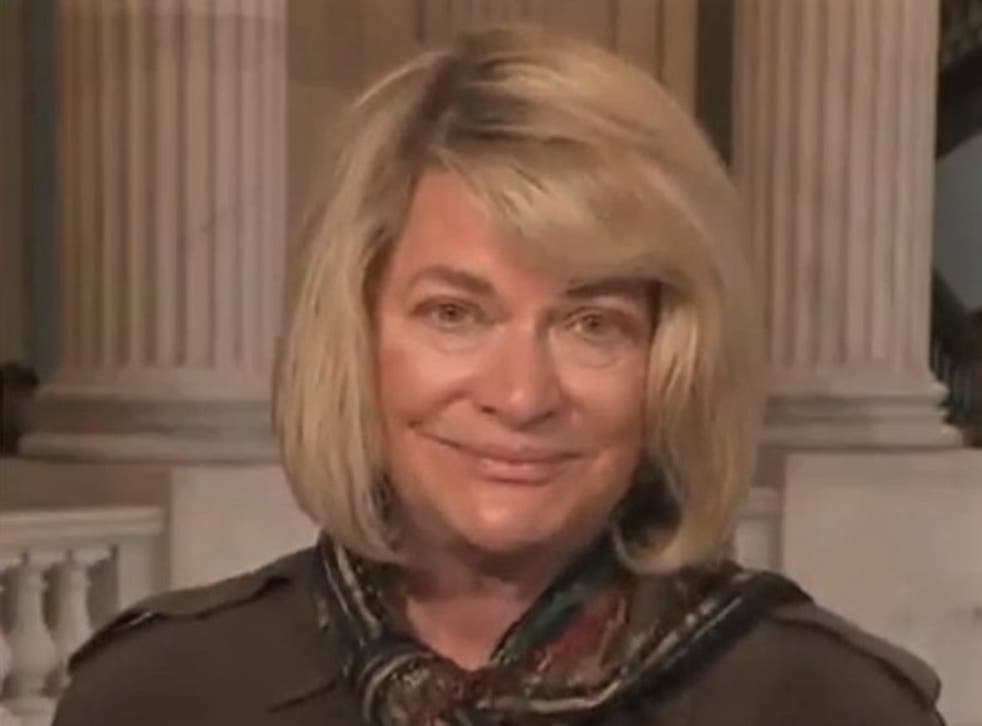 Bitcoin price back in the green
Bitcoin has bounced back well above $30,000, to the point that it is now trading higher than it was at this time yesterday.
It's a remarkable recovery of more than 10 per cent over the last few hours, following a devastating crash that took bitcoin to lows not seen in 2021.
Any major movements in either direction are often followed by significant corrections in the crypto market, so this is not so unusual. Having broken the $30,000 resistance level, however, traders will still likely be looking down rather than up right now.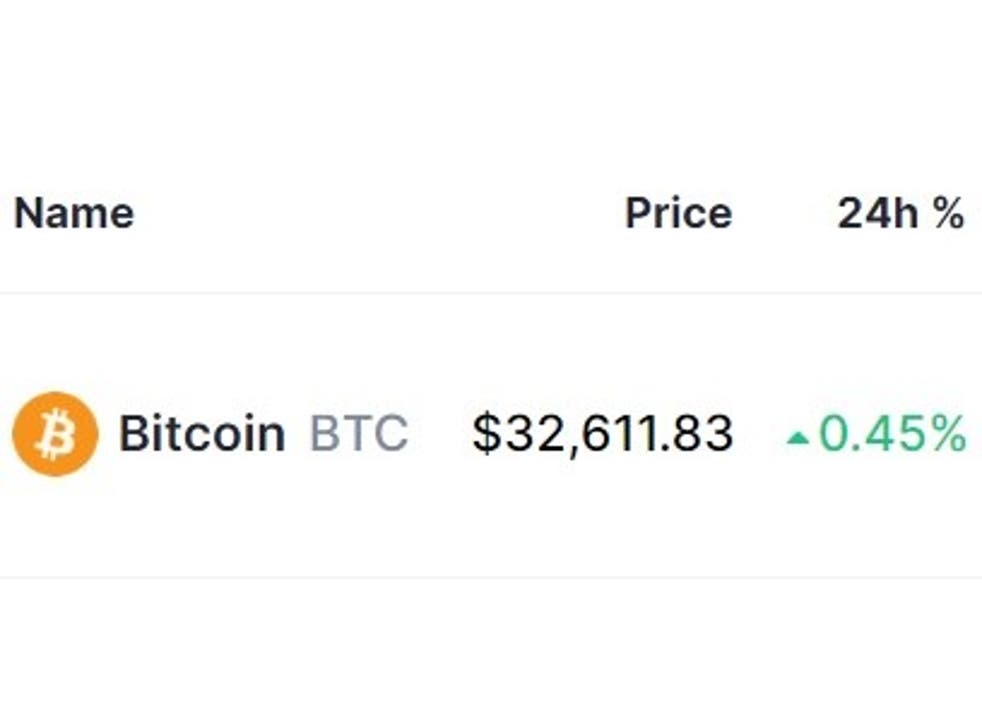 Dogecoin founder buys crypto for first time since 2013
Dogecoin founder Billy Markus says he has bought some of the meme-inspired cryptocurrency for the first time since he helped create it eight years ago.
The announcement comes after a massive price fall for dogecoin, which has seen it lose more than a third of its value over the last week.
Markus sold or spent his original holdings soon after creating the cryptocurrency alongside fellow software developer Jackson Palmer back in 2013. He did not reveal how much he bought, but said that since acquiring his new stash he has followed the pattern of many a new-time crypto investor by incessantly checking the price.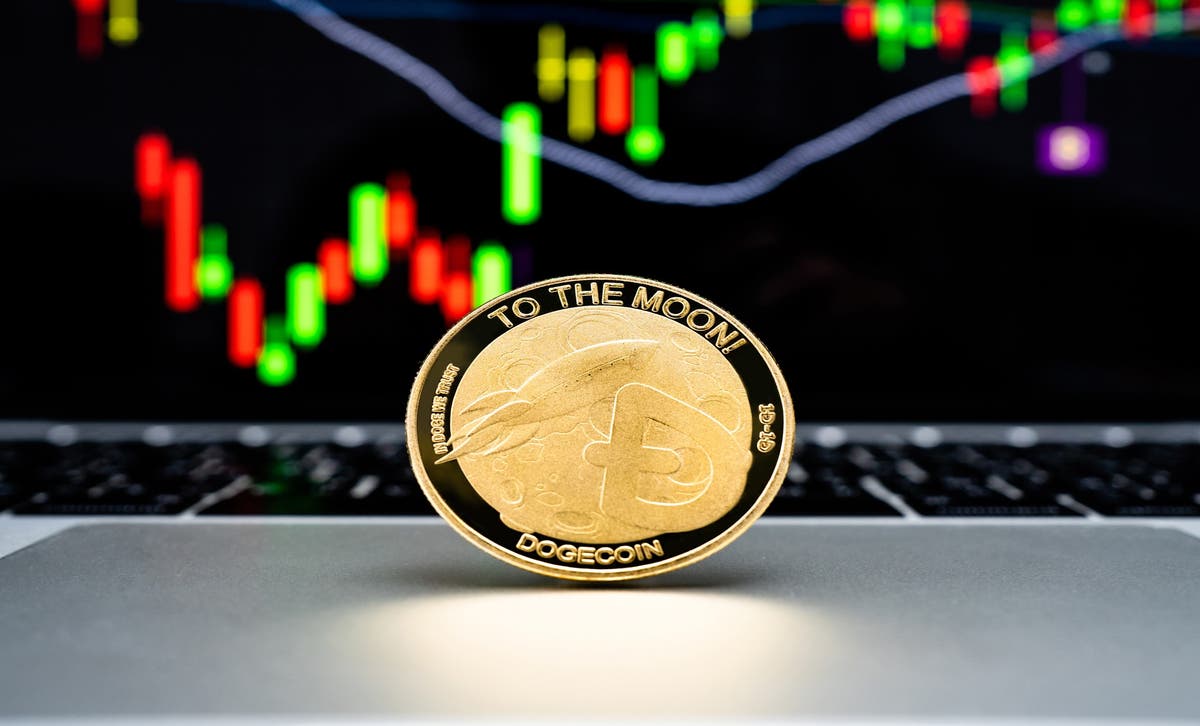 Dogecoin founder buys cryptocurrency for 'first time in 8 years' amid massive price crash
'I have checked the price 7 times so far since,' says crypto creator Billy Markus
Bitcoin erases all its 2021 price gains
Bitcoin has fallen even further in the last few minutes, reaching below $29,000.
The cryptocurrency hit $28,893, meaning it has officially wiped out all the gains made in 2021.
It is still way up from this time last year, when it was trading below $10,000. It is, however, only up $8,000 from its 2017 price peak. At this rate, it won't be long before we find out whether it will threaten that level.
We'll have some expert reaction coming shortly, but for now here's a graph showing bitcoin's wild year so far.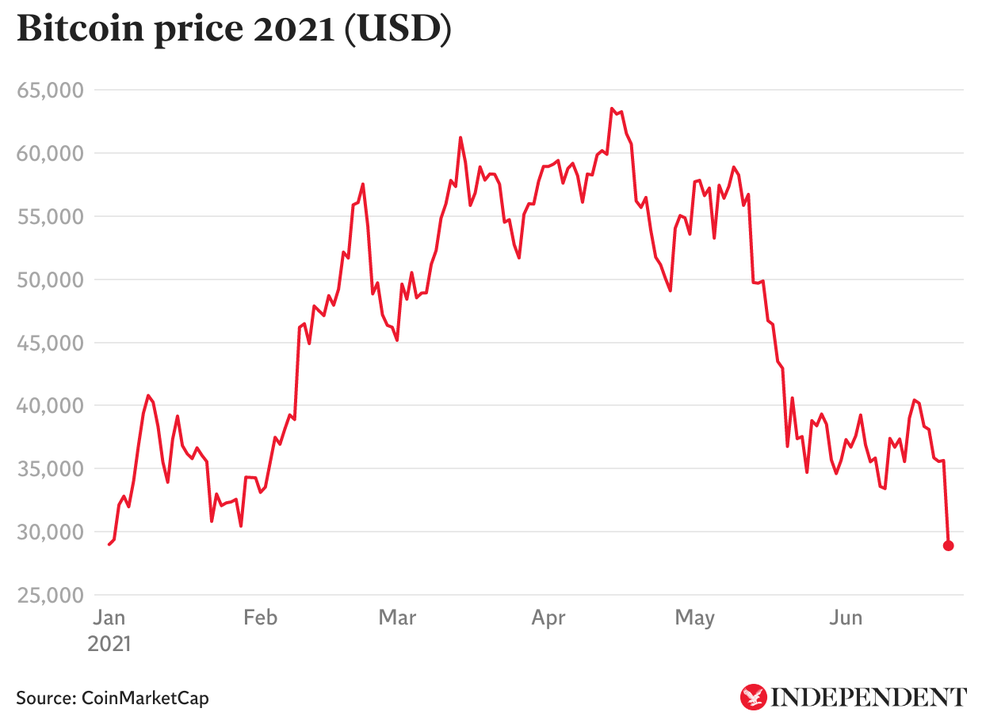 BREAKING: Bitcoin price crashes below $30k
Bitcoin has crashed below $30,000 for the first time since January, adding to the already staggering losses it has seen since hitting an all-time high back in April.
The cryptocurrency is now down 54 per cent since its record high. Other leading cryptocurrencies have been dragged down with it, including Ethereum (ether), Cardano (ada) and dogecoin.
In total, more than half a trillion dollars has been wiped from the market over the last week.
The price of bitcoin has crashed below $30,000, taking its total losses to more than 50 per cent since it hit an all-time high in April.