Are There Any Altcoins That Can Rise When Bitcoin (BTC) Goes Down?
By CNBS News
At the moment, neither bulls nor bears are dominating as some coins are still in the green zone, while others have come back to red.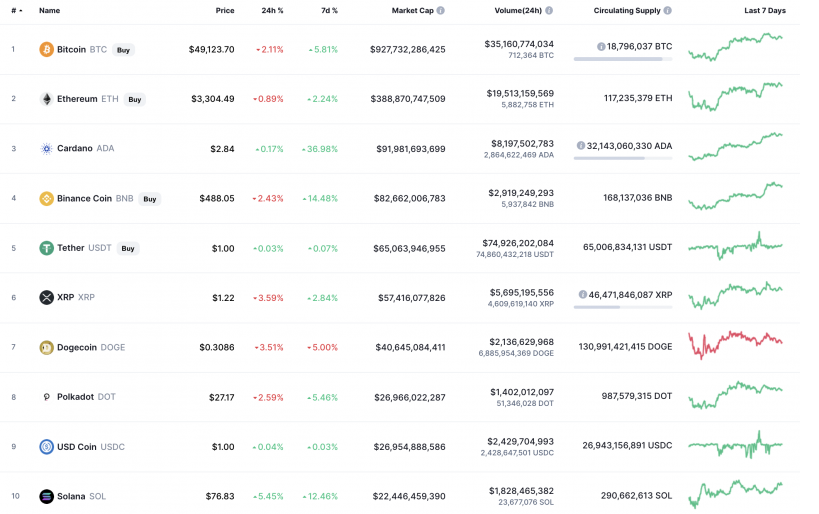 Top coins
BTC/USD
Yesterday, in the first half of the day after the morning high, the rise in the Bitcoin (BTC) price continued a little more to a new summer record near the $50,560 mark. At the same time, sales volumes began to significantly exceed the average level, and the price started to decline.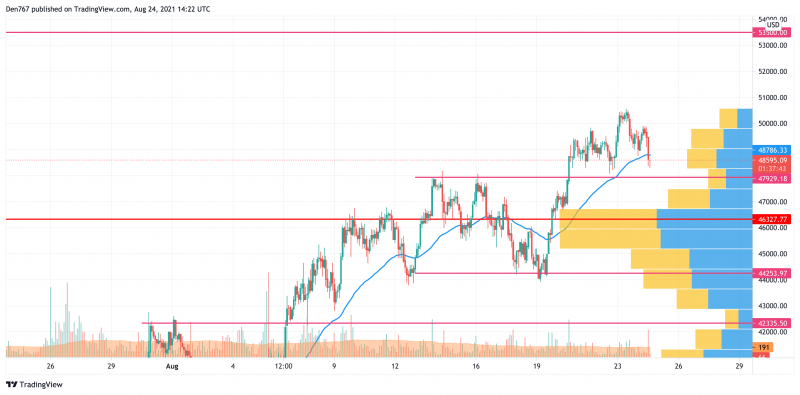 BTC/USD chart
Before the end of the day, the pair rolled back to the level of $49,000. This morning, the price returned to the area of the two-hour EMA55, setting a local minimum at $48,765.
If bears push through the level of average prices, then the nearest support—which might limit the decline—may become the $47,745 level.
Bitcoin is trading at $48,491 at press time.
BNB/USD
Binance Coin (BNB) has joined the list of losers, going down by 2.68% over the past 24 hours.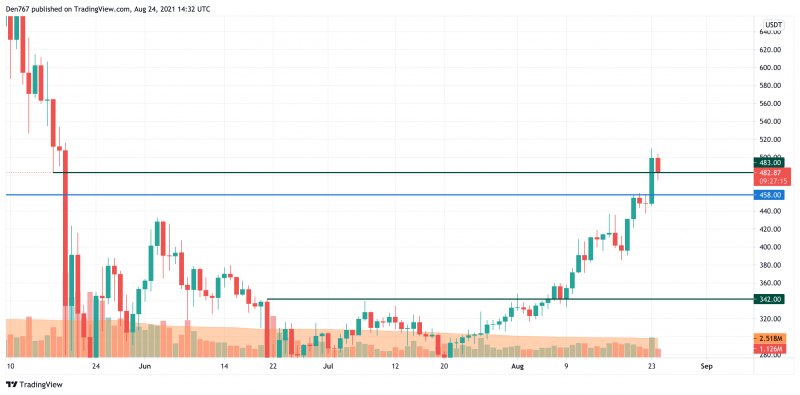 BNB/USD chart
Binance Coin (BNB) could not fix above the vital $500 mark, having formed a false breakout. At the moment, one needs to pay close attention to the level of $483.
If bears succeed and fix below it, there is a high possibility of seeing the ongoing decline to another support at $458.
BNB is trading at $482.87 at press time.
XRP/USD
Yesterday, buyers made a desperate attempt to break through the resistance of $1.30, but the XRP price could not hold above this level and, in the afternoon, the pair returned to the support of $1.20.
XRP/USD chart 
If the market remains positive, then the price of XRP might follow the cryptocurrency flagship to a new August high around the $1.40 mark.
XRP is trading at $1.1987 at press time.
Bitcoin 2.0 is a newcomer, that jumped from its $0.20 cent list price in late May to a high of $.59 cents recently during the time Bitcoin was retracting.
Although it has low volumes until it overcomes its teething issues expands to tier 2 exchanges before heading to the tier 1 exchanges it seems to be running a pattern that it's price does even better when Bitcoin drops.
Although it could be too early to see if this pattern will hold, however, its price has risen even after many that hold it has come out of partial lockup periods. A true test for many coins which often have flopped and folded by now.