Australian Treasurer Blocks Chinese Investment in Strategic Rare Earth Producer
By Victoria Kelly-Clark
A Chinese-backed company's attempt to increase its stake in a strategically vital rare earth producer has been blocked by the federal government.
Yuxiao Fund, a Singapore-registered company, sought to increase its ownership in Northern Minerals from 9.9 percent to 19.9 percent but the move was stopped by Australian Treasurer Jim Chalmers, who signed a prevention order in February.
Northern Minerals owns and operates the Browns Range mine in northern Western Australia, which the company expects to turn into the first significant mine of dysprosium, which is used in the manufacture of control rods in nuclear reactors, magnets, and other industrial applications.
Treasurer Chalmers said that the decision was based on the advice of the Foreign Investment Review Board.
"It's consistent with other decisions taken by other governments in the past," he told reporters in Canberra on Wednesday. "Beyond that, I don't intend to comment."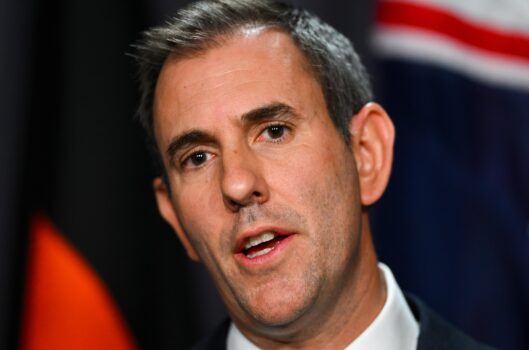 Australian Treasurer Jim Chalmers speaks to media during a press conference at Parliament House in Canberra, Australia, on Feb. 16, 2023. 
The Yuxiao Fund is an investment vehicle of Chinese national Yuxiao Wu, who also has interests in Mozambique mines that supply lower-grade rare earth to China, said Nick Curtis, executive chair of Northern Minerals in an interview with Reuters.
Curtis said Wu invested in Northern Minerals for financial reasons as opposed to simply supplying China with rare earth.
Australia's Record Blocking China-Backed Foreign Investment
Australia's government regularly blocks foreign investment proposals it regards as detrimental to its national interest on the advice of the Foreign Investment Review Board (FIRB).
Notable cases include former Treasurer Josh Frydenberg's decision to block the takeover of large dairy producer Lion Dairy and construction firm Probuild.
The FIRB was first established in Australia in 1976 to advise the treasurer and the government on foreign investment, its guidance note states that: "Foreign investment carries risks related to the potential access and control investors may obtain over organisations and assets."
"When used as a vector for malign activities, foreign investment can harm national security," the Board said.
Under Australian law, foreign investors in sectors related to Australia's national security must first pass the national security test for their proposed investment.
Currently, the FIRB considers the following sectors:
banking and finance
communications
commercial construction contractors, commercial real estate
critical minerals, energy, critical technologies, critical service providers and suppliers
defence, cyber, nuclear, space
health, higher education, transport, water and sewerage
Opposition Supports Decision
Opposition Leader Peter Dutton said foreign investment needed to be in the national interest.
"The treasurer at the time, Josh Frydenberg, made decisions in relation to a number of projects that didn't proceed," Dutton said. "That was based on advice from (security) agencies, from treasury (and) defence.
"Governments do have to make tough decisions and act in our country's best interests, and we'll support the government where they do that."
The latest move comes after Prime Minister Anthony Albanese flagged keeping more critical minerals production onshore, like for lithium used in battery production, to not only boost the domestic manufacturing sector but also safeguard Australia's national interests.
"I want to make sure we use the lithium and nickel and other products that we have to make batteries here," he said.
"That's part of the vision of protecting our national economy going forward. We should be making so many more things here in order to protect our national sovereignty."