Shares of "Clean Energy" Producers are Collapsing
Shares of "clean energy" producers are collapsing.
One example: Hydrogen producer Plug Power Inc.'s shares fell as much as 45% today, the biggest intraday decline since 2013.
Plug Power Shares Tank Most in a Decade on Hydrogen Crunch
– Company issued a going-concern warning late Thursday
– At least five analysts have cut ratings on the stock
An employee prepares to perform an operational test on an electrolyzer stack at the Plug Power facility in Concord, Massachusetts.
Hydrogen producer Plug Power Inc.'s shares fell as much as 45% Friday, the biggest intraday decline since 2013, after the company reported worse-than-expected third quarter earnings and issued a going-concern warning.
At least five analysts have cut ratings on the stock, with Oppenheimer & Co analysts writing in a note that hydrogen shortages and a delay in receiving expected Department of Energy-supported financing is reflected in their downgrade to market perform from outperform. Plug was among companies involved in projects selected to receive funding as part of the DOE's $7 billion investment into making the US a leader in the fuel.
The Latham, New York-based company late Thursday said a dearth of cash on hand raises "substantial doubt about the company's ability to continue as a going concern." It's projecting its "existing cash and available for sale and equity securities will not be sufficient to fund its operations" through the next 12 months, according to a filing.
"Plug noted that it will need to access capital to fund its activities over the next twelve months, but it has continually indicated there are few avenues it can take through corporate debt, DOE loans and/or project financing," TD Cowen analysts wrote in a research note Thursday.
Plug's shares fell 43% to $3.38 as of 12:35 p.m. in New York.
Clean Energy Crash
The problems at Plug are the latest in a series of setbacks across the clean energy sector, which has seen market valuations tumble in recent weeks. The biggest manufacturers of wind turbines, solar panels and other renewables are facing their most serious financial challenges in years as interest rates rise and costs surge.
This week, NuScale Power Corp., the first company with US approval for a small nuclear reactor design, said it was canceling plans to build a power plant for a Utah provider amid higher expenses. And recently, Orsted A/S, the world's largest developer of wind farms, said it was ceasing the development of some US projects.
The S&P Global Clean Energy Index has fallen about 35% this year.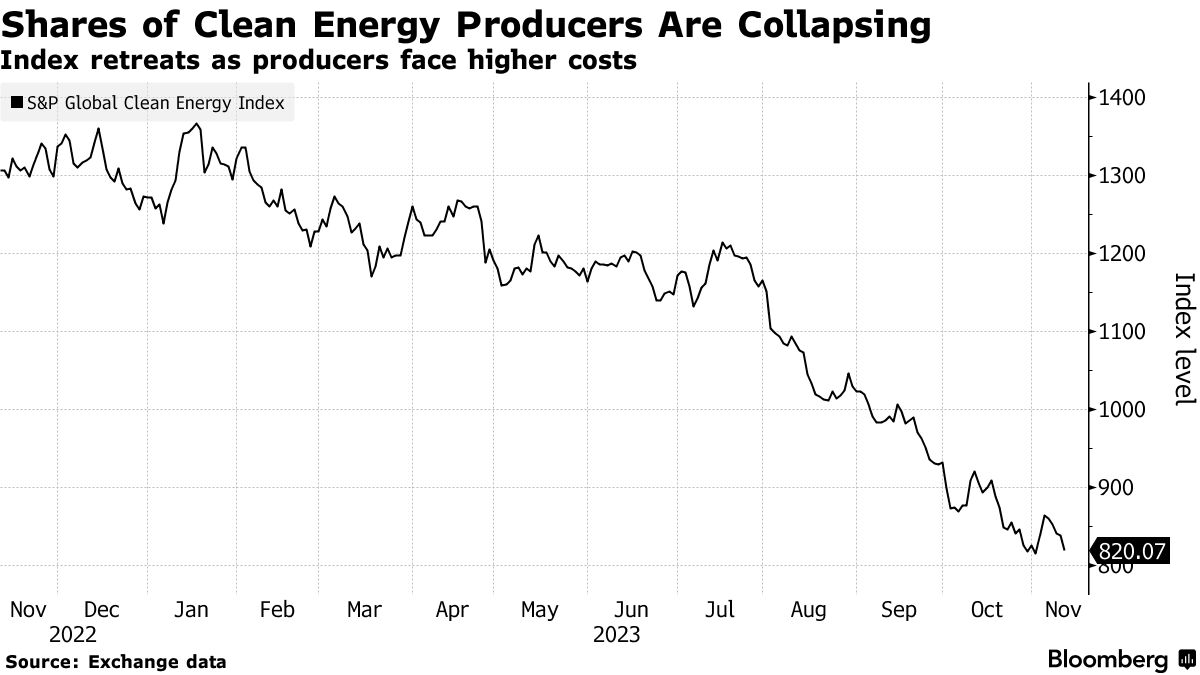 During a call with investors Thursday, Plug's Chief Executive Officer Andy Marsh called out "enormous challenges" with hydrogen supply, due in part to industry power outages that impacted as much as one third of US liquid supply. Temporary power outages impacted a Plug plant in Tennessee, which the company expects to be operational again by year-end.
Shares for other hydrogen companies, including FuelCell Energy Inc. and Ballard Power Systems Inc., also dropped Friday.
Plug for years focused on selling forklifts and freight handling equipment that ran on hydrogen fuel cells. But in recent years, it's built a series of hydrogen production plants and is making the machines that split the gas from water. That has made the company a bellwether for the emerging hydrogen economy, but it also carried substantial costs.
The going-concern warning reflected common accounting standards and is "a lot more conservative" than the company's view, Chief Financial Officer Paul Middleton said on a call Thursday to discuss quarterly earnings. "We still are extremely confident about the range of parties and solutions that we're working with and we haven't seen any tempering of interest."
————————-
Resources:
https://t.me/zeeemedia/13394
https://www.bloomberg.com/news/articles/2023-11-09/hydrogen-producer-plug-power-issues-going-concern-warning#xj4y7vzkg