The Process of Consolidating Agricultural Companies Through the Merger and Acquisition of Smaller Players (Together with Their Land Banks) Has Accelerated Over the Past Few Years
By Staff Reporter
"The process of consolidating agricultural companies through the merger and acquisition of smaller players (together with their land banks) has accelerated over the past few years. This consolidation allowed for the creation of a number of so-called "agroholdings", which often operate in several parts of the country. The largest of them, UkrLandFarming, operates across an area of 670,000 hectares, making it the world's eighth biggest agricultural holding (by land size)[14]. In terms of size, UkrLandFarming remains unmatched even by the largest agricultural companies in Russia – despite Russia's unrestricted land market. UkrLandFarming is owned by 40-year-old Oleg Bakhmatyuk, who began his career in the late 1990s as a manager in Itera – a Russian intermediary company supplying gas to Ukraine and other CIS countries (for a few months in 2006, Bakhmatyuk became one of the vice-presidents of the state monopoly NAK Naftogaz of Ukraine). In early January 2014, the US agribusiness giant Cargill announced that it had purchased a 5% stake in UkrLandFarming for US$200 million, which put the market value of the entire Ukrainian holding at US$4 billion"
I suspect these companies like Cargill, DuPont or Monsanto, would have bought shares in the agricultural holding companies that own the largest % of land… Cargill is named above, one would have to take the time to see who else owns shares in the this and other 'agroholdings,
What is clear, is that we will not find these companies (Monsanto etc) listed as the owners of the land, if anything they will be large shareholders in the 'agroholdings'.
————–
Who Really Benefits from the Creation of a Land Market in Ukraine?

Farmer protests against the land reform, December 2020.
Although Ukraine has large swaths of the most fertile farmland in the world, the wealth of its agriculture sector has long remained largely out of reach of the country's farmers. In the country known as the "breadbasket of Europe," agriculture has been dominated by oligarchs and multinational corporations since the privatization of state-owned land following the collapse of the Soviet Union in 1991. For the past thirty years, no government has been able to meaningfully challenge that status quo.
Will this change, now that a controversial law to create a land market entered into effect on July 1, 2021?
Whereas proponents claim(link is external) that a land market is necessary to attract the foreign investment that Ukrainian agriculture needs to achieve its full economic potential, many(link is external) Ukrainians(link is external) believe(link is external) that agriculture in Ukraine will only become more corrupt and controlled by powerful interests as a result of the new land reform law(link is external).
The law, "On Amendments to Certain Laws of Ukraine on the Conditions of Turnover of Agricultural Land" (Law 552-IX), is a crucial plank of the liberalizing agenda championed by President Volodymyr Zelensky and the Western international institutions that support his government. It was passed by the Verkhovna Rada, Ukraine's unicameral legislature, in March 2020 as a condition for the financially imperiled government to receive a US$5 billion loan from the International Monetary Fund (IMF).
The Troubled History of Land Ownership in Ukraine
When Ukraine was part of the Soviet Union, all land was the property of the state, with farmers working on state and collective farms. In the 1990s, guided and supported by the IMF and other international institutions, the government privatized much of Ukraine's farmland, and distributed certificates that individual workers could use to obtain ownership of a discrete plot of land. However, amid a nationwide economic collapse, many resold their certificates, beginning a process that resultd in the growing concentration of land in the hands of a new oligarchic class.
In order to stop this process, the government instituted a moratorium in 2001, which halted further privatizations of state-owned land, and prevented almost all transfers of private land, with a few exceptions, such as inheritance. Although the moratorium was meant to be temporary, it was extended multiple times due to the failure of the Verkhovna Rada and multiple presidential administrations to pass and implement legal reforms that would allow for the creation of a more equitable land tenure system.
41 million hectares, or about 96 percent of agricultural land in Ukraine, were subject to the moratorium. Around 68 percent, or 28 million hectares, of that land is privately owned (although not all is demarcated into specific plots), with about seven millionsmall landowners in the country.
————————
The transformation of agriculture in Ukraine: From collective farms to agroholdings
In recent years, Ukraine's agriculture has been consistently improving and has been the only part of the country's economy to buck the recession. According to preliminary estimates, in 2013 agricultural production increased by 13.7% – in contrast to a 4.7% decline in the industrial sector. According to official statistics, Ukraine's industrial production was up 40% in the final months of 2013 when compared to the same period of 2012. This translated into an unexpected gain in fourth-quarter GDP growth (+3.7%) and prevented an annual drop in GDP. Crop production, and particularly the production of grain, hit a record high: in 2013, Ukraine produced 63 million tonnes of grain, outperforming its best ever harvest of 2011 (56.7 million tonnes). The value of Ukraine's agricultural and food exports increased from US$4.3 billion in 2005 to US$17.9 billion in 2012, and currently accounts for a quarter of Ukraine's total exports. Economic forecasts suggest that in the current marketing year (July 2013 – June 2014) Ukraine will sell more than 30 million tonnes of grain to foreign markets, making it the world's second biggest grain exporter, after the United States.
Ukraine's government hopes that the growing agricultural production and booming exports will help the country overcome the recession which has been ongoing since mid-2012, and that the sector will become a driving force for sustained economic growth. However, the success of this plan is contingent on several factors: primarily, on the economic situation in Ukraine's export markets, a better investment climate inside the country, as well as on future government policy, including the completion of an agrarian reform launched over 20 years ago. Despite pressing ahead with land ownership reform, the government has so far been reluctant to permit the free purchase and sale of agricultural land. Consequently, the growth of the agricultural sector has led to a concentration of production within very large agricultural holdings, known locally as agroholdings, characterised by large-scale intensive farming. The top one hundred holdings already control over 30% of all the land (6.7 million hectares) farmed by all agricultural companies operating in Ukraine (about 50,000 of them), corresponding to more than 16% of the total agricultural land in the country. This agricultural model has led to growing socio-economic disparities in Ukraine's crisis-stricken countryside.
The significance of agriculture to Ukraine's economy
Agriculture accounts for about 8% of Ukraine's gross domestic product – a rate several times higher than among Europe's major agricultural producers[1]. Its significance to the economy stems mainly from crop production, which accounted for nearly 67% of all domestic agricultural production in 2012. Despite showing signs of recovery from a severe crisis in the 1990s, animal production in Ukraine remains tied to small farms and is used largely for the personal consumption of the producers.
Ukraine has ​the second largest acreage of farmland in Europe (after Russia) with a total of 41.5 million hectares of agricultural land (about 70% of the total area of the country), of which arable land accounts for over 32 million hectares. Ukraine benefits from a favourable climate and good quality soils, of which about half are the highly fertile chernozem (or black earth). Ukraine is one of Europe's leading grain producers: it is the continent's largest producer and exporter of corn, the second largest producer of sunflower seeds and sunflower oil (and the world's largest exporter), as well as being a leading producer and exporter of wheat and barley (see Appendix 1).
Between 2005-2012, the export of food and agricultural products[2] increased by 315% (in 2013, Ukraine's agricultural exports were worth an estimated US$17-18 billion). This makes agriculture Ukraine's second most important export sector, after the country's traditional export leader – the steel industry[3]. In the previous marketing year (July 2012 – June 2013), Ukraine exported about 23 million tonnes of grain; in the 2013/2014 marketing year, which started in July, Ukraine is planning to export 30-32 million tonnes of grain, which would break the 1991 record. In August of last year, the US Department of Agriculture estimated that with grain exports of over 30 million tonnes, Ukraine may become the world's second biggest grain exporter in the current marketing year (second only to the United States).
This year's record high production and exports of food and agricultural products have become a driving force behind the "propaganda of success", which the Kyiv government has actively engaged itself in to divert public opinion from the exceptionally poor overall performance of the Ukrainian economy. In fact, the record-breaking results are obscuring the grave problems that both this sector and the entire Ukrainian countryside have been facing for many years.
Post-1991 reforms: privatisation and land lease
After gaining independence, Ukraine entered a long-term agricultural crisis. The crisis was caused by the collapse of the centrally planned economy that had previously bankrolled a system of large and expensive programmes across the Soviet Union, but more broadly, also by the failure of the sector to adapt to the new economic reality[4]. Agricultural reform proved exceptionally difficult due to the lack of adequate market experience, insufficient capital investment, and the lack of a coherent vision for reform among the ruling elite.
One of the main objectives of the reform was to privatise Ukrainian land free of charge, under the "socially-correct" slogan: "Land for those who work it". This was seen as the primary means to transform Ukraine's rural areas and its agriculture. In the 1990s, Ukraine closed down nearly all 12,000 of its kolkhozes (collective farms) , whose assets were then placed under collective ownership of the newly created non-state businesses.
The employees of the former collective farms (about 7 million people, or more than 40% of Ukraine's rural population) – most of whom subsequently found employment in the new, non-state businesses – were given a land share, or a so-called pai, on the land previously managed by the collective farms (an average of 4 hectares). In addition, over 7 million rural residents were granted ownership of small plots of land (up to 0.4 hectares) from the so called "Land Reserve Fund" and/or from the so-called "reserve land" (both owned by central or local government). The land was to be used for small-scale domestic farming (in total, approximately 2.6 million hectares). For many rural residents, this land has become their main source of income. However, unlike in the case of household plots, the allocation of land shares (or pais) within the reformed agricultural businesses (confirmed by official certificates) was not followed by an automatic right to physically claim the land – that is, the pais were not demarcated at specific locations and the farmers were not issued with title deeds to individual plots. Although this process began (with great difficulty) in the late 1990s, it was not until May 2003 that parliament passed a special bill regulating the question of land titles. By the end of 2012, title deeds had been issued to 6.4 million people (about 93% of the eligible population[5]). As a result, in late 2012 as much as 30.7 million hectares of agricultural land (or 74% of all agricultural land in Ukraine) was – nominally at least – in private ownership[6].
Initially, it was envisaged that the land privatisation process and agrarian reform would pave the way for the unrestricted purchase and sale of farmland in the country, but ongoing political disputes have led to the introduction of a series of temporary moratoriums on land sales, which are to remain in place until appropriate market conditions have been created in Ukraine. By "appropriate conditions" the policy makers meant the establishment of the necessary legal and institutional infrastructure, and especially land market legislation being passed and a cadastre being created. The government's progress in this area, however, has been extremely slow.
The privatisation of farmland without the concomitant right to freely sell it, has contributed to the emergence of an agriculture based on land lease, which has been facilitated by the statutory authorisation to use pais as the subject of lease contracts. According to data from late 2012, half of all domestic agricultural land in Ukraine (49.8%) is under the management of about 50,000 businesses, operating mainly on leased land[7].
Until 2010, the average annual cost of leasing 1 hectare of agricultural land did not exceed the equivalent of US$40. More recently, however, lease fees have increased to around US$70[8] – this was caused by the government's decision to raise the arbitrarily determined normative value of 1 hectare of farmland, and to increase the minimum land lease fee (to 3% of the land's normative value). The low cost of land leasing (a fraction of the rates charged in the EU[9]), coupled with the possibility to use goods and services (often at inflated prices) in lease settlements, have facilitated the emergence of private and, most importantly, very large agricultural companies.
From kolkhozniks to farmers…
A period of economic growth from 2000 to 2008 (averaging about 7% of GDP per year) and low land lease rates and cheap labour (wages in agriculture are among the lowest in the economy) have improved the business conditions in the sector and the possibility of state support for Ukrainian agriculture. The most significant changes included: the introduction by parliament of the so-called "fixed agricultural tax"[10] in December 1998, VAT rebates, and state subsidies for agricultural production, which mainly benefitted the largest players[11]. The development of large-scale farms, however, was most directly facilitated by the increasingly appealing export opportunities. Since 2005, global markets have seen a systematic increase in the price of food and agricultural products (see Appendix 2); this has translated into higher prices for the main grains produced in Ukraine: wheat, barley and corn. Even after taking into account the interim (although admittedly, painful) price falls (2008-2009 crisis), by 2013 the price of the three main grains mentioned earlier had increased significantly: two-fold for wheat, two and a half times for barley, and three-fold for corn. Importantly, the global increase in grain prices was accompanied by growing demand generated mostly by developing countries[12].
Between 1996-2000, Ukraine's total wheat exports reached 9.3 million tonnes – since 1991, wheat has been the main grain produced in the country. Over the next five years, this figure more than doubled (to 21.3 million tonnes) and between 2006-2010, Ukraine's wheat exports rose by another 50%, to almost 33 million tonnes[13].
Initially, wheat exports from Ukraine were dominated by large global players, such as Toepfer, Cargill, and Serna. Thanks to the cooperation developed between international players and the local intermediaries in the supply chain, Ukraine saw the emergence of local players who gradually invested their profits in production, and began to export their produce themselves. Many of Ukraine's largest agricultural companies started out as small-scale private farms, established back in the 1990s by the managers of former collective farms. They then quickly increased their size, especially in the last 5-8 years, mainly on the basis of leased agricultural land.
The development of private farms – which constitute the majority of all agricultural businesses established after 1991 (around 80%) and which operate an average area of ​​about 100 hectares – began to slow down in the middle of the past decade. The number of such farms fell from 42,400 in 2005 to 40,700 in 2012. However, also this category of agricultural business shifted towards large-scale farming: at present 16.2% of the largest private farms manage 80% of all the land cultivated by this type of agricultural business (a total of about 4.4 million hectares).
… from farmers to large-scale land-managers
The process of consolidating agricultural companies through the merger and acquisition of smaller players (together with their land banks) has accelerated over the past few years. This consolidation allowed for the creation of a number of so-called "agroholdings", which often operate in several parts of the country. The largest of them, UkrLandFarming, operates across an area of 670,000 hectares, making it the world's eighth biggest agricultural holding (by land size)[14]. In terms of size, UkrLandFarming remains unmatched even by the largest agricultural companies in Russia – despite Russia's unrestricted land market. UkrLandFarming is owned by 40-year-old Oleg Bakhmatyuk, who began his career in the late 1990s as a manager in Itera – a Russian intermediary company supplying gas to Ukraine and other CIS countries (for a few months in 2006, Bakhmatyuk became one of the vice-presidents of the state monopoly NAK Naftogaz of Ukraine). In early January 2014, the US agribusiness giant Cargill announced that it had purchased a 5% stake in UkrLandFarming for US$200 million, which put the market value of the entire Ukrainian holding at US$4 billion. Bakhmatyuk plans to increase the size of UkrLandFarming to 750,000-800,000 hectares, and to make his company one of the world's three largest agricultural giants within the next three years. This would raise UkrLandFarming's total grain export capacity to 5-6 million tonnes[15].
In recent years, Ukraine's agriculture has become sufficiently lucrative to attract the attention of some of the country's biggest oligarchs. They have begun to notice that agriculture could offer them greater profit-making opportunities than Ukraine's heavy industry and metallurgy – the two pillars of their business operations, which are currently suffering from the effects of the recession. Among the well-known Ukrainian oligarchs who already own large agricultural holdings are: Ihor Kolomoyskyi (120,000 hectares), Yuhym Zviahilsky – former acting Prime Minister of Ukraine, with close links to the current president (62,000 hectares), and Petro Poroshenko (96,000 hectares). Viktor Pinchuk has also expressed an interest in investing in agriculture, while Dmytro Firtash established the holding DF Agro in 2001, and has so far invested his money in the production of vegetables. In 2011, Rinat Akhmetov, Ukraine's wealthiest businessman and one of the sponsors of the ruling Party of Regions, together with his business partner Vadim Novinsky, created HarvEast Holding. The company was formed on the basis of the agricultural assets of the Ilyich Iron and Steel Works (previously acquired by Akhmetov) and operates on nearly 200,000 hectares of land in Donetsk Oblast and in Crimea. Ukraine's so-called "family", an interest group linked mainly to Oleksandr Yanukovych, the son of the incumbent president of Ukraine has also made a foray into the agricultural sector. According to some sources, the "family" will enter the market through the recently established State Food and Grain Corporation of Ukraine, while they are expected to use the State Land Bank, established last year to help finance agricultural projects, as their delivery mechanism.
The vast majority of the local agricultural holdings continue to be controlled by Ukrainian investors. Due to the lack of a free land market, and due to restrictions on the acquisition of agricultural land, foreign investors have focused mainly on agricultural processing and on the trade in Ukrainian grain. The profit potential of Ukraine's agricultural sector has also attracted passive foreign investors, who have been investing in shares in the Ukrainian agricultural companies listed on foreign stock exchanges. Owners of "traditional" agricultural holdings (without links to the industrial and financial groups run by local oligarchs who can generate income from other sectors of the economy) have found the issuing of shares abroad to be a convenient way to raise capital for further expansion in the domestic market. This has been particularly important since capital-raising opportunities in the domestic market are rather limited due to a poorly developed securities market in Ukraine and because of the high cost of borrowing. Obtaining business loans from local banks would be easier if local farmland could be used as collateral – this, however, remains a pipe dream due to the delayed introduction of a free land market[16].
The ten largest Ukrainian agricultural holdings currently control more than 3.1 million hectares of land, or more than 15% of Ukraine's total farmland, which is cultivated by more than 50,000 businesses operating in the sector (see Appendix 3).
The never-ending reform, or the progressive collapse of the countryside
With growth as their primary objective, Ukraine's agricultural holdings are often the only source of investment in rural areas. The investment is typically linked to production (human resources, technical infrastructure and logistics – grain handling terminals, granaries, etc.), but sometimes also to the construction of social and other rural infrastructure. These are often businesses whose owners have family links to particular towns and villages. For example, the controversial gas and chemical tycoon Dmytro Firtash has used his agricultural holding DF Agro to invest in his hometown of Synkiv, Ternopil Oblast, where he has constructed a large complex of greenhouses that will make the town one of the most cutting-edge vegetable producers in Europe. Meanwhile, Ivan Huta – a former chairman of a collective farm in his home village of Vasylkivtsi, Ternopil Oblast – has used his family farm to build one of the largest agricultural companies in Ukraine: Mriya Agro Holding (from 50 hectares of land in 1992 to almost 300,000 hectares today). Although the company is now managed from Kyiv, Mriya Agro Holding has kept its headquarters in Vasylkivtsi. The company has financed the construction of local roads, and – just like DF Agro in Synkiv – it has built schools and preschools. By doing so, the agroholdings significantly lighten the burden on the government in Ukraine's rural areas, which have witnessed a dramatic decline in government funding since 1991.
Nonetheless, the activities of some of the agricultural holdings frequently boil down to the maximal use of resources within the term of the lease. This often leads to soil degradation and the devastation of local resources.
The rapid development of a new, narrow class of agricultural entrepreneurs, in times of the progressive impoverishment of the majority of Ukraine's rural population, has exacerbated income inequalities and exposed what in effect is a re-feudalisation of social relations in the Ukrainian countryside. The rise of agribusiness has often led to the disenfranchisement of large numbers of the nominal land owners and has resulted in them becoming almost entirely dependent on the leaseholders. That is because the companies are often able to offer the impoverished pai owners not only a steady income but also the only possibility of local employment. Many residents – especially the elderly and the inexperienced, without sufficient financial resources or farming technology, unable to run a farm or uninterested in doing so – have been forced to lease their pais to agricultural entrepreneurs or to the owners of private farms[17]. Some studies suggest that up to 80% of pai owners agree to lease out their land, and many of them (32.3%) have never physically seen their pai[18].
The low prices of agricultural production[19], coupled with a crisis in all sectors of the economy after 1991, has markedly reduced the income of the rural population of Ukraine. Declining living standards and the rapid degradation of the countryside – for example, its technical and social infrastructure – has translated into a more pronounced demographic crisis than in urban areas. Between 1991-2013, the rural population of Ukraine decreased by as much as 15.9% (2.7 million people), while the population of urban areas declined by "only" 10.6% (3.7 million people). These figures represent the outcome of both negative population growth and large-scale migration to the cities, especially among young people looking for work. Over the past twenty years, more than 640 villages and hamlets have disappeared from the map of Ukraine[20].
The prospects for Ukraine's agriculture
It was a common belief that after Viktor Yanukovych came to power in 2010, Ukraine would finally introduce a free land market and complete its land reform. The changes seemed likely because of the monopolisation of power the Yanukovych camp had and because the agrarian reform (including the introduction of a free land market) was part of the presidential reform programme for 2010-2014[21]. In addition, the parliament passed the cadastre bill and agreed to debate the controversial law on a free land market[22]. On 12 November 2012, however, the Verkhovna Rada (Ukraine's parliament) extended the existing moratorium until at least 1 January 2016. Consequently, Ukraine has retained the current lease-based system for the development of agriculture. This will slow down any potential increase in investment in the sector, as business owners – who do not own the land they cultivate – are constrained by the investment horizon set by the term of their lease agreement. Under these conditions, long-term investment increases the risk of losing the very basis of the business, for example due to problems with lease renewal, which could be caused by hostile competitors trying to take over an existing business – a phenomenon that has become increasingly common in Ukraine in recent years.
Both the government and the owners of large agricultural estates in Ukraine were pinning their hopes on the prospect of signing the EU agreement on a Deep and Comprehensive Free Trade Area (DCFTA). Back in October of last year, Mykola Prysyazhnyuk, Ukraine's Agriculture Minister, argued that the liberalisation of trade between Ukraine and the EU would allow for an immediate increase in agricultural exports to the EU markets, worth the equivalent of US$0.5 billion, which was particularly important because of Ukraine's export-orientated agriculture. In reality, the agreement with the EU would not have created better export opportunities for Ukraine's agricultural products, but could rather have increased investment in agriculture locally and accelerated the modernisation of the industry and this is essential if Ukrainian businesses are to compete against foreign companies on Ukraine's slowly growing domestic market. Subsequently, however, the Ukrainian government announced that it would instead pursue closer cooperation with Russia and Kazakhstan[23] – Ukraine's competitors in the global grain market.
In practice, however, Kyiv has been trying to develop closer links mainly with China. In October 2012, the State Food and Grain Corporation of Ukraine (SFGCU) and China National Complete Engineering Corporation (CCEC) signed a long-term contract for the export of Ukrainian grain to China. Under the agreement, the SFGCU received a US$1.5 billion loan from China's Exim Bank (guaranteed by the Ukrainian government) for the purchase of grain from Ukrainian producers. The parties agreed that in the current marketing year (July 2013 – June 2014) the SFGCU would supply up to 4 million tonnes of grain to China (mainly, corn and wheat; although the preparations for the export of soybeans and barley are already underway). Next year, Ukraine's grain exports to China are expected to rise to 6 million tonnes. Granting Ukraine unprecedented access to the Chinese market (as one of the very first grain exporters), as well as the scale of this cooperation, has translated into record growth in Ukraine's grain exports in the current marketing year. Furthermore, due to the SFCGU-CNCEC deal, Ukraine will benefit from an increase in the import of Chinese technology and production (including, pesticides and fertilisers) and from potential investment. This, however, raises concerns about the long-term effects of this cooperation (which could, for example, displace the Western technologies and pesticides preferred by Ukrainian agroholdings). Finally, it seems that the Ukrainian mega-farms – which are being pressured into participating in the SFCGU's Chinese projects – would prefer to establish their own export links with China[24].
This means that the agriculture industry is now forced to continue its current model of development, in which competitiveness is determined by low production costs (including lease fees and wages) instead of seeing the modernisation and efficiency improvements offered to Ukrainian agriculture by the DCFTA. Furthermore, Ukraine's low output per hectare[25] will be compensated through economies of scale and extensive production; for example, of crops with a high rate of return, whose cultivation – coupled with short lease terms – will lead to a further degradation of soil.
The ambitions of the government and of the managers of large agricultural estates, combined with Kyiv's need for foreign currency, are putting pressure on the sector to ensure rapid sales growth, without regard for the resulting costs (a decline in the price of exported produce and producers' losses). Kyiv's current priority is to make quantitative changes to the economy rather than qualitative, thus reinforcing the current model of development, which concentrates production within large-scale agricultural holdings.
Appendix 1. Ukraine's agriculture in Europe and globally – selected produce
Type of produce
Production volume
Rank

in Europe/ globally

Export volume
Rank

in Europe/ globally

Corn
22.8 million tonnes
Europe: 1

Globally: 7

7.8 million tonnes
Europe: 1

Globally: 4

Wheat
22.3 million tonnes
Europe: 4

Globally: 11

4.1 million tonnes
Europe: 4

Globally: 8

Barley
9.1 million tonnes
Europe: 3

Globally: 5

2.1 million tonnes
Europe: 3

Globally: 5

Rye
0.6 million tonnes
Europe: 4

Globally: 4

Europe:

Globally:

Rapeseed
1.4 million tonnes
Europe: 4

Globally: 9

1.0 million tonnes
Europe: 2

Globally: 4

Sunflower seeds
8.7 million tonnes
Europe: 2

Globally: 2

0.4 million tonnes
Europe: 3

Globally: 3

Sunflower oil
Europe: 2
2.7 million tonnes
Europe: 1

Globally: 1

Potatoes
24.2 million tonnes
Europe: 2

Globally: 2

Sugar beets
18.7 million tonnes
Europe: 4

Globally: 5
Source: FAO [data for 2011]
Appendix 2. Global price indices for food and grain between 2000-2013 (%)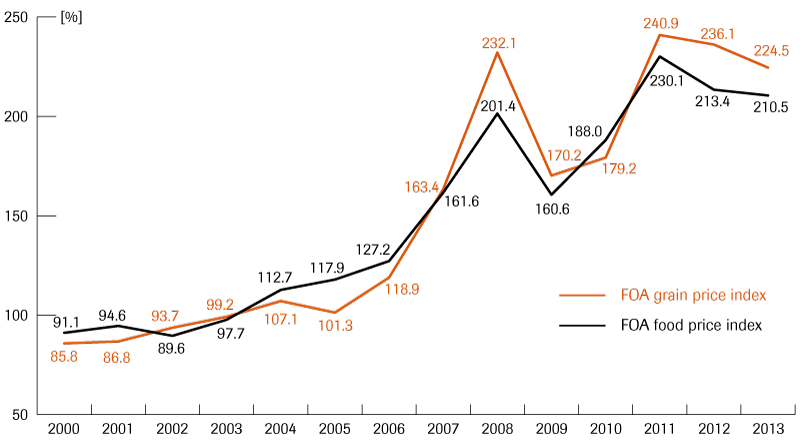 Appendix 3. The largest agricultural holdings in Ukraine
Name/ Abbreviation
Owner/

Main shareholder

Land bank

(thousands hectares)

Main business activity
1.
UkrLandFarming
Oleg Bakhmatyuk
670
Production and export of grains, meat, eggs and egg products, milk
2.
Kernel Holding
Andrey Verevskiy
422
Production and export of grains, sunflower oil
3.
NCH
George Rohr,

Moris Tabacinic

400
Production of cereals, sunflower, soy, animal husbandry
4.
Myronivsky Hliboproduct
Yuriy Kosiuk
320
Breeding poultry, grains, meat products
5.
Mriya Agro Holding
Ivan Huta
298
Production of grains, sugar beets, potatoes
6.
Ukrainian Agrarian Investments
Renaissance Group
261
Production and export of grains
7.
Astarta
Viktor Ivanchyk
245
Production of sugar, grains, milk
8.
HarvEast
Rinat Akhmetov (and Vadim Novinsky)
197
Production of grains, feeds, seeds, dairy
9.
Agroton
Yuri Zhuravlev
151
Production of sunflowers, wheat, food, farming
10.
Sintal Agriculture
Mykola Tolmachev
150
Production of grains and sugar
——————————–
The Land Question
land concentration and the agricultural land moratorium in Ukraine
This article is the third and final article in a series of special edition longreads focusing on rural-urban inequalities in Ukraine. It is the outcome of a collaboration between TNI and the Commons: Journal of Social Criticism – an independent, internationally minded and progressive online and print journal from Ukraine, publishing articles, interviews, reports, blogs and opinion pieces on current affairs in the Ukrainian, Russian and English languages.
For nearly thirty years, the question of land reform has occupied Ukrainians. The current stalemate on land policy seems unbreakable. This article considers how the 'land question' has developed over the past three decades, where we stand today, and what we can expect in the future.
For seven decades, from 1922 to 1990, Ukraine was part of the world's largest country, the Soviet Union. Immediately upon assuming power in 1917, the Bolsheviks issued a Decree on Land. This ordered that land should be socialised to allow for widespread use by the peasantry and rural working people. Expropriation of land from landlords took place without any compensation. The Decree further prohibited any type of land market transaction.
This decision brought the Bolsheviks significant popular support in Ukraine, as land issues have long been of critical concern in Ukrainian society. This support allowed the state to further consolidate decision-making powers over land allocation and use. New land and farming structures emerged including (since 1930) state farms (Sovkhoz) – entirely state-owned enterprises – and collective farms (kolkhoz) – nominally voluntary associations of citizens with collective property, including land.
Gaining independence and launching the reform
In 1991, following the collapse of the Soviet Union, Ukraine gained national independence. This marked the beginning of the transition towards a market economy carried out during the 1990s through a series of neoliberal economic reforms. One of the principal reforms was the strengthening of rules and regulations around private property. Land became a key target for reform since the country's land structure, formed during Soviet times, allowed only for forms of state property.
A pro-market land reform programme was launched with the enactment of the Land Code in 1992. Its approval by the Verkhovna Rada (the Ukrainian parliament) enabled the partition and privatization of land within agro-based enterprises. The initial stage of the reform invovled the privatisation of formerly state-owned farms (sovgosp). A second step included transferring land to agricultural enterprises, where it was collectively owned. Land was delivered on the condition that it might be divided at the demand of the enterprise shareholders and, if necessary, allocated as private property.
This led to the emergence of so-called Collective Agricultural Enterprises (CAEs) which became key actors in the privatisation process. Land transferred to the collective ownership of non-state agricultural enterprises was to be shared, with members of the enterprises obtainaining state certificates guaranteeing their right to a particular plot of land. Certificate holders acquired the right to withdraw from the enterprise and receive their private land shares. In some parts of the country, for example, in Sumy and Zhytomyr regions, there was prior experience of such proof-of-ownership documents. By the end of 1999, the initial stage of Ukraine's land reform was largely complete. Over 6 million rural people had received certificates confirming their right to obtain private land shares.
A new stage of the land reform began at the end of 1999 with the openening up of the previously established CAEs. While the CAEs were, in essence, a form of agrarian entrepreneurship, liberal minded reformers believed them to be still too similar to former Communist structures, hindering the development of a market economy. International financial institutions such as the IMF actively monitored privatization processes during this time and advised the Ukrainian government. As a result, further measures were introduced and privatization was accelerated. Shareholders started receiving their land shares from the reformed CAEs and state certificates on land ownership were legally formalised. Parcellation – the division of land into discrete private land plots – was carried out until the end of the 2000s. Registration of land shares in the State Land Cadastre is still ongoing at the time of writing.
The moratorium comes into force
In October 2001, Ukraine's Land Code (LCU) was updated, marking a new chapter in the 'land question'. The revision consolidated the key principles of the land reform:
expansion of private ownership of land;
state's guarantee of land rights to citizens and legal entities;
division of state and communal lands;
increasing the economic potential of land in human settlements;
introduction of state management of land resources and land use on the basis of economic evaluations;
improvement of the calculation of the rental rate;
the development of lease relations.
Critically, this Land Code also introduced a number of restrictions on the operation of the land market. One such restriction was a total moratorium on the sale of agricultural land.
The land moratorium
The moratorium includes a ban on the sale of land with a designated agricultural use. Such land cannot be sold through the transfer of land shares allocated to citizens during the land reform process. It is forbidden to sell land; to change its intended purpose (i.e. from an agricultural to a non-agricultural use); to transfer land to the assets of any business enterprise (for example as collateral for a loan); or to transfer it as a pledge. The only convenient and legal options available for transferring land include lease agreements (for legal and natural persons) and certain forms of gifts and inheritance (for natural persons).
Government representatives claimed that the moratorium was established as an interim measure, with follow up legislation aimed at developing a land market with "adequate" prices to be adopted at a later date. Amongst certain political and societal actors, fears existed that full-scale land privatisation would open the door for the accumulation of land by large private interests, to the detriment of the majority of Ukraine's farming and rural population. For example, an MP from the People's Movement of Ukraine, Valeriy Asadchev, argued against full privatisation, commenting that, "We cannot allow a dozen latifundists to be formed in Ukraine, and for the entire nation to become farm servants". It was agreed that the moratorium would be repealed on January 1, 2005 giving everyone time to prepare for the launch of the land market.
However, as of January 2019, the moratorium still stands, having been prolonged ten times. The moratorium has been extended for a number of different reasons or pretexts. Before it could be repealed a state land cadastre needed to be established then digitized, a state land bank needed to be created, and legislation on land transactions and the transfer or land rights needed to be drafted, approved, and passed into law. These processes have taken longer than expected, and, as of the time of writing, no new draft law has yet been presented.
Based on information from the State Service of Ukraine for Geodesy (Surveying), Cartography, and Cadastre (StateGeoCadastre) (2017), 41 million hectares of agricultural land are subject to a moratorium, of which 27.7 million hectares (68%) consist of citizens' private plots of land. There are 10.5 million hectares of state and communal land that are subject to the moratorium.
Even though the moratorium was intended to prevent land concentration, the reality has turned out quite different. In fact, although the formal sale of land has been prohibited, the period since the introduction of the moratorium has seen one of the most dramatic increases in the concentration of effective control of agricultural land in the country's history. How has this happened?
After the moratorium was introduced, land lease has become the main (although not the only) way to control land in Ukraine. Immediately after the privatization of land, a large rental market for land was formed. Due to the huge number of plots available, the rental cost was very cheap. Millions of owners were ready to rent their land for trifling sums as a lack of capital, combined with the spatial inaccessibility of the plots themselves – which were often located 5-10 km from the owners' homes – prevented many farmers from cultivating their plots of land themselves. In 2017, the average annual cost of renting 1 hectare of agricultural land in Ukraine was about €40, compared to €160 in Hungary, €240 in Bulgaria, and €847 in the Netherlands. As a result, companies have found legal means to circumvent the prohibition on land sales. Gradually, hundreds of small plots (4 hectares on average) have concentrated under their control through lease agreements. The state is also actively involved in leasing agricultural land to agricultural companies through public auctions.
The use of these lease agreements was made even more attractive thanks to successful lobbying by businesses to amend Ukraine's Civil Code in 2007. The 2007 amendment provided lease holders with a much wider range of opportunities, such as the use of especially long-term lease arrangements known as emphyteusis. This particular type of contract was created more than two thousand years ago in ancient Rome during the times of slavery. It involves the right to the full benefit and use of agricultural land for a very long period of time and, in many aspects, resembles full ownership although it is, technically speaking, still a leasehold. The definition of "agricultural purposes" is also unusually broad, covering many types of development other than straightforward agriculture, horticulture, or animal husbandry. Agricultural purposes might include even capital construction for biogas production. For example, under this scheme, PJSC Myronivsky Hliboproduct (MHP) – one of Ukraine's largest agroholding companies – began constructing the world's largest biogas plant with a capacity of 20 MW. The EBRD has provided part of the funds for this project
Emphyteusis constructs did not become immediately popular among investors but as the moratorium was prolonged, companies began offering peasants and other landowners long-term lease contracts for a maximum term of 49 years (with even an opportunity to negotiate indefinite contracts). In this way, emphyteusis became a sort of agroholdings' loophole or work-around for the moratorium. Between the third quarter of 2015 and the second quarter of 2017, about 28,000 such contracts were concluded, covering roughly 80,000 hectares of land.
Does the moratorium help or hurt the rural population?
The number of emphyteusis contracts is increasing and the Ukrainian NGO EcoAction considers it necessary to raise awareness about the advantages, disadvantages, and risks of such lease agreements amongst Ukraine's rural communities.
Some of the risks are inherent in the nature of such an exceptional contract type. For instance, emphyteusis contracts grant "tenants" the right to resell their right to use the land without the owners' consent, can create issues for inheritance, and can only be annulled under limited circumstances.
Beyond these procedural points, there are other risks related to the future of farming livelihoods and the development of healthy agrarian structures in Ukraine, particularly in the context of highly unequal power relations. As land leases have become the main way of conducting business in the countryside, lease agreements are subject to significant competitive pressures, for example through agroholdings (large-scale farming enterprises with at least ten thousand hectares of land under management) who compete with small independent farmers on the rental market. Agroholdings can afford higher rental rates which, in a growing rental market with rising prices, gives them significant advantage. As a result, farmers may lose part or all of their land, forcing them to give up farming and seek alternative employment elsewhere. Corporate competition can also be fierce, as larger firms vie to acquire a weaker company or take a part of its land.
Often agroholdings and other powerful investors are able to take advantage of close political connections and easier access to financing to gain access to and control over land. They have secured the support of cheap loans from international financial institutions such as the European Bank for Reconstruction and Development (EBRD), the European Investment Bank (EIB), the World Bank, and the Ukrainian government. Thanks to approvals from the Antimonopoly Committee of Ukraine, companies with stable financial support have started to buy up agricultural enterprises with leased land and other assets. A larger area of controlled land has become a symbol of success in the agrarian sector – often based on the assertion that enterprises with tens of thousands of hectares of land under their control are more profitable than small enterprises, and that (outside) investors prefer large-scale companies.
These discussions often overlook how powerful actors can tip the balance in their favour. It is difficult, for example, not to notice the impact of agroholdings on Ukraine's national agrarian policy. They successfully lobby for their interests through "their own" MPs in the Verkhovna Rada and through committees that make the necessary amendments to the budget (for example on VAT refunds to exporters of agricultural products and on subsidies to chicken companies). At the local level, elected community leaders are often former agroholding employees, or actively support them as "the only local investor". Since the introduction of the moratorium, dozens of agroholdings and other agricultural companies with large land banks (of dozens and hundreds of thousands of leased hectares) and a strong influence on politics have gradually appeared. This raises concerns about the prospects for democratic land control, especially within the context of the ongoing global land rush.
The global land rush
Following on from the 2008-2009 global financial crisis, land became a profitable investment as investors sought to diversify their portfolios. In this 'global land rush', we have witnessed a growing appropriation of land by private entities including pension and insurance funds, banks, private universities, and agricultural companies, as well as by state-owned enterprises. Ukraine has been no exception and starting in 2007-2008, a number of companies have concentrated hundreds of thousands of hectares of land all over the country. In gaining control over considerable amounts of land, agricultural companies also gain control over local people, and sometimes even over political decision making processes. This is evidenced by the research and investigations of civil society and research organizations including in Romania, Bulgaria, and by the Transnational Institute.
Positioning around the land moratorium
Various actors are staking out different positions with respect to the lifting or prolongation of the moratorium, while some parties avoid expressing a particular opinion. For example, some agroholdings avoid being clear and direct in their advocacy, presumably in order to avoid frightening the tens of thousands of smallholders from whom they lease land who may worry that the agroholdings would then come out to sweepingly buy up their lands if the moratorium were lifted.
Here are some of the key parties in the debate:
Agroholdings: Some support the full introduction of a land sales market, some not, and some have not yet expressed their position publicly;
International and national financial institutions, including investment funds, and development banks. As a rule these actors see great potential in introducing a land market. They are ready to make investments, and are already preparing possible financing options for acquiring agricultural land;
Political parties. These often speculate and manipulate their electorate, who are sensitive to the land issue, but in practice they mainly support the interests of large-scale agricultural enterprises;
Public organizations, including non-governmental organisations. Often influenced by agribusinesses or MPs these actors rarely take an independent position on the moratorium;
The authorities (current government and regulators). The current authorities aim to be diplomatic with all of the above-mentioned parties. In fact, the authorities seem to stand in practice with those agroholdings who want to slow down the lifting of the moratorium, while nonetheless depending on international financial institutions.
The most recent strong public statement by a significant stakeholders' group on the moratorium was the Memorandum issued in 2018 between a number of NGOs, business associations, and investment funds. They argue that the moratorium is an impediment to the country's agricultural investments and a reason for a significant rural decline – although the latest deal between SALIC (Saudi Agricultural and Livestock Investment Company) and the agroholding Mriya, amongst others, shows that investment is in fact taking place.
Strikingly, for 18 years, smallholders and other individual land owners have not united under the umbrella of a similar memorandum. Why? After talking with dozens of people in Ivano-Frankivsk region, Vinnytsia region, and Cherkasy region, the author has made the surprising discovery that the locals are not even aware of the moratorium on the sale of agricultural land. The community members interviewed were convinced that sales are in fact taking place, through emphyteusis or gift contracts.
Beyond the moratorium: on the way to democratic land relations
While the future of the moratorium remains contested, it is likely that it will be repealed in the future. It has not fulfilled its role in preventing land concentration as initially expected and it may have even enabled further concentration as companies do not need to officially own land to gain control over it The European Court of Human Rights has also found that the moratorium violates private property rights.
Lifting the moratorium in the near future might lead to a new redistribution of resources or, conversely, to strengthening the existing alignment of forces of Ukraine's agribusiness. For this reason, one should think carefully about future land regulations, especially for protecting peasants' rights and preventing further land concentration. The necessary law on agricultural land sales should become a versatile tool for regulating land sales and harmonizing land relations. It must ensure democratic access to land, especially for marginalized groups, like today's peasants and smallholder farmers.
As a point of departure, international best practices in land tenure such as the Voluntary Guidelines on the Responsible Governance of Tenure of Land, Fisheries and Forests in the Context of National Food Security (hereinafter VGGT) should be taken into consideration.
The Voluntary Guidelines on the Responsible Governance of Tenure of Land, Fisheries and Forests (VGGT).
The VGGT were adopted during a special session of the UN Committee on World Food Security (CFS) in 2012 following a three year consultative process that included the active participation of social movements and civil society organisations. They are the first international instrument to apply a human rights based approach to the governance of land, fisheries and forests. As such, they can serve as an important tool for shaping land relations in Ukraine. Paragraph 1.1., for example, emphasizes the importance of developing land policy for the realization and protection of the rights of vulnerable and marginalized people, rural development, environmental protection, and sustainable economic and social development. In this vein, other paragraphs emphasize respect and protection of 'legitimate tenure rights' (4.4.); responsible agricultural investments, especially for smallholders (12.3); taking effective measures to prevent undesirable impacts on local communities arising from land speculation and land concentration (11.2); and the development of inclusive and participatory monitoring mechanisms (26.2).
Currently, we cannot say how effectively Ukraine's Ministry of Agrarian Policy uses the VGGT during the drafting of a bill on the land market in order to prevent human rights violations, land speculation, etc. Previous experience of implementing the VGGT in some Ukrainian legislative acts reflects the fact that they are underemphasized.
As Ukraine moves forward to consider its future land policy, the debate should not simply be restricted to the lifting or extension of the moratorium. It would be advisable for the government, in drafting the new policy, to examine the conditions which led to the concentration of control under the current regime. In particular, the land policy should take steps to address the constraints which have kept people from cultivating their own land, the pressures which them to sell long-term leases on their land, and what strategies and policies could be put in place to allow people to develop sustainable livelihoods on their land, from seed funding for young farmers, to infrastructural development to allow small-scale producers better access to markets.
Agricultural land use must prioritise food production above other forms of land use, such as construction of (bio)energy complexes. Finally, given the devastating impact on the environment of the model and scale of production employed by many agroholdings – including the use of chemical fertilizers and pesticides, monocultures GMOs and heavy machinery which have led to soil degradation, loss of fertility, erosion, and a reduction in biodiversity – land regulations must be complemented by environmental laws that protect the environment from irresponsible agricultural production.
The form of cancellation of the moratorium and any future land policy depends on the political will of the future government, formed as a result of the new electoral cycle in 2019. It will also depend on the degree of public involvement in the drafting of a land market bill. We have witnessed the ineffectiveness of the ban on land sales. That is why the approach to regulating land transactions in the future must be more responsible. Land is a vital resource and part of the ecosystem which seriously affects the development of society, especially in rural areas where people are still inextricably linked to the land and its multiple values.
———————–
Walking on the West Side
The World Bank and the IMF in the Ukraine Conflict
———————————-
Cargill, Dupont, and Monsanto Bought 17 Million Hectares of Ukrainian Agricultural Land
Editor's note:
The 17 million hectares quoted was an error and its 1.7 million. Note the alleged companies don't hold the land in their names but via investment funds.
Three Large American Multinationals Bought 17 Million Hectares of Ukrainian Agricultural Land
Three large American multinationals bought 17 million hectares of Ukrainian agricultural land.
These are Cargill, Dupont and Monsanto (which is officially German-Australian but with American capital).
Five percent of Ukrainian agricultural land was subsequently purchased by the Chinese state. For comparison, the whole of Italy has 16.7 million hectares of agricultural land.
In short, three American companies bought more useful agricultural land in Ukraine than the whole of Italy.
Among the main shareholders of these three companies are Vanguard, Blackrock, Blackstone.
The usual suspects again…
Resources:
https://www.oaklandinstitute.org/blog/who-really-benefits-creation-land-market-ukraine
https://www.osw.waw.pl/en/publikacje/osw-commentary/2014-02-07/transformation-agriculture-ukraine-collective-farms-to
https://longreads.tni.org/the-land-question-ukraine#section4
https://www.oaklandinstitute.org/sites/oaklandinstitute.org/files/OurBiz_Brief_Ukraine.pdf
https://dakowski.pl/cargill-dupont-and-monsanto-bought-17-million-hectares-of-ukrainian-agricultural-land/