20 States Join Florida in Suing Over Mask Mandates on Planes, Public Transport
By Nanette Holt
Seeking to end a federal government mandate that requires people using public transportation to wear masks, Florida's attorney general filed a lawsuit on March 29 representing 21 states that want the order halted.
The 14-month mask mandate from the Centers for Disease Control and Prevention (CDC) is "unlawful," attorney general Ashley Moody and Gov. Ron DeSantis (R) told reporters at a press conference at the state Capitol.
The mask mandate had been set to expire on March 18 but was extended by the Biden administration until at least April 18.
"If you look at what's going on around the country and in Florida," DeSantis said, "we've been very clear that we want people to be able to make their own decisions. We don't believe in COVID theater."
"Forcing people to wear masks on airplanes," he added, "is not something that's grounded in any science."
And the policy hurts the people of his state, who depend on tourism, because "we're the No. 1 state people seem to want to come to," DeSantis said. "I think more people would want to fly if they did not have to" wear masks on airplanes.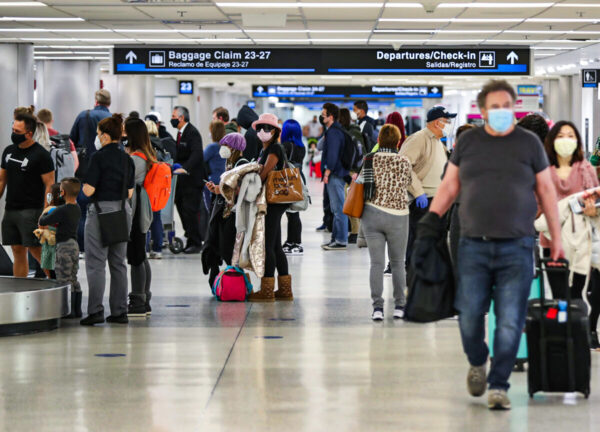 People gather their luggage after arriving at Miami International Airport on a plane from New York on Feb. 1, 2021, in Miami, Florida
The 30-page lawsuit against the Biden administration was only part of what he had to say at the press conference.
DeSantis also announced he'd received Senate Bill 102 that morning from his state's lawmakers. The bill would redraw congressional districts, a task that's required every 10 years when new population data from the U.S. Census is available.
He vetoed the bill, he announced, because of "legal concerns" related to racial gerrymandering.
Gerrymandering is the practice of changing boundaries of an electoral district or constituency so that it favors a particular party.
DeSantis sent the bill back to lawmakers with a letter outlining his concerns. And he called for a special session of the Florida Legislature in April, instructing lawmakers to ensure the new map would not have "unconstitutional racial gerrymanders."
He said the map they'd proposed "violates the Equal Protection Clause of the 14th Amendment to the U.S. Constitution, because it assigns voters, primarily on the basis of race."
His main concern centered on Florida Congressional District 5, a traditionally Democrat-held "sprawling district that stretches approximately 200 miles from East to West, and cuts across eight counties, to connect a minority population in Jacksonville, with a separate and distinct minority population in" two other counties, the letter stated.
That move could put him at odds with the Republican-controlled legislature, which now must reconvene in the state's capital on April 19-22. Lawmakers just returned home after wrapping up their two-month regular legislative session.
The map question has to be sorted out quickly because, due to population growth, Florida has gained another congressional seat. Candidates vying for that seat must file with the state Division of Elections between June 13 and June 17.
During the two-pronged press conference, DeSantis first tackled the matter of federal mask mandates on public transportation. In instituting forced masking, DeSantis and Moody said the CDC had acted unlawfully.
Their lawsuit says the CDC-issued rule on mask-wearing exceeds the agency's authority and interferes with state laws banning forced masking.
Florida was joined in the lawsuit by Alabama, Alaska, Arizona, Arkansas, Georgia, Idaho, Indiana, Kansas, Kentucky, Louisiana, Mississippi, Missouri, Montana, Nebraska, Ohio, Oklahoma, South Carolina, Utah, Virginia, and West Virginia.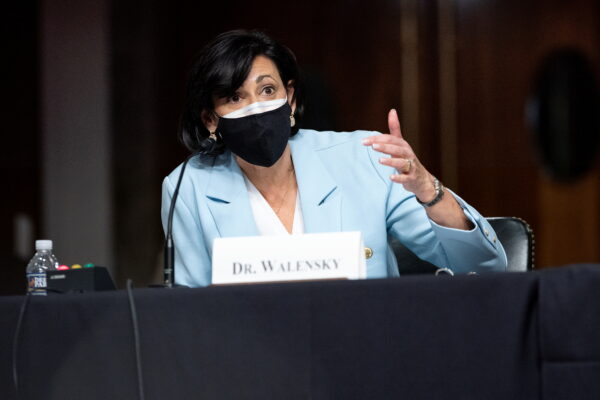 Dr. Rochelle Walensky, director of Centers for Disease Control and Prevention, speaks during a congressional hearing on Capitol Hill in Washington in a file image
Named as defendants in the case are the CDC and its director, Rochelle Walensky; and CDC Chief of Staff Sherri Berger. The lawsuit says Berger issued the mandate.
Also named as defendants are U.S. Health and Human Services (HHS) and HHS Secretary Xavier Becerra; the Transportation Security Administration (TSA) and its administrator, David Pekoske; the U.S. Dept. of Homeland Security (DHS) and DHS Secretary Alejandro Mayorkas; and the United States of America.
The states are asking the court to declare the mask mandate unlawful and permanently halt its enforcement. The lawsuit also asks the court to force the defendants to pay the states' costs and attorney fees, and "award such other relief as the court deems equitable and just."
The lawsuit was filed in the U.S. District Court, Middle District of Florida, Tampa Division. It says that the CDC has made "unprecedented assertions of power" since the pandemic began, "to prohibit evictions nationwide, to shut down the nation's cruise industry for over a year, and to impose economy-wide mask requirements—including for toddlers as young as 2."
The mandate requires mask-wearing in U.S. transportation hubs, including airports, bus terminals, marinas, train stations, ports, subway stations, or any other area that provides transportation within the United States.
Operators are charged by the rule to "use best efforts to ensure that persons wear masks as required."
The lawsuit notes that "violation of the mandate carries 'criminal penalties,' although the CDC has announced that it 'does not intend to rely primarily on these criminal penalties' because it 'anticipates widespread voluntary compliance.'"
That particularly irks DeSantis.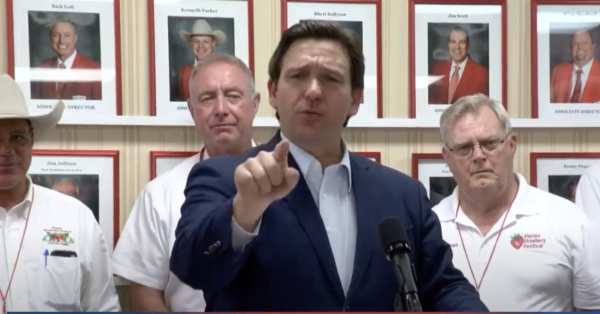 Fla. Gov. Ron DeSantis reacts during a press conference March 7 in Plant City to a reporter, who referred to the Parental Rights in Education bill as the "Don't Say Gay" bill, in his question
"Florida has led the nation in standing up to misguided federal government policies and fighting back against heavy-handed mandates that have no scientific backing," DeSantis said.
"If politicians and celebrities can attend the Super Bowl unmasked, every U.S. citizen should have the right to fly unmasked. It is well past time to get rid of this unnecessary mandate and get back to normal life."
The CDC has acted far beyond what is allowed by law, the case alleges.
It notes, "The CDC renewed the eviction moratorium after five justices of the Supreme Court signaled it was unlawful, and after the president stated publicly that it would not be renewed in light of the Supreme Court's decision."
Further, it was wrong for the CDC to issue the mandate without giving citizens the opportunity to comment—during the five months the agency was considering the mandate before it was issued, and in the 14 months since it was issued, Moody said.
The lawsuit alleges that states are harmed because they "must expend resources to enforce the mandate. If they do not, they risk criminal and civil penalties." And the mandate infringes on the sovereignty of the states to look out for "the health, safety, and welfare of their citizens," the lawsuit says.
In response to reporters' questions, DeSantis also took time to push back against the Walt Disney Company at the press conference.
The corporation, which operates Disney World in the mid-state Orlando area, has announced it will work to repeal the Parental Rights in Education bill.
The measure, signed into law by DeSantis on March 28, stirred up heated debates and protests nationwide over the past two months and became known by a misleading moniker, the "Don't Say Gay" bill. The bill doesn't prohibit anyone from speaking about homosexuality.
It does ban classroom instruction on issues of gender identity and sexual orientation in kindergarten through Grade 3.
And it says parents must be included in decisions affecting their children's mental or physical well-being, such as counseling on gender transitioning.
DeSantis has been widely scorned by progressive LGBTQ activists, including during the Academy Awards on March 28, for his enthusiastic support of the bill lawmakers sent to his desk. Gay conservatives have spoken in favor of the bill, saying it protects children.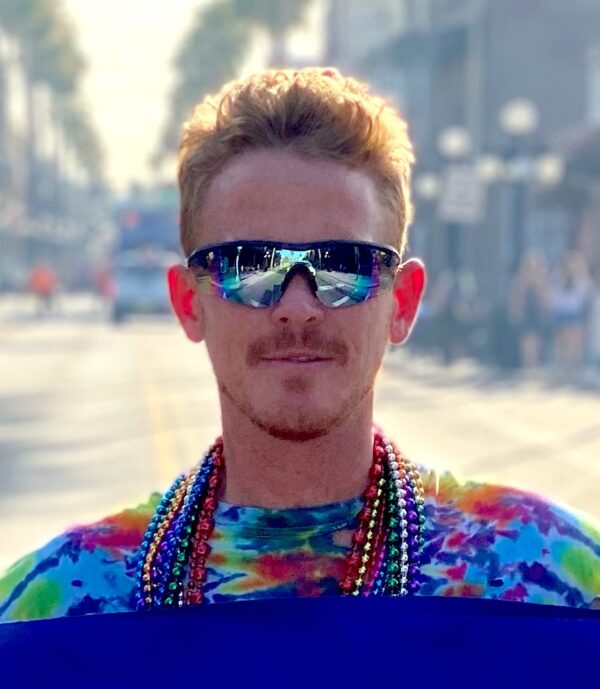 David Leatherwood, chapter president of the Log Cabin Republicans of Tampa Bay, holds a flag showing support for Fla. Gov. Ron DeSantis' campaign for reelection this year
In an email sent out just after the March 29 press conference from his reelection campaign headquarters, DeSantis wrote, "Rest assured—I'm not worried about what out of touch 'entertainers' have to say, and I'm certainly not going to be intimidated by people who don't live in reality.
"And the chances of me backing down to Disney-owned ABC or the low-rated Oscars is precisely zero. No amount of sloganeering from the liberal machine will change that.
"Despite these baseless charges from 'Hollywoke' and the legacy media, I proudly signed the Parental Rights in Education Bill to ensure that children K–3 are not taught R-rated content in their G-rated years."