Chinese Regime Locks Down Mega Port City of 14 Million Under 'Zero-C0VID' Policy
By Alex Wu
The Chinese communist regime has locked down another major city—Tianjin in northern China—under its strict "Zero-COVID" policy. Meanwhile, mandatory mass testing is being conducted in the city. Authorities warn those who violate the regulations that they will not only be punished but that it would even "affect their future generations."
Tianjin is one of China's four cities that are directly controlled by the central government, and a major port city in the north. The authorities announced on May 19 that they would implement a closed "static management" policy for the population of nearly 14 million, restricting the free movement of people and vehicles.
Since the lockdown of Shanghai in late March that caused tragedy and suffering for the residents in the city, attracting worldwide attention and criticism, the Chinese regime has avoided using the word "lockdown" and instead preferred the vague term "static management," which is essentially a strict lockdown situation.
In the notice, Tianjin authorities stated that from May 21, all residents in Tianjin would remain static in their place of residence, and citywide COVID-19 nucleic acid testing for all residents would be conducted.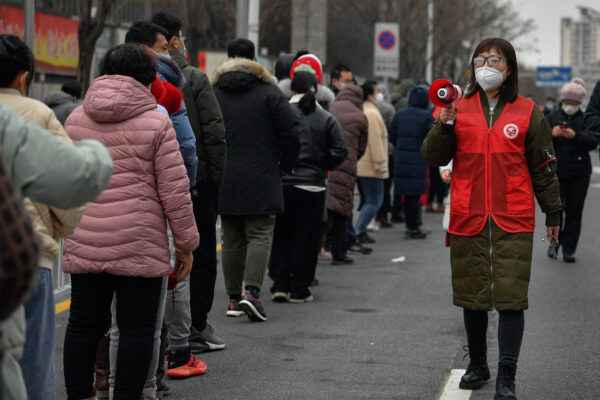 A woman uses a loudspeaker to give advice to residents as they line up during mass testing in Tianjin, China on Jan. 9, 2022.
According to more detailed official announcements by the city's districts, people are prohibited from "random movement" outside their homes until the nucleic acid test results are released.
On the same day, the Tianjin Metro operation authorities also issued an announcement on its official social media account on Weibo, saying that the stations of many lines of the Tianjin Metro were temporarily closed.
This is following the shutdown of public transportation and unannounced lockdowns recently in Beijing, the capital city that is 84 miles away from Tianjin, due to the worsening of a new wave of COVID-19 outbreak. Beijing officials also announced that they would tighten the "static management" of the capital in the meantime.
With the escalation of epidemic prevention and control, Tianjin authorities announced on May 20 that nucleic acid testing in the five central districts of Nankai, Hongqiao, Hexi, Hedong, and Heping would be launched that same night, earlier than previously announced.
Prior to the citywide lockdown in Tianjin, some districts had already been locked down.
Beichen District announced a lockdown on May 19, restricting people's movement and gathering and vehicles entering and leaving the district.
The Epoch Times obtained video showing Beichen District being locked down and police preventing drivers from going to the district.
On May 19, the neighborhood committee of Huafengjiayuan Community in Dongli District, Tianjin issued an announcement warning residents: "For the spread of the epidemic caused by residents who go out without permission after finishing nucleic acid test, the public security organs will hold them accountable, and it will affect their future generations. Hope everyone thinks twice before acting."
The official threat against citizens to "affect their future generations" has attracted wide attention and criticism on social media. This is not the first time that such a threat was made by Chinese communist officials during a lockdown.
A video that has been widely circulated on the internet since May 11 shows a young couple in Shanghai who had a negative nucleic acid test result but were coerced at their home by several policemen to be forcibly transferred and quarantined in a centralized isolation facility.
It can be heard in the video that the husband refused, and the police threatened: "If you refuse to be transferred, you will be punished by the public security. After you are punished, it will also affect your future three generations!" The husband replied, "We're the last generation, thank you."