"It Appears That a Strong Undercurrent of Anger Existed in the AFL Community Against the Vaxx Mandate, Which the AFL and Media Worked Very Hard to Keep From the Public."
"It appears that a strong undercurrent of anger existed in the AFL community against the vaccine mandate, which the AFL and media worked very hard to keep from the public."
—————–
Heart Attacks force AFL to scrap Vaccine Mandate
The AFL has belatedly scrapped its controversial vaccine mandate, which has caused several on-field heart-related medical emergencies in the 2022 season. Naturally, the Lying Press is attempting to divert attention to the players who may return to the game.
From Fox Sports:
The AFL has lifted its vaccine mandate, clearing the way for unvaccinated players against Covid-19 like Liam Jones… to return to the game.
The league wrote to all clubs on Thursday saying it's now "strongly encouraging" all AFL and AFLW players and industry figures have the vaccination instead of it being mandatory.
It means ex-Blue Jones, who retired after failing to meet the league's vaccine mandate last year, could continue his AFL career in 2023 as several clubs express interest in the defender, having met with Essendon last week.
Given Carlton is looking at its first genuine crack at the premiership since the 1990's despite its backline being decimated by injury, Jones should be in a strong bargaining position.
One has to wonder what was even the point of a vaccine mandate which barely even lasted a season. This has all the hallmarks of an organisation attempting to look as though its decision has nothing to do with its own culpability in serious health scares to contracted players.
In a Round 1 match between Melbourne and Footscray, Bulldogs player Hayden Crozier "unexpectedly fainted" at half time and was taken to hospital to monitor his heart. In a Round 4 match between Port Adelaide and Melbourne, Brownlow Medalist Ollie Wines suffered from myocarditis and spent several nights in hospital as a result.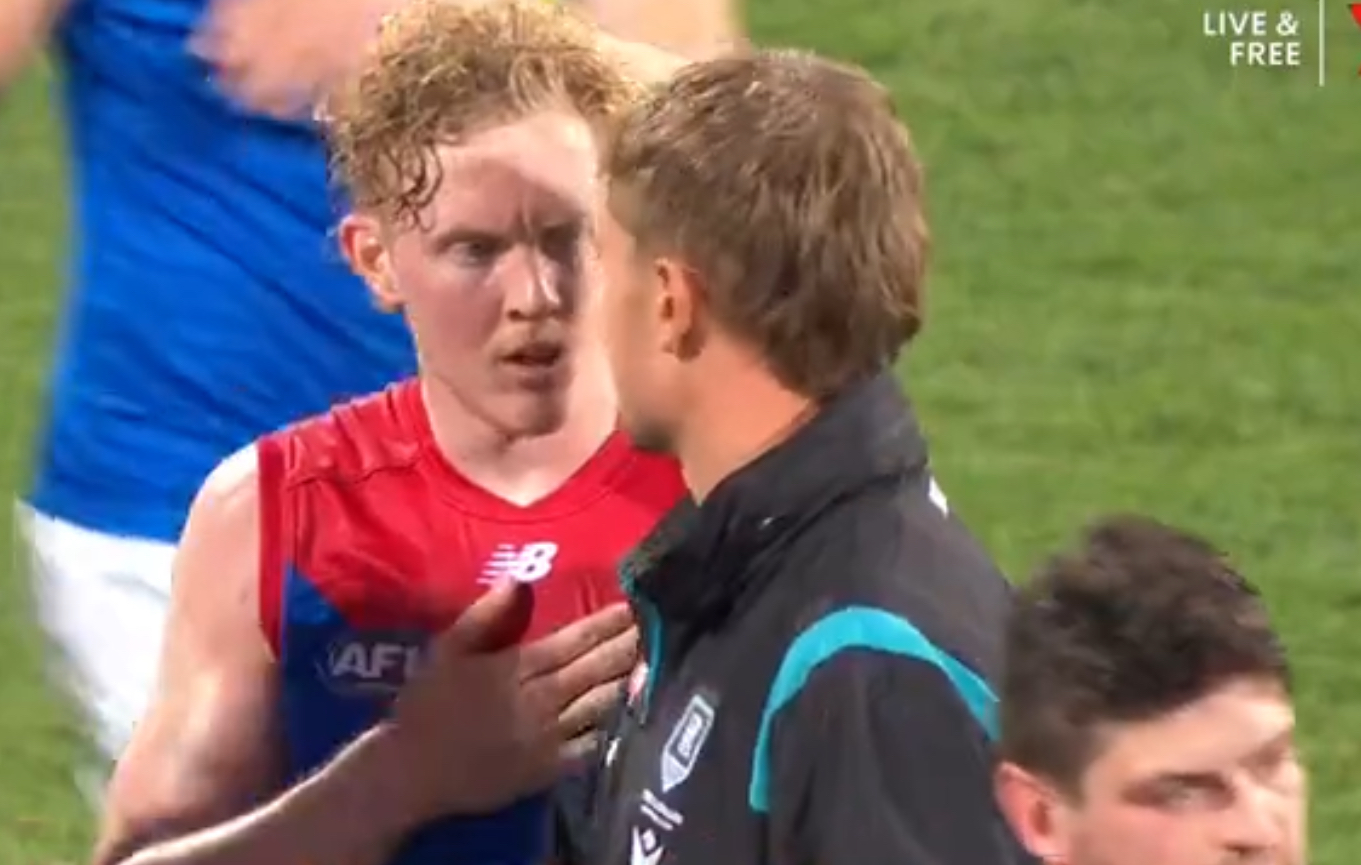 Melbourne's Clayton Oliver clearly distressed at Ollie Wines' heart condition.
It was at this point that cracks started to appear in The Narrative, with Sunday Footy Show hosts briefly raising the possibility that the not-vaccine may have had something to do with it:
This is the biggest news story on the planet. Mainstream Media football show hosts openly talking about adverse reactions sweeping the world after #OllieWines was hospitalised with an irregular heartbeat. pic.twitter.com/9azM3eFTz1

— XYZ (@itsyourxyz) April 10, 2022
A little time spent in Room 101 led to hasty retractions:
Aus 🇦🇺 Here we go…🧐 It would seem the back peddling has begun…. Port Adelaide AFL Player Ollie Wines and The Club Doctor say his Myocarditis diagnosis is NOT WAX related….🧐🧐🧐 pic.twitter.com/GMreUiZyB5

— 𝙍𝙄𝙎𝙀𝙈𝙀𝙇𝘽𝙊𝙐𝙍𝙉𝙀 (@risemelbourne) April 11, 2022
However, the damage was already done. Days later, AFL CEO Gillan McLachlan announced his retirement.
How do you rate Gillon McLachlan's tenure?

An emotional McLachlan has fought back tears as he announced he will step down as @AFL boss at the end of the 2022 season, after eight years in the job. 🏉

💻 Blog: https://t.co/mG26ecb3uw
Read more: 👉 https://t.co/8r9Sklj7oS#AFL pic.twitter.com/2TOmKi2zlc

— ABC SPORT (@abcsport) April 12, 2022
The vaccine mandate may have been scrapped sooner, however, a near fatal heart attack to West Coast Eagles legend and Norm Smith Medalist Peter Matera meant that the AFL had to delay lifting the mandate to make it look as though it had nothing to do with heart attacks.
Once again, the truth was allowed to slip through the cracks, with brother and fellow former West Coast footballer Phillip Matera linking the heart attack to the not-vaccine:
Finally… after endless heart attacks amongst sporting elites in Australia… Phil Matera finally questions wether it has anything to do with the vaccines 🔥🔥🔥 pic.twitter.com/9AZymgGELj

— Pelham (@Resist_05) May 31, 2022
Thus it appears that a strong undercurrent of anger existed in the AFL community against the vaccine mandate, which the AFL and media worked very hard to keep from the public.
Heart attacks have struck multiple current and former sports professionals this year, taking the lives of cricket legends Shane Warne and Rodney Marsh. Heart attacks, myocarditis, pericarditis and other heart ailments have swept the world and Australia in the wake of the so-called "vaccine rollout".
The vaccine is the virus, and it is doing its intended work. Death rates are spiking while multiple datasets indicate birthrates are plummeting.
Resources:
https://t.me/thexyztelegram/4819
https://xyz.net.au/2022/07/heart-attacks-force-afl-to-scrap-vaccine-mandate/