'They Deserve To Be Able To Party:' Unvaxxinated Teens Granted Exemption
By Lucy Carroll and Mary Ward
Unvaccinated teenagers in NSW have been granted an exemption to attend end-of-year celebrations, with health officials giving the green light for all year 12 students to attend formals and graduations.
Despite not being able to attend house parties or nightclubs with their peers, unvaccinated year 12 students will be able to attend their school formals after it was signed off by NSW Health Minister Brad Hazzard on Wednesday.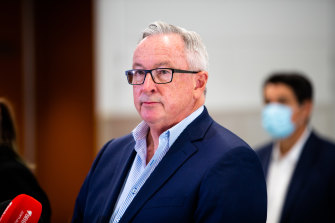 Health Minister Brad Hazzard has granted an exemption to unvaccinated teenagers in NSW to attend end-of-year celebrations.
According to federal government data, 87.2 per cent of teenagers aged 16 to 19 in NSW have been double-jabbed. Unvaccinated students have been able to attend classes – as well as complete their HSC exams – alongside vaccinated peers since returning to in-person learning in October.
"The HSC students of 2021 have had an incredibly tough 18 months, including substantial time without face-to-face teaching, and missing out on seeing friends and family," Mr Hazzard said.
"They deserve to be able to party with their friends and enjoy one of the biggest celebrations of their life."
Many schools had booked formals for early December, when the plan was to ease restrictions for unvaccinated residents from December 1. However, that date has since been pushed to December 15, leaving some schools in the position of potentially needing to exclude some students due to rules about entering function centres.
Unvaccinated parents of students are blocked from attending festivities, and students must present a negative COVID-19 test within 72 hours of the event. The rule change will only apply to events organised by the school.
Minister for Education Sarah Mitchell said the exemption gives year 12 students the chance to celebrate with each other at the end of an "incredibly turbulent year".
Hundreds of NSW schools have closed recently due to COVID-19 cases, including 153 in the past two weeks, forcing thousands of children into isolation.
Since the start of November, about 18 per cent of cases in NSW have been in children aged 10 to 19.
Government ministers will meet on Thursday to discuss COVID-19 restrictions, including the possibility of easing mask rules.
After regional outbreaks dominated infections in NSW earlier this month, Sydney cases have continued to drive daily figures. Forty-six of Wednesday's reported 248 new cases were detected in South Eastern Sydney Local Health District, which stretches from the eastern suburbs to the Hurstville area and Sutherland Shire.
There were 80,317 tests recorded on Wednesday, however health authorities have expressed concern about younger children attending school with symptoms such as a runny nose or a sore throat. Children aged nine and under account for about a quarter of new cases in the state.
"We continue to see quite a number of cases of COVID-19 in schools, among our young people, so we do ask our young people and parents to be particularly vigilant," NSW Deputy Chief Health Officer Marianne Gale said.
Dr Gale said it was important children who have any respiratory symptoms do not go to school, noting COVID-19 in children can be very mild. They should instead be taken for a test.
NSW reported two new COVID-19 deaths on Tuesday: an unvaccinated man in his 80s from western Sydney and a woman in her 60s from the Wollongong area who had received one dose of a COVID-19 vaccine and had underlying health conditions.