VSRF Update: How Toxic is the Spike Protein?
By Steve Kirsch
Watch the preview for this Thursday's show with Dr. Jessica Rose, PhD.
Over the past year and a half, we have been doing everything we can to both inform and warn people about the grave danger of the COVID-19 vaccines. This is often at great professional and personal cost. Is anyone listening?
Yes. The booster uptake rate is abysmal and dropping. The number of parents who gave their under-5 children the jab remains statistically very small.
Our work is paying off.
This past week an official Public Service Announcement video was released by New York Presbyterian hospital on the topic of myocarditis…in children.
Watch the myocarditis PSA here
The health establishment might never admit they were wrong, but this video loudly demonstrates that they cannot hide from the truth about the severe, negative health impacts of the COVID-19 vaccines forever.
They are beginning to listen. So what now?
We go deeper into the research, into the science and the data.
Join us Thursday with the most dangerous woman in science*, Dr. Jessica Rose, PhD. Jessica's peer-reviewed paper with Dr. Peter McCullough, MD, MPH, on Myocarditis and the COVID-19 vaccines, was pulled down by Elsevier within a week after publishing with no explanation from the Publisher. It is now essentially acknowledged to be true as we see in the above video.
*dangerous to the medical-Big Pharma establishment!
Read The Groundbreaking Research by Dr. Jessica Rose, PhD and Dr. Peter McCullough, MD, MPH.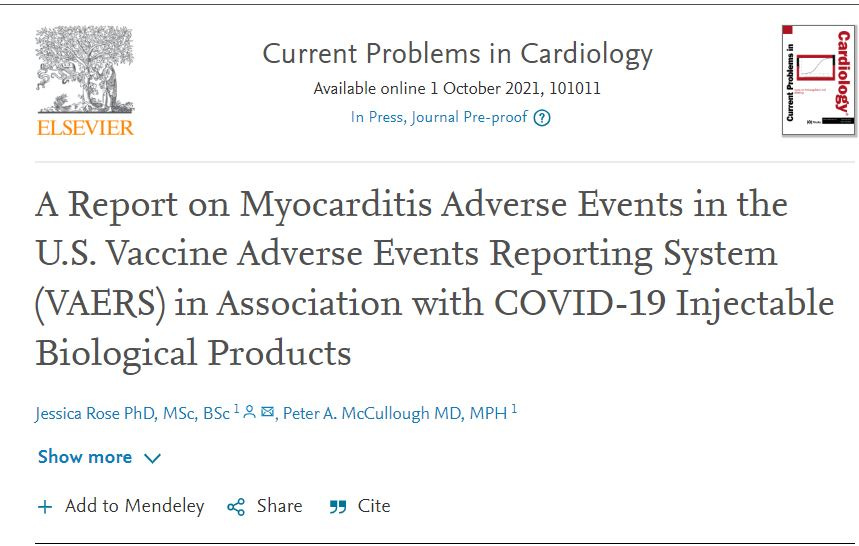 We'll be talking with Dr. Rose about the latest data on the COVID-19 vaccines, reforming the VAERS system, and how to restore free scientific inquiry in an age of Big Tech-State-Big Pharma censorship.
And we'll reveal for the first time why Jessica transitioned from unacceptable to unconditional!