Ash Barty Announces Retirement From Tennis
I wonder if this is just an early retirement…
or can Ash see the writing on the wall and what's coming for all these sporting bodies that pushed the jabs?
I know what I'd be doing.
Get out ASAP.
Only time will tell though.
Ash will be remembered as a fierce but composed competitor who was always classy, honorable, and gracious in both victory and defeat.
Go well young lady,
You did Australia proudly.
Ash Barty Announces Retirement From Tennis After Decorated Career
– Barty says she is satisfied with her decision to retire.
– She finishes her career as a three-time major singles champion.
– Barty says winning the Australian Open was the "perfect way" to bow out of the game.
Australian tennis star Ash Barty has announced her retirement from tennis.
Barty made the announcement via her Instagram account.
"I don't have the physical drive, the emotional want and everything it takes to challenge yourself at the very top level anymore," she told close friend Casey Dellacqua in an Instagram video.
"I just know I am absolutely spent. I know physically I have nothing more to give and that for me is success.
"I've given absolutely everything I can to this beautiful sport of tennis and I'm really happy with that.
"I'm so happy, I'm so ready and I just know at the moment in my heart for me as a person that this is right," Barty added.
"I've done this before but [this is] a very different feeling. I'm so grateful for everything tennis has given me.
"It's given me all of my dreams and more, but I know that the time is right now for me to step away and chase other dreams, and put the racquet down."
Barty, who turns 26 next month, finishes her career with three major singles titles — the French Open (2019), Wimbledon (2021) and this year's Australian Open.
Barty says she leaves tennis satisfied with what she achieved in the game.
She was world number one for a total of 121 weeks, a stint that included a streak of 114 consecutive weeks, which is the fourth longest in WTA Tour history.
Barty won the prestigious season-ending WTA Finals in 2019 and claimed 15 singles titles during her career.
She was also an accomplished doubles player, winning the 2018 US Open title alongside American CoCo Vandeweghe.
"I've had a lot of incredible moments in my career that have been pivotal moments, and Wimbledon last year changed a lot for me as a person and an athlete," she said.
"When you work so hard your whole life for one goal … to be able to win Wimbledon, which was the one true dream that I wanted in tennis, that really changed my perspective.
"I just had that gut feeling after Wimbledon and there was just a little part of me that wasn't quite satisfied, that wasn't quite fulfilled.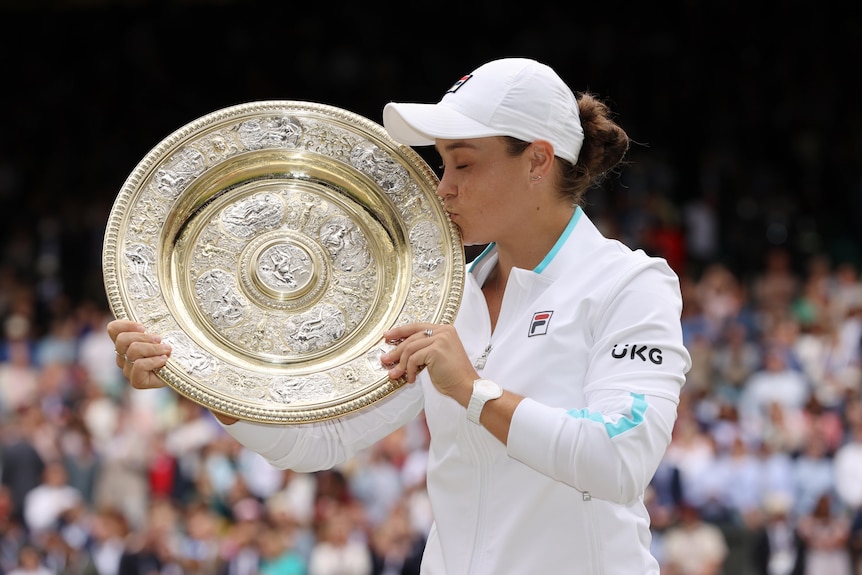 Barty realised a childhood dream when she won Wimbledon last year.
Barty had previously stepped away from tennis in late 2014 when she was 18, before returning to the sport — following a stint playing cricket in the WBBL — in 2016.
She won her first singles major three years later and soon after climbed to the top of the world rankings.
"There was a perspective shift in me in the second phase of my career that my happiness wasn't dependent on the results," Barty said.
"Success for me is knowing I've given absolutely everything I can. I know how much work it takes to bring the best out of yourself.
Barty said she wanted to explore other opportunities in her life outside of tennis.
"For me, Ash Barty the person has so many dreams that she wants to chase after that don't necessarily involve travelling the world, being away from my family, being away from home, which is where I want to be.
"I'll never, ever, ever stop loving tennis, it'll always be a massive part of my life. But now I think it's important that I get to enjoy the next phase of my life as Ash Barty the person, not Ash Barty the athlete.
"It was hard [making the decision to retire] but it's right and I know that brought me lots of comfort, knowing this is right for me. I am very excited."
Barty's Australian Open victory at Melbourne Park in January marked her final professional appearance as a tennis player.
She did not drop a set on her way to becoming the first Australian in 44 years to win the women's singles title.
Barty was the second First Nations woman to win the tournament following her idol Evonne Goolagong Cawley's four victories in the 1970s.
Goolagong Cawley presented Barty with the championship trophy in a touching moment following the final.
Tributes flow for Barty
Australian Prime Minister Scott Morrison tweeted his congratulations to Barty following her decision to retire.
"Thank you for inspiring a nation. You are all class. Your achievements will be celebrated for all time," the tweet read.
The global tennis community has been left in shock by Barty's retirement, although the Australian had confided in those close to her before she publicly announced the decision.
Australian Billie Jean King Cup captain Alicia Molik said Barty called her with the news on Tuesday.
"She knows exactly what she wants out of life and tennis," Molik told ABC Radio Perth.
"She would've given this a lot of thought over the last 12 months. Genuinely, she feels she's extracted everything she can out of her tennis career.
"It's unusual, retiring at the top. It's pretty gutsy, it's pretty noble.
Pat Rafter said he doubted Barty would have any regrets about her decision to retire.
"She has done it on her terms," he told ABC Radio Melbourne.
"She really wanted to win Wimbledon, which she won, and decided to go around for the Aussie Open and I was so happy for her that she won that.
"I think she feels really content right now."
Sam Stosur, who was the last Australian to win a major singles trophy until Barty's 2019 French Open triumph, praised Barty for her "incredible career".
"So good for you to follow your heart and once again do it your way with this decision," Stosur wrote on Instagram.
"Can't wait to hear what is next for you but in the meantime enjoy retirement!"
Dylan Alcott, who retired from tennis at the Australian Open, expressed his pride in Barty.
"Amazing tennis player but even better person," Alcott tweeted.
Former world number one Simona Halep said Barty would be missed on tour.
"You were different, and special, and we shared some amazing moments," Halep tweeted.
"What's next for you? Grand Slam champion in golf?! Be happy and enjoy your life to the max."
Andy Murray and Thanasi Kokkinakis were also among the current and former tennis players who paid tribute to Barty.
The WTA Tour tweeted Barty was an inspiration to tennis players around the world.
"Thank you, Ash Barty, for the incredible mark you've left on-court, off-court and in our hearts," the tweet read.
Resources:
https://t.me/daveoneegschat/10556
https://www.abc.net.au/news/2022-03-23/ash-barty-announces-retirement-from-tennis/100932944