China Overtakes Germany in Car Exports
As soon as they meet Germany build standards (soon) Germoney is f**ked.
FYI, most Euro manufacturers equip their cars with Chinese made engines and electronics.
GM took government bailout money in 2008, and immediately shifts operations to Mexico and China.
China closes gap with Japan after 2022 car exports surpass Germany with 54.4 per cent surge to 3.11 million vehicles
– Exports accounted for 11.5 per cent of mainland China's total 2022 production of 27 million vehicles, according to a manufacturers' association
– Electric-car shipments surged 120 per cent year on year to 679,000
China has surpassed Germany to become the world's second-largest car exporter after mainland exports jumped 54.4 per cent year on year to 3.11 million vehicles in 2022, according to the China Association of Automobile Manufacturers (CAAM).
The nation is also closing in on Japan's export volume, and is likely to clinch the title of the world's top car exporter in the coming few years, analysts said.
According to MarkLines, an auto industry data provider, Japanese carmakers shipped 3.2 million vehicles abroad in the first 11 months of 2022, almost unchanged from a year earlier.
In 2021, Japan exported 3.82 million cars, and it is expected to post a year-on-year decline once its full-year results are tallied.
Germany exported 2.61 million cars last year, up 10 per cent from 2021, according to the German Association of the Automotive Industry (VDA).
"The strong growth momentum in China's car exports has helped the nation to earn a reputation as a powerful carmaker, as its passenger and commercial vehicles are well received by people outside the mainland," said Cao Hua, a partner at private-equity firm Unity Asset Management. "China's electric cars have won considerable market share in some developing nations and will eventually propel the country into the top position of the world's major auto exporters."
Exports accounted for 11.5 per cent of mainland China's total 2022 production of passenger cars and commercial vehicles, which rose 3.4 per cent year on year to 27 million, according to the CAAM.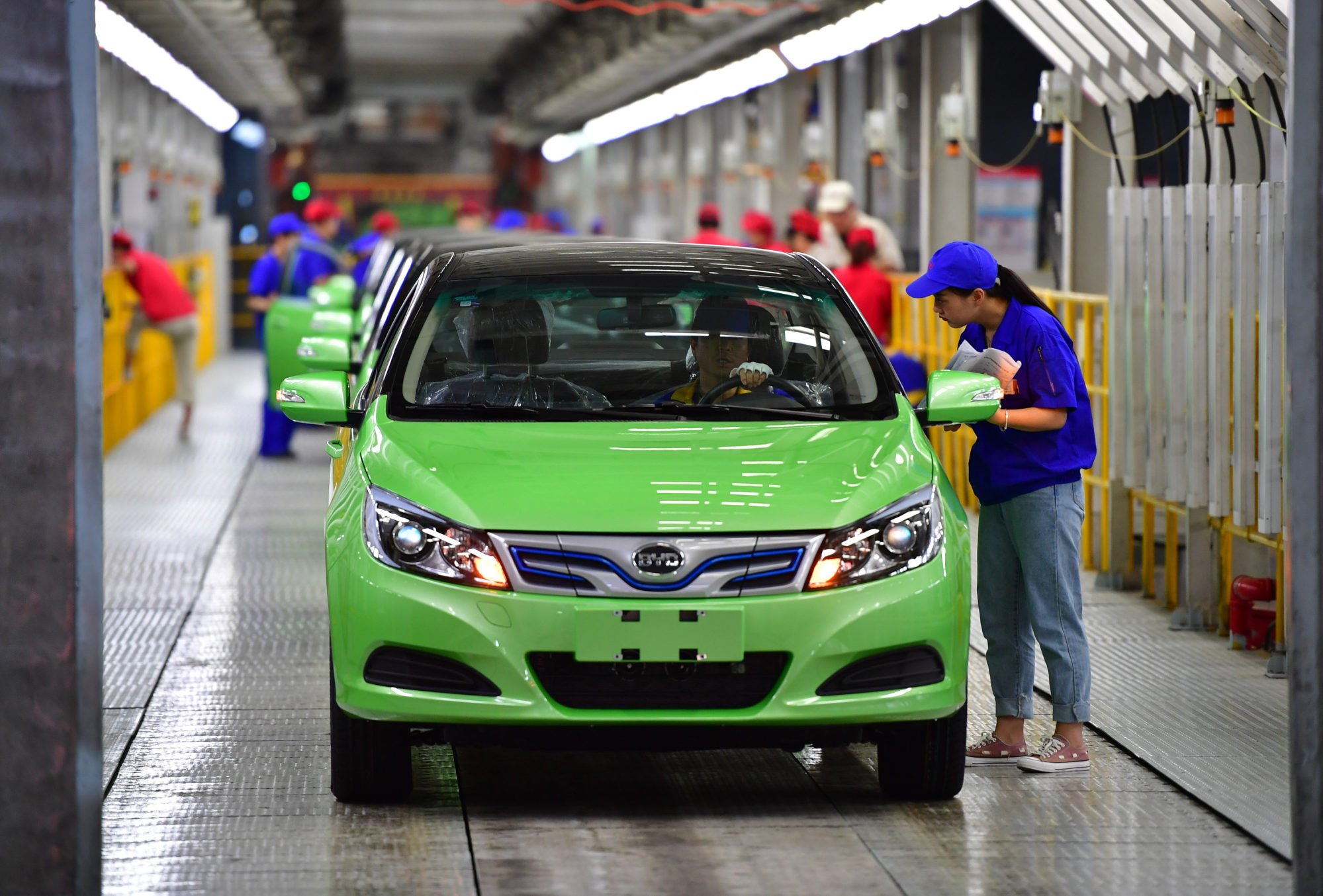 Workers check BYD electric cars on a manufacturing line in Xian in northwest China's Shaanxi province in 2019.
China's car market, the world's largest since 2009, has long been dominated by foreign brands such as Volkswagen, General Motors, BMW and Mercedes-Benz.
However, the country's indigenous brands, such as BYD and Geely, are accelerating a global push, supported by a robust automotive supply chain.
Electric vehicles (EVs) have become a significant factor in China's buoyant car exports, with EV shipments surging 120 per cent year on year to 679,000 in 2022, the CAAM data showed.
Citic Securities forecast in a research report last month that China's car export volume could hit 5.5 million units in 2030, of which 2.5 million cars would be electric.
UBS analyst Paul Gong said that Chinese EV builders have been racing ahead of their Japanese and South Korean rivals to tap Southeast Asian markets and also have plans to set up production bases and promote their vehicles there.
"It is not just the beginning of the Chinese carmakers' global push," said Gong. "They are already the established market leaders in some Southeast Asian countries."
BYD, backed by Warren Buffett's Berkshire Hathaway,
dethroned Tesla as the world's largest EV maker
 in the second quarter of 2022.
In mid-October, the company launched its first passenger vehicle in India, the Atto 3 electric sport utility vehicle, to spur overseas sales. It is now selling its cars in multiple overseas markets including Norway, Singapore and Brazil.
BYD is also considering building a battery plant in the United States but does not currently plan to sell its electric cars there, according to a Bloomberg news report.
China is also the world's largest EV market, bolstered by government incentives such as cash subsidies, a consumption tax break and distribution of free car licences.
The country is now home to about 200 EV assemblers, and home-grown players took an 84.7 per cent share of the domestic market in 2022, according to data from the China Passenger Car Association.