Cost of Building a Home in Australia Soars by $80,000 in One Year
By Alfred Bui
Homes in Australia are getting much more expensive to build, with the average cost of erecting a private dwelling soaring by nearly $80,000 (about US$54,000) in the past 12 months.
Through analysing the latest construction data from the Australia Bureau of Statistics, The Epoch Times found that at the national level, it cost about $413,436 on average to build a private house in May, up from $335,812 a year earlier and from $332,248 in February 2020–before the COVID-19 pandemic broke out.
Among the states and territories, New South Wales had the highest average building cost of $457,166 per dwelling, followed by the Northern Territory at $451,364, Victoria at $439,480, and Queensland at $410,126.
At the same time, Victoria and Queensland experienced the most significant growth in average building cost at around 27 percent, while South Australia's cost only increased by 8.5 percent during the period.
Rising building material costs, high inflation, supply chain disruptions and wage pressures have forced builders to hike their prices.
Paul Viney, the Victorian president of the Association of Consulting Architects, said home builders pushed their prices up a lot to avoid losses.
"Builders are terrified of making a loss [so] they build in significant contingencies to make sure they are protected against future cost increases," he said, as reported by The Age.
"They are pricing through the roof because of that fear."
Soaring Building Material Costs
Housing Industry Association senior economist Nicholas Ward told The Epoch Times that the cost of building materials rose by about 15 percent in the year to March 2022 and 18 percent during the whole COVID-19 period.
"COVID has seen demand for building materials increase around the world, including in Australia," he said.
"In Australia, the number of homes under construction is actually at a record level, but COVID has also seen the supply environment very, very constrained.
"So the combination of very strong demand and very constrained supply … The net result of that is cost increases."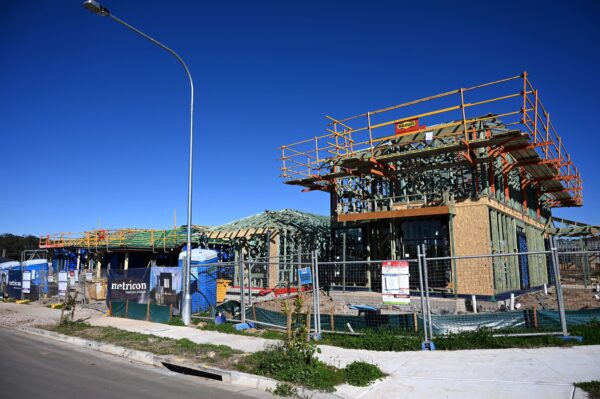 This picture taken shows a construction site in western Sydney, Australia, on July 22, 2021.
Regarding the changes in construction costs over 2022, global management consulting firm Arcadis forecast in its latest quarterly Australia Construction Market View report that building tender prices would climb from four to five percent in Sydney and Brisbane, three to four percent in Melbourne, five to seven percent in Perth and two to three percent in Adelaide.
Matthew Mackey, Arcadis' Executive Director of Cost and Commercial Management, said although the supply chain pressures plaguing the sector in 2021 were easing, other factors now weighed more heavily on the outlook for construction costs in the country.
"The biggest issue for construction costs in the near term is fluctuating energy and commodity prices, which flow through directly to key materials like steel, timber and concrete. These are US dollar costs and are not something over which Australian contractors have a lot of control," he said.
"With immigration still limited, the supply of labour remains tight. And that will feed into costs."
Mackey also warned that skills and labour shortages would become a critical issue for the Australian construction sector in the next decade.