Elon Musk Criticizes Wikipedia Over Calling His Suspension of Journalists' Accounts a 'Massacre'
By Frank Fang
Elon Musk criticized Wikipedia after an article on the open-source platform characterized his temporary suspensions of several journalists' accounts as the "Thursday Night Massacre."
"A two-day suspension of maybe 7 accounts for doxxing got an actual Wikipedia page!? Wikipedia is controlled by the MSM [mainstream media] journalists," Musk wrote on Twitter on Dec. 17. "Can't trust that site anymore."
In a separate tweet on the same subject on Saturday, Musk wrote, "Wikipedia is overly controlled by mainstream media," while tagging Wikipedia co-founder Jimmy Wales.
Musk suspended the accounts of several journalists on Dec. 15 for allegedly doxxing his location in real-time, saying their actions put his safety and that of his family at risk. However, on Dec. 17, after an online poll where the majority favored the accounts be restored immediately, the new Twitter chief reinstated them, saying that "the people have spoken."
The Wikipedia article's heading has since been changed. Originally, it was titled "Thursday Night Massacre (Twitter)," but now it reads "December 15, 2022 Twitter suspensions."
At the time of writing, the phrase "Thursday Night Massacre" appears in bold in the lead paragraph of the article.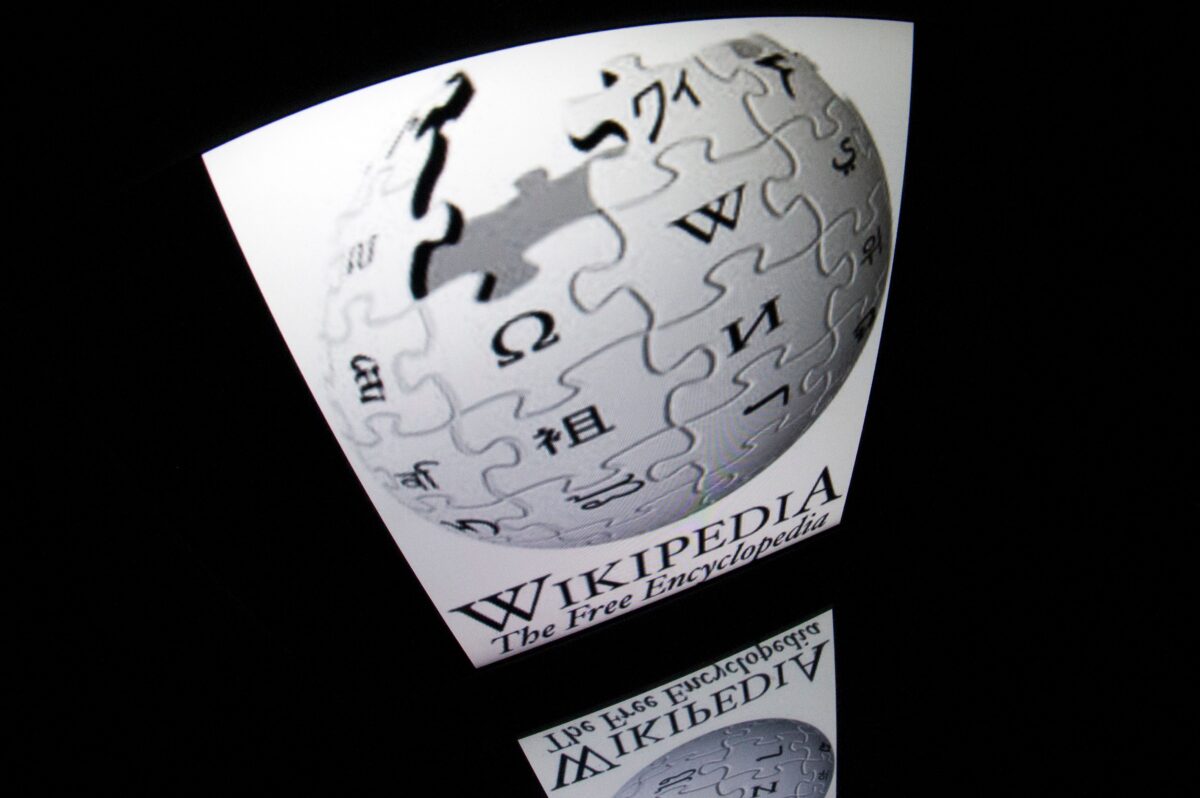 The "Wikipedia" logo is seen on a tablet screen in Paris on Dec. 4, 2012. 
Before the title change, there was a debate on whether the name was appropriate.
On Wikipedia's backend "talk page," Hunter Kahn, who wrote that he was the original author of the article, explained his rationale for using the word "massacre" in the heading.
"The term 'Thursday Night Massacre' wasn't intended to be editorializing, but rather was the term that was trending on Twitter after the incident and was used by several journalists to describe the event afterwards," Kahn wrote.
However, some Wikipedians spoke out against the use of the word.
A Wikipedian with the username Clarinetguy097 wrote, "The title reads like an impulsive reaction to what was (and may still be) an ongoing event. It certainly sounds hyperbolic after most of the accounts were reinstated mere days later."
Currently, Wikipedia is debating whether to delete the article, according to its "discussion page."
"This is about more than just some random account suspensions," wrote one user in favor of keeping the article. "The Thursday Night Massacre involves free speech issues, Elon Musks' [sic] relationship to journalists and the political system, social media moderation ethics, etc."
"This article is disproportionate left-wing activism," a user wrote in favor of deleting it. "This topic should be at most a subsection in Twitter's article. Twitter suspensions occur ramapantly [sic] for years, including many accounts of sitting officials in multiple countries."
Musk is not the only one to have taken to Twitter to criticize Wikipedia.
"Wikipedia is just a far-left blog," wrote conservative American author and podcast host Jack Posobiec.
"It shows that even 'open-source' group think isn't necessarily trustworthy or fact based," wrote Jenna Ellis, former senior adviser and counsel to President Donald Trump.
The Epoch Times has reached out to the Wikimedia Foundation for comment.
Twitter Files
Earlier this month, Musk also criticized Wikipedia when it was deciding whether or not to delete its entry on the so-called "Twitter Files."
"Wikipedia is voting on the deletion of the entry for Elon Musk's Twitter Files because the editors have deemed it a 'nothing burger' that is 'not notable' because the media didn't give it enough coverage. These people work hand in hand with the MSM to shape the narrative," wrote political commentator Ian Miles Cheong on Twitter on Dec. 6.
In response to Cheong's tweet, Musk cracked a joke on Twitter about Wikipedia's editorial practices.
"Wikipedia has a non-trivial left-wing bias," Musk added, before tagging and asking Wales, "What are your thoughts?"
Independent journalist Matt Taibbi unveiled the first batch of the Twitter Files on Dec. 2, exposing the social media giant's efforts to suppress the New York Post's Hunter Biden laptop story published in the lead-up to the 2020 presidential election.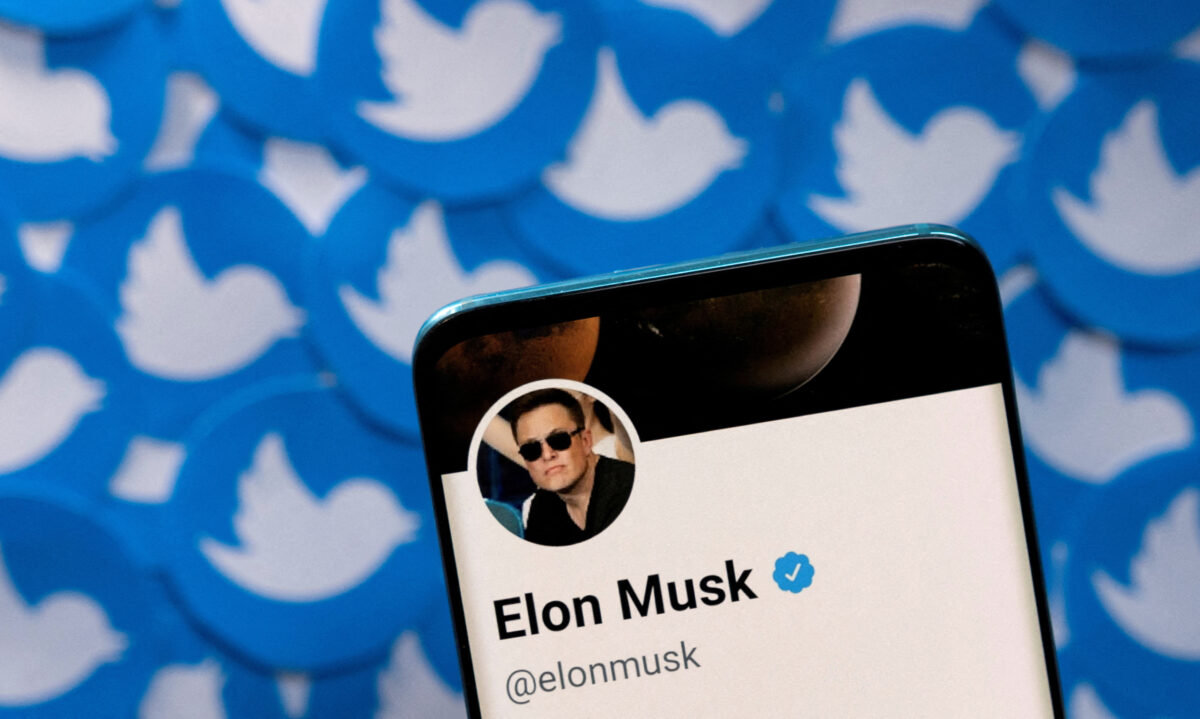 Elon Musk's Twitter profile on a smartphone was placed on printed Twitter logos on April 28, 2022. 
Emails from the laptop's hard drive and Treasury records revealed how Joe Biden, his brother James, and son Hunter Biden were involved in various foreign business ventures in countries such as Ukraine, Russia, and China. At the time, many media outlets discredited the revelations as "Russian disinformation" and the news was blocked by social media platforms.
On Dec. 8, Bari Weiss, founder and editor of The Free Press, reported on the second installment of files, revealing how Twitter created "secret blacklists" and deployed "visibility filtering" to shadow-ban certain users.
The third, fourth, and fifth batches—released between Dec. 9 and Dec. 12—dealt with Twitter's suspension of Trump's account.
Taibbi released the sixth batch on Dec. 16, detailing how the FBI and other law enforcement agencies flagged accounts and tweets for Twitter to take action against.
"Twitter's contact with the FBI was constant and pervasive, as if it were a subsidiary," Taibbi wrote. "Between January 2020 and November 2022, there were over 150 emails between the FBI and former Twitter Trust and Safety chief Yoel Roth."