Elon Musk Responds to Tucker Carlson Rumors
By Jack Phillips
Twitter CEO Elon Musk on May 9 responded to claims that he came to a deal with Tucker Carlson as the former Fox News host released a viral video saying he'll be bringing his top-rated show to Twitter.
According to Musk, Carlson will be subject to the same rules as every other user of the platform. And "anything misleading" will be addressed with the platform's Community Notes feature, he said.
Musk wrote on Twitter in response to Carlson's video: "I also want to be clear that we have not signed a deal of any kind whatsoever. Tucker is subject to the same rules [and] rewards of all content creators.
"Rewards means subscriptions and advertising revenue share (coming soon), which is a function of how many people subscribe and the advertising views associated with the content. I hope that many others, particularly from the left, also choose to be content creators on this platform."
There were reports this week that Carlson spoke with Musk about a possible deal to bring his show to Twitter. In the video, Carlson didn't address those claims, and he didn't address rumors about his exit from Fox News two weeks ago.
"Starting soon, we'll be bringing a new version of the show to Twitter," Carlson said in the video uploaded on May 9.
It was the first time he commented on his plans since departing from Fox.
"Starting soon, we'll be bringing a new version of the show we've been doing for the last 6 1/2 years to Twitter," Carlson said. "We bring some other things, too, which we'll tell you about. But for now, we're just grateful to be here. Free speech is the main right that you have. Without it, you have no others."
He noted that in the U.S. media business, there are rules governing "what you can't say," which he said undermines the U.S. Constitution's First Amendment.
"Speech is the fundamental prerequisite for democracy. That's why it was enshrined in the first of our Constitutional amendments," Carlson said. "Amazingly, as of tonight, there are not that many platforms left that allow free speech. The last big one remaining is Twitter, where we are now."
In late April, Fox News surprised the media world when it announced that it would be parting ways with Carlson, effective immediately. The company thanked Carlson for his work at the network but has since offered virtually no details about why he left, including the reason why, who approved the decision, and whether Carlson was fired or the two parties came to a mutual agreement.
However, based on a statement issued by Carlson's lawyer to the Axios news website, the parting may not have been entirely amicable. Responding to claims that Carlson would be going to "war" against his former employer, Hollywood-based attorney Bryan Freedman, who's representing Carlson, said his client won't be silenced but offered no further details.
"[The] idea that anyone is going to silence Tucker and prevent him from speaking to his audience is beyond preposterous," Freedman said.
In the video on May 9, Carlson didn't elaborate on when the new show might premiere, say whether he'll do interviews with guests, or provide other details. Fox News, which hasn't published an article about Carlson since he left, hasn't publicly responded to the announcement.
Ratings Down for Fox
In about 18 hours, Carlson's clip generated about 92 million impressions and 20 million views on Twitter, suggesting that there's still intense interest in the former Fox News host's content.
Fox News, in contrast, has seen its ratings dip in recent days. The replacement program, "Fox News Tonight," has seen a rotating cast of Fox hosts, including Brian Kilmeade, Lawrence Jones, and now, Kayleigh McEnany.
On May 5, Jones's episode of "Fox News Tonight" placed last behind MSNBC and CNN in the coveted 25–54 demographic in the 8 p.m. EST timeslot. When Carlson was hosting, the show usually drew the most viewers in that demographic by far.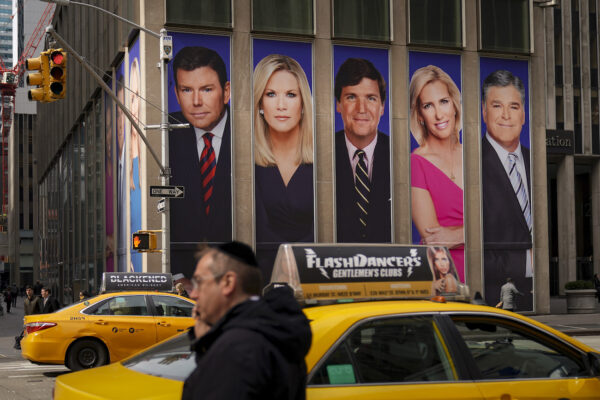 Traffic on Sixth Avenue passes by advertisements featuring Fox News personalities, at the News Corporation building in New York on March 13, 2019.
Some 90,000 people in that demographic watched Jones, behind MSNBC's 145,000 and CNN's 99,000. MSNBC's Chris Hayes beat "Fox News Tonight" in total viewers with 1.37 million watching the program, compared with Fox's 1.28 million.
Carlson's final show, on April 21, got more than 270,000 in the 25–54 demographic and drew some 2.6 million overall viewers. And across all of March 2023, Carlson averaged more than 3 million viewers per program, in part boosted by his coverage of new footage sourced from the Jan. 6, 2021, U.S. Capitol breach.
A Fox News spokesperson told media outlets on May 9 that the cable news network "continues as the highest-rated cable news network in primetime and total day."
"The network also continues to be the most-watched cable news channel at 8 p.m. ET with Fox News Tonight," the spokesperson said.
During an earnings call with investors, Fox Corporation CEO Lachlan Murdoch said there will be "no change" to the network's programming strategy in the wake of Carlson's exit. Murdoch, the son of media mogul Rupert Murdoch, didn't directly mention Carlson during the call, according to media reports.
Fox's cable news channel has "obviously a successful strategy," he claimed, suggesting that the former host's exit was merely a tweaking of its strategy and didn't signal a major change.
"As always, we are adjusting our programming and lineup, and that is what we continue to do," Lachlan Murdoch said.