New Zealand Places Lifetime Tobacco Ban on Young People in World-1st Law
By Rebecca Zhu
New Zealand has approved historic legislation that bans young people from buying tobacco for life as it moves toward the goal of making the country "smoke-free" by 2025.
Under the law, New Zealanders born on or after Jan. 1, 2009, will never be able to legally purchase cigarettes.
The legislation accelerates the progress toward a smoke-free and healthier future for the next generation, Associate Health Minister Ayesha Verrall said.
"Thousands of people will live longer, healthier lives, and the health system will be $5 billion (US$3.2 billion) better off from not needing to treat the illnesses caused by smoking, such as numerous types of cancer, heart attacks, strokes, amputations," she said.
Currently, 8 percent of New Zealand adults are daily smokers, which is half the rate of a decade ago.
"We've done well as a country to get to this point, but there is more to do. That's why the legislation passed today is so important; it puts us firmly on the path to Smokefree 2025," Verrall said.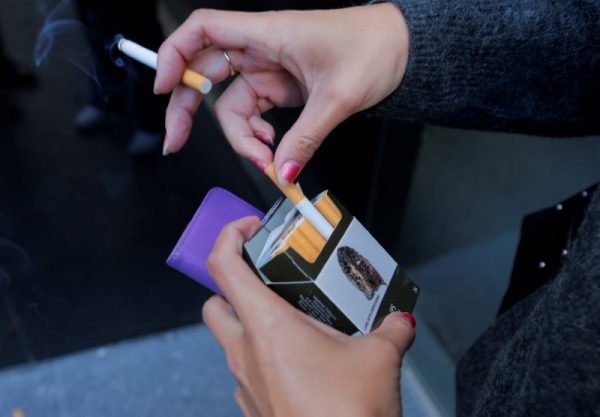 A photo illustration shows a smoker with a pack of cigarettes featuring restrictive tobacco packaging outside an office building in Sydney, on May 5, 2017.
The measure was passed with support from Labour, Greens, and the Te Pati Maori (Maori Party), while the National and the ACT parties opposed it.
Brooke van Velden, deputy leader of the ACT party, said the goal of reducing smoking is one that sounds nice in theory but would instead leave local dairies (convenience stores) out of business and create a black market for tobacco.
"Nobody wants to see people smoke … but we live in reality, and we know that it happens, and some people will smoke," she told Parliament.
"This bill, rather than helping our communities, is simply nanny-state prohibition that will cause more problems in our society because, in reality, the effect is it will create a large black market, it will kill off our community dairies, and it will increase illegal activity and harm in our communities."
She also noted that the bill, which also limits the quantity of nicotine in each cigarette, will cause people who are addicted to actually spend more money.
"The effect of that is that if they're smoking more cigarettes to get the same hit, they're going to be increasing their tar intake, which is actually worse for their health. This will affect families who can least afford it the most," van Velden said.
The National party supports nicotine reduction and the goal of a smoke-free future but disagrees with Labour's rushed timeline to achieve it, saying that small retailers will be hit the hardest under the new law.
Nicola Willis, deputy leader of the National party, said she wanted to see a gradual reduction in tobacco use over time to minimise any collateral damage.
"We think denicotisation of tobacco products should occur first, and then, the phase-out from retail," she told Radio NZ.
"As it stands, the proposal is to reduce the number of retailers for tobacco products from 6000 to 600 next year. That is … a dramatic reduction, and we worry that there hasn't first been an effort to address the demand for the nicotine in the products."
Young People More Attracted to Vaping
The laws only affect tobacco cigarettes and do not cover vaping, which is more appealing to young people.
A survey of year 10 students by the Asthma and Respiratory Foundation NZ (ARFNZ) found that 1.1 percent of students surveyed were daily smokers, while 1 in 10 vaped.
The foundation welcomed the news that regular vaping rates slightly decreased—for the first time—from 20 percent in 2021 to 18 percent in 2022.
Letitia Harding, chief executive of ARFNZ, said continued targeted efforts would be needed to "turn the tide" on youth vaping.
"We can't take our foot off the brakes now," she said on Dec. 1. "We need to ensure that vape-free initiatives are also well-resourced and supported to protect the health of our rangatahi (young generation)."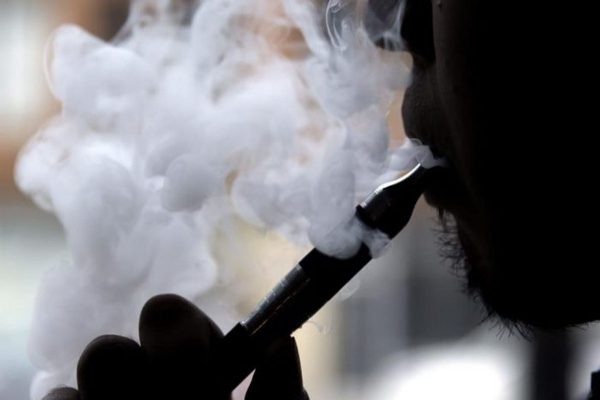 A man smokes an electronic cigarette in Chicago on April 23, 2014. 
In 2021, Harding said that vapes could be a useful tool for adults to help quit smoking, but the easy access to vapes for young people was "really worrying."
Cardiologist professor Scott Harding said while vaping may be less harmful than combustible cigarettes, it still exposes users to toxic substances that have shown adverse health effects.
Addictive chemicals such as nicotine are very risky for teenagers. Since their brains are still developing—particularly the regions responsible for decision-making and logic—nicotine can impede neurodevelopment, placing them at higher risk for addiction.
In the United States, an outbreak of EVALI (e-cigarette or vaping acute lung injury) emerged, peaking in 2019, with some anecdotal reports of teenagers requiring lung transplants becoming public.
In Australia, a survey by the Australian Bureau of Statistics of 18- to 24-year-olds revealed that more than one-in-five had tried a vaping device, while over 83 percent had never smoked a cigarette.
Harding called for the tightening of vaping regulations and "urgently" wanted to see the maximum levels of nicotine allowed in vapes reduced to 20mg/ml from 50mg/ml, in line with EU levels.