Remember When the Silly Conspiracy Theorists Said the Power Supply Would Come Under Attack?
By Mike Foley
The Australian Energy Market Operator (AEMO) has made an unprecedented market intervention to suspend trading across the entire east coast electricity power network as it scrambles to restore calm to an increasingly volatile situation.
During an emergency press conference on Wednesday night, NSW Treasurer and Energy Minister Matt Kean issued a rare plea for the state's residents to minimise non-critical electricity usage between 5.30pm and 8.30pm, and blamed the state's "ageing infrastructure" for the widening energy crisis.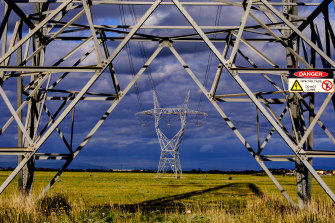 The Australian Energy Market Operator has suspended the entire east coast electricity market for the first time.
"This is a result of a number of our coal-fired power stations not working when we need them to," he said.
"The number of the generators that were expected to be working tonight have not come on. It shows exactly why we need a plan to modernise our electricity system but in the meantime, we need to make sure that our coal-fired power stations are working when we need them to."
Typically, the electricity market works by power generators offering power supply for sale into the market and retailers buying what is needed for their customers. But in the past week power companies, which are paying sky-high prices for coal and gas, have repeatedly taken massive slabs of generation capacity offline as their businesses become less profitable, causing the volatility.
After the market suspension, AEMO chief executive Daniel Westerman said there was no expectation for blackouts across the market, covering Queensland, NSW, Victoria and South Australia, but asked NSW residents to "conserve energy where it's safe to do so". He said the balance between supply and demand would remain tight in the coming days, particularly in NSW.
Earlier on Wednesday Energy Minister Chris Bowen told people not to switch off their heaters and other necessary devices.
Westerman said business as usual was "impossible … under the current conditions". It hit crisis point after the withdrawals triggered AEMO to issue legally binding directions forcing them to fire generation units back up to prevent blackouts, for which they are compensated.
AEMO on Tuesday forced generators to restart about 10 per cent of the grid's total generation capacity of 55 gigawatts.
The withdrawals came on top of a series of breakdowns and maintenance outages that have forced about a quarter of the east coast's coal-fired power stations out of action.
Westerman said taking control of the market would simplify and improve the running of the grid by enabling AEMO to direct electricity supply where it is needed.
"Suspending the market is the best way to ensure a reliable supply of electricity for Australian homes and businesses," he said.
"By suspending the market we are creating a simple process where AEMO has true visibility of which generators are available and when in advance, rather than relying on last-minute interventions."
Energy analysts have accused the power companies of "gaming the system" and "unconscionable conduct". Compliance watchdog the Australian Energy Regulator warned power companies they would be investigated for their role in the current crisis and chairwoman Clare Savage warned power companies they may have breached rules barring them from reckless behaviour without reasonable cause.
Factors that forced AEMO to suspend the market
A large number of generation units are out of action for planned maintenance, a typical situation in the shoulder seasons
Planned transmission outages
Periods of low wind and solar output
Around 3 gigawatts of coal-fired generation are out of action through unplanned events
The early onset of winter has increased demand for both electricity and gas
Economic pressures for power companies ramped up this week because AEMO slapped caps on the price they can charge for wholesale electricity, which suddenly became far more expensive to generate due to a spike in prices for coal and gas.
The Australian Energy Council said its members were losing money selling power due to the soaring costs. The lobby group's chief executive Sarah McNamara welcomed AEMO's intervention.
"It is quite clear that in these unprecedented circumstances and following the application of [price caps], the power system was becoming unmanageable," she said.
AEMO will apply special suspension pricing for electricity generation and compensate power companies. It's not yet known what effect this will have on power bills.
Lisa Zembrodt of Schneider Electric, one of Australia's largest corporate energy advisers, said AEMO was "the foremost expert" and should be trusted to run what is a large and complex system.
The transition to renewable energy had not sparked the crisis, she said, but pointed instead to a "confluence of factors" focused on coal plant outages, record high fossil fuel prices and the cold snap across the eastern seaboard.
"We've got to this point because Australia exports so much coal and gas, much more than we consume, and the war in Ukraine has created near-record high prices.
"When an electricity generator needs coal or gas [and they don't have a fixed price contract in place] they are paying exorbitant international prices.
"The other major culprit is those coal plant outages and the ultimate impact is electricity supply is incredibly tight."
Zenbrodt said while the current crisis was difficult to forecast there was a need to review the past performance of policymakers to ask why the grid was not better prepared.
AEMO runs the day-to-day operations of the electricity grid. This is the first time since it was founded in 2009 that it has suspended the market, although it has previously suspended the South Australian and Tasmanian markets.
Grattan Institute deputy energy director Alison Reeve said the suspended market is "more reassuring [for consumers] than what was there before because it means there will always be supply to meet demand".
"What the impact of this will be on energy bills is not clear because it's not clear how long this will need to go on for, what the costs will be, and how those costs will be borne – whether it'll be borne by generators or if it'll flow through to consumers."