The Entire Economy and What Wall Street Has Built is Pure Outright Fraud
I wonder what happens if you just take vehicle registrations and use that as the only source.+ In Australia they found that actual EV registrations were hundreds of thousands less than the claimed sales of EVs by using other adjusted metrics.
When they claim vehicle sales in the USA, they are using a seasonally adjusted number that in no way accurately reflects real sales of physical vehicles, in some years being off by millions of units.
Orders and deposits were probably reported non-GAAP as 'sales'.
Nobody looked any closer
In 2007 there were close to 17 million reported sales using seasonally adjusted numbers. The actual hard data for registered vehicles was actually under 13 million.
Where were the other 4 million cars?
Wall Street reported them as sold.
Stocks traded based on 17 million units. Stocks would have tanked if it were reported that there were really less than 13 million.
Registrations for Tesla vehicles doesn't match reported sales at all, unless a few hundred thousand people bought a Tesla for an investment and never registered the car, keeping it in a garage to look at.
Production numbers and deliveries reported by Tesla haven't matched for years. It's as if the accounting department just makes numbers up every quarter based on Wall Street projections and where they want the share price to trade, not the business of actually producing cars.
The only data point that matters is registrations and that number is easily found.
Why isn't reported though? Is it really that an actual hard data point doesn't reflect the rosy picture Wall Street and the government paints?
They lie about everything else: adjusted sales, adjusted earnings, fake wealth.
US Becomes World's Second-Largest EV Market
China is the largest market for electric vehicles in the world. Germany was the second until the US just displaced Europe's largest economy as EV sales accelerated.
BloombergNEF data shows the US is now the world's second-largest EV market, shifting Germany down to the third spot. Last year, nearly one million EVs were sold in the US, compared with 650,000 in 2021.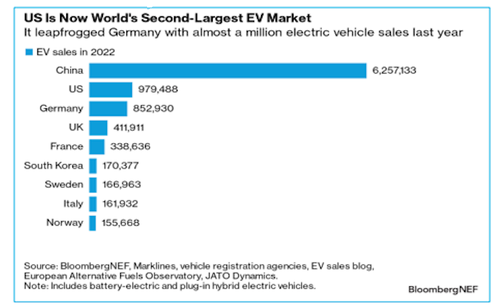 Not surprising is Tesla's dominance in overall sales. Elon Musk's automaker sold a whopping 510,610 vehicles last year. Ford Motor Company was number two with 74,000.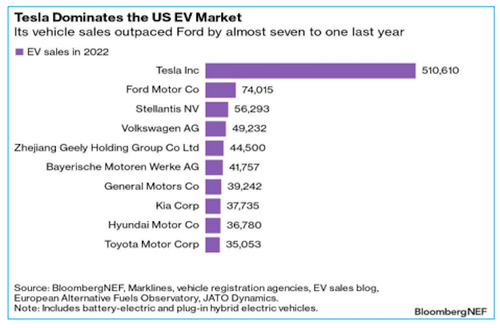 "The US is poised for a breakout year in 2023 with new EV manufacturing capacity and a fairly generous federal tax credit expected to drive sales to around 1.6 million," BloombergNEF noted. 
Last month, Tesla slashed the prices of its vehicles so buyers could take advantage of the $7,500 US government tax credit. Now the Model Y sold out until April. Electrek's Fred Lambert said the price cuts sparked "unprecedented demand" in the US.
Meanwhile, Ford shares stumbled this past week after it paused production and shipments of its electric F-150 Lightning pickup due to a potential battery issue.
The Biden administration is the biggest proponent of electrifying America's future, pushing for decarbonization across the entire transportation system. On the local level, California, New York, and other states are moving to phase out the sale of gasoline-powered cars by the end of the decade to mitigate the 'effects of climate change.'
And while a decarbonized future sounds great, readers know there is no such thing as zero-emissions vehicles…
————————
Resources:
https://www.investmentwatchblog.com/the-entire-economy-and-what-wall-street-has-built-is-pure-outright-fraud/
https://www.zerohedge.com/technology/us-becomes-worlds-second-largest-ev-market