Australians Set to Work Longer and Earn Less in the Future: Productivity Commission
By Henry Jom 
Treasurer releases report ahead of "tough" federal budget.
Australians will need to improve productivity levels if better standards of living are to be achieved, says Federal Treasurer Jim Chalmers.
The Labor treasurer predicts Australians will work two extra hours in the future while earning 40 percent less if the country fails to lift its game.
In a speech to the Committee for Economic Development of Australia (CEDA) in Brisbane on March 16, Chalmers blamed the Coalition for a "wasted decade," and said that "Australia has a productivity problem."
"We all want to turn the headwinds described in this report into tailwinds in our economy," Chalmers said.
"We all want better living standards. We all recognise the central role of productivity growth in that endeavour and in that effort.
"How we go about it is contested, as it should be, when so much is at stake."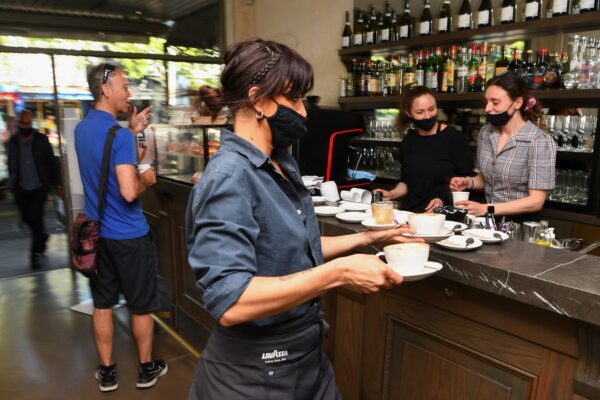 Staff work in a busy Lygon Street cafe in Melbourne, Australia, on Oct. 22, 2021. 
The reference to Australia's "productivity problem" comes as a Productivity Commission 5-year inquiry report, which was published on March 17, found that Australia's growth averaged just 1.1 percent per year.
Additionally, Australia has fallen from sixth to 60th place in the OECD's productivity ratings and now sits 22 percent lower than the United States, Chalmers said.
Rate of Productivity
According to the Commission, productivity is defined as a measure of the rate at which output of goods and services are produced per unit of input, such as labour, capital, and raw materials.
Factors that affect productivity growth include technological improvements, scale and scope of economies, workforce skills, management practices, capital, competitive pressures and the stage of the business cycle.
Were productivity levels to remain at current levels, future incomes will be "40 percent lower and the working week 5 percent longer."
This is in contrast to an average increase of $4,600 to national income per person if Australia had kept its 60-year average productivity performance, the commission estimates.
Chalmers said that there were "complex" issues that needed to be addressed if Australia were to change course.
"[O]ur success will be determined by whether or not we can lift living standards," Chalmers said.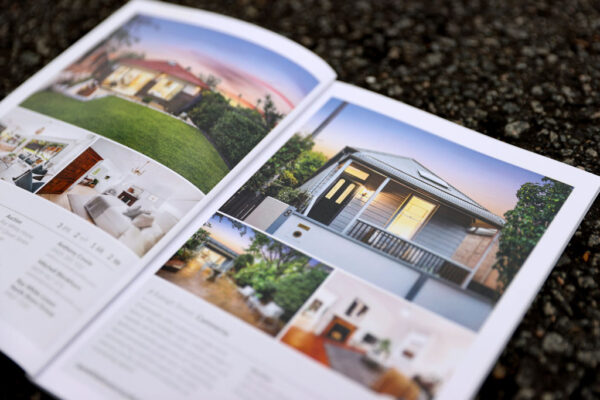 Property market booklets are seen displaying properties for sale in the Lower North Shore in Sydney, Australia, on May 5, 2022.
"This won't be easy or quick, but together, we can begin to methodically turn it around, with a goal of improving measured productivity not for its own sake, but because of what it represents: an expanded speed limit on our ­economy to enable and empower non-inflationary growth."
Chalmers said federal Labor's policy to achieve net zero by 2050 could help improve productivity.
"This will help us avoid some of the worst impacts of climate change by creating new sources of growth that will lift our productivity performance over time," Chalmers said.
Additionally, Chalmers said investing in people and skills, fixing energy markets, while creating an alleyway for a more "modern industrial base" would allow the government to achieve productivity gains.
"We want to maximise opportunities in energy, not just minimise costs," he said. "We want more co-operative workplaces, not more insecurity and conflict."
Chalmers Criticises Commission
The Commission's 1000-page report outlined 71 recommendations to which Chalmers said the federal government would not implement in full.
The treasurer did claim the independent body was not fit for purpose.
"Its structure and remit hasn't changed in 25 years, but our productivity issue has," Chalmers said.
"We also need to think differently about productivity in our economy … we've got all these advances in technology which don't seem to be captured … and this is one of the reasons I want to renovate our economic institutions, including the Productivity Commission.
"If we can empower the Productivity Commission to think about the data we have differently … then maybe we can recognise some of the great work done by the 'care economy.'"
The commission's report was originally due later in the year, but Chalmers chose to release it ahead of the May budget—likely to be restrained and focused on cost-of-living relief.
This comes as federal Labor faces pressure to deliver relief in the face of 10 consecutive interest rate rises, spiking inflation, and increasing electricity prices.
According to the Australian Bureau of Statistics (ABS), the nation's unemployment rate dropped from 3.7 percent in January to 3.5 percent in February with around 64,600 Australians finding a job during the month February.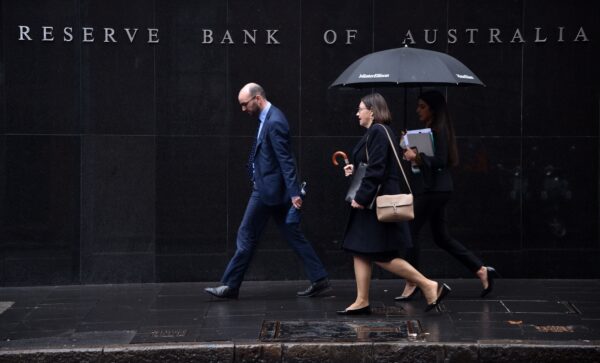 Pedestrians walks past the Reserve Bank of Australia in Sydney, Australia, on June 4, 2019.