Court Rejects Bragg's Request for Restraining Order Against Jordan
By Zachary Stieber
Manhattan District Attorney Alvin Bragg's urgent request to enter a restraining order against Rep. Jim Jordan (R-Ohio) was rejected on April 11, the same day it was filed.
U.S. District Judge Mary Kay Vyskocil, a Trump appointee, turned down Bragg's emergency request for a temporary restraining order and preliminary injunction against Jordan, at least until a hearing is held.
"The Court declines to enter the proposed Temporary Restraining Order and Order to Show Cause," Vyskocil said, noting that she hadn't yet received several documents that were referenced in Bragg's filings.
She ordered Jordan and other defendants in the case to respond to the motion and scheduled a hearing on the matter for April 19.
On April 11, Bragg sued Jordan for allegedly infringing on state sovereignty. Jordan has subpoenaed a former Bragg deputy and demanded documents from Bragg's office regarding the prosecution of former President Donald Trump, who was indicted by a grand jury after being presented with charges by the Democrat district attorney.
Jordan "has no power under the Constitution to oversee state and local criminal matters," Bragg's suit stated.
Bragg's office also asked the court to enter an order that would block Jordan and the House Judiciary Committee, which Jordan chairs, from enforcing the subpoena to former Manhattan prosecutor Mark Pomerantz and prohibit Pomerantz from complying with it.
"The Judiciary Committee's subpoena to Mr. Pomerantz marks the first time in our nation's history that Congress has used its compulsory process to interfere with an ongoing state criminal case. The District Attorney is likely to succeed on the merits because the subpoena exceeds Congress's authority and obstructs New York's sovereign right to enforce its criminal law," prosecutors said in a filing in support of their motion for a temporary restraining order.
"The subpoena would also irreparably injure the District Attorney by, among other things, interfering with an ongoing criminal case, compromising grand jury secrecy and the attorney-client privilege, and disrupting his preparation for trial. Finally, the balance of the equities and the public interest favor the District Attorney because the subpoena undercuts federalism principles and the fair administration of justice by injecting politics into a state criminal case."
The defendants haven't yet lodged any filings.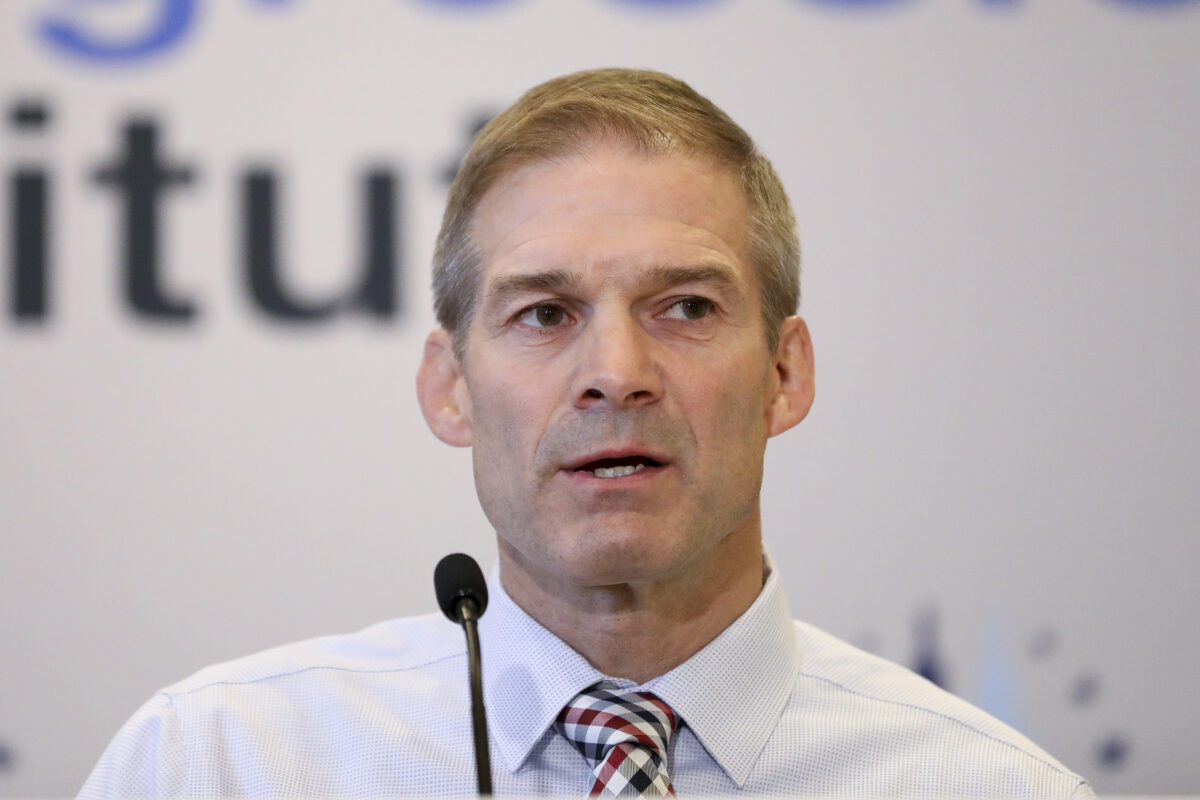 Rep. Jim Jordan (R-Ohio) speaks in Baltimore on Sept. 12, 2019. 
'They're Obstructing'
Jordan said on Fox News that Bragg is obstructing a legitimate congressional investigation.
"They're obstructing our investigation," Jordan said. "We have a constitutional duty to get to the facts, particularly when you have a district attorney interfering with the most important election we have, which is the election of the commander-in-chief; the president of the United States."
Trump, who was president until early 2021, is running for a second term in 2024.
Bragg has asserted that Jordan and other members of Congress lack the authority to probe the Trump prosecution; Jordan disagrees, pointing to how federal funds were used to investigate Trump.
"First, they indict a president for no crime. Then, they sue to block congressional oversight when we ask questions about the federal funds they say they used to do it," Jordan said in a statement.
Pomerantz wrote in his book that he left Bragg's office because he was upset that Bragg wasn't preparing to bring charges against Trump.
Jordan wrote in a letter accompanying the subpoena to the former prosecutor that Pomerantz had "no basis to decline to testify" because of the book.
"Based on your unique role as a special assistant district attorney leading the investigation into President Trump's finances, you are uniquely situated to provide information that is relevant and necessary to inform the Committee's oversight and potential legislative reforms," he wrote.
Jordan noted the book's contents as he questioned the new lawsuit.
"He takes us to court because we want to talk to someone who left the DA's office a year ago, who went out and wrote a book on this very subject," Jordan said on Fox.
It's unclear whether Pomerantz will comply with the subpoena. Jordan initially requested voluntary cooperation, but Pomerantz said in a letter that Bragg's office had instructed him "to not provide any information or materials in response" to Jordan's request.
Jordan has also said that a subpoena for Bragg himself is an option.
"Everything's on the table," he said in one interview.