Desperate DeSantis Campaign Uses Deep Fake Images to Attack Trump
By FRANKIE STOCKES
Deep Fake DeSantis.
The increasingly desperate 2024 Presidential campaign of Florida Governor Ron DeSantis has sunk to a new low, using deep fake images depicting Donald Trump and Dr. Fauci to launch attacks against the 45th President, even claiming in a campaign video ad that the images are from "real life".
The DeSantis War Room Twitter account shared a 44-second video ad using phony images of President Trump and Dr. Fauci, showing the two embracing and even kissing while claiming that the images show the "real life Trump". The ad came in an attempt to attack Trump for not firing Fauci during his administration's COVID response, a talking point that DeSantis' online influencers have parroted on an almost constant basis, despite the fact that several REAL videos exist showing DeSantis praising both Fauci and the COVID jab.
In addition to the deep fake advertisement, DeSantis 2024 "rapid response director" and registered foreign agent Christina Pushaw went on to post several other deep fakes, falsely portraying Trump and Fauci doing things like building a sand castle on a beach.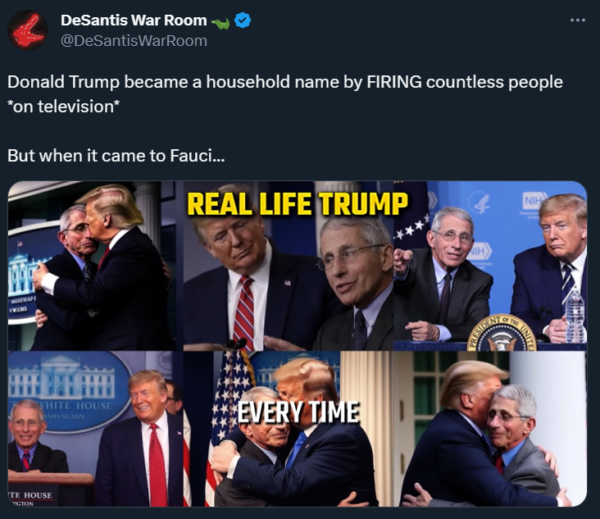 via Twitter – A still shot from the DeSantis campaign ad claims that the deep fakes show "REAL LIFE TRUMP"
The response to the deep fake DeSantis ad on Twitter was one of ridicule and amazement that an official campaign Twitter account would actually go through with posting the ad.
Several Twitter users, including ones with sizable followings like Tim Pool, explained that the ad had made any remaining support they had for DeSantis plummet to zero.
America First Floridian Laura Loomer also blasted the deep fake DeSantis ad, writing in a tweet that DeSantis' "shady foreign agent rapid response director @ChristinaPushaw must be fired for using AI to deceive voters."
"She has now publicly called for Trump supporters to be illegally detained in mental institutions. She has lied about President Trump and now she's using AI to lie to voters and promote deep fake images in an effort to help @RonDeSantis and deceive voters with malicious intent," Loomer's tweet went on.
.@RonDeSantis's shady foreign agent rapid response director @ChristinaPushaw must be fired for using AI to deceive voters.

She has now publicly called for Trump supporters to be illegally detained in mental institutions. She has lied about President Trump and now she's using AI… pic.twitter.com/ESEenOjbG5

— Laura Loomer (@LauraLoomer) June 8, 2023
Watch the phony ad below:
Donald Trump became a household name by FIRING countless people *on television*

But when it came to Fauci… pic.twitter.com/7Lxwf75NQm

— DeSantis War Room 🐊 (@DeSantisWarRoom) June 5, 2023