Directors of Epstein's Brother's 'Foundation' Meet With the Pope
By FRANKIE STOCKES
Seemingly not content with meeting convicted pedophiles Jeffrey Epstein and Ghislaine Maxwell, the Vatican has just hosted two Directors of the Epstein Directed and Financed 'Humpty Dumpty Institute'.
Mark Epstein's bizarrely named and nefariously–linked "Humpty Dumpty Institute" (HDI) has today trumpeted the meeting of two long-standing HDI Directors with "His Holiness" Pope Francis, aka Argentina's Jorge Mario Bergoglio.
The Vatican, currently led by a man referred to as "Washington's Pope," akin to a deep state operative, in the CIA's "Operation Gladio" handbook, have a documented track record of meetings with unsavory characters, including the world's most notorious pedophiles and human traffickers, that being the late Jeffrey Epstein and his wing-henchwoman, the Israeli Mossad-affiliated convict and HDI-tied Ghislaine Maxwell.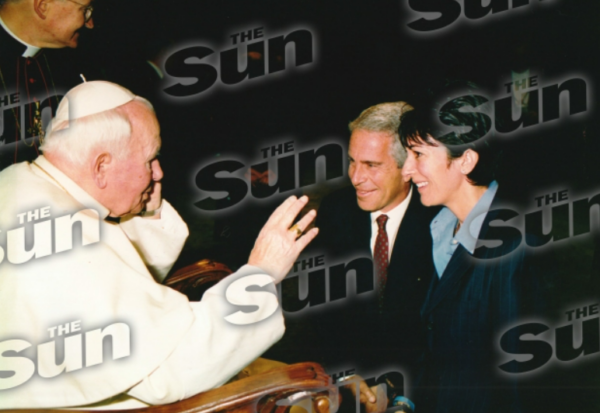 Jeffrey Epstein and Ghislaine Maxwell meet with Pope John Paul II. Now, Mark Epstein's Humpty Dumpty Institute is rubbing elbows with Pope Francis.
"HDI Is Proud to Report That The Vice Chair of HDI Board of Directors, Mrs. Morgan Sliker-DeNicola, and Board Member, Mr. Cosmo DeNicola Were Received by His Holiness Pope Francis," the Humpty Dumpty Institute wrote in a LinkedIn post documenting the Epstein and CCP-tied influence operation's meeting with the Vatican and with Pope Francis himself.
"In addition to his involvement in HDI's humanitarian and cultural work, Mr. DeNicola is also on the Board of Trustees of the Papal Foundation," further documenting the HDI henchman's relationship with the Vatican. "The Papal Foundation is the major Roman Catholic philanthropic organization in the United States which assists the Pope in fulfilling his humanitarian, educational, and spiritual goals."
Included in the Epstein-tied Humpty Dumpty Insitute's aforementioned "humanitarian work" has been trips to orphanages in Ukraine and other war-torn nations.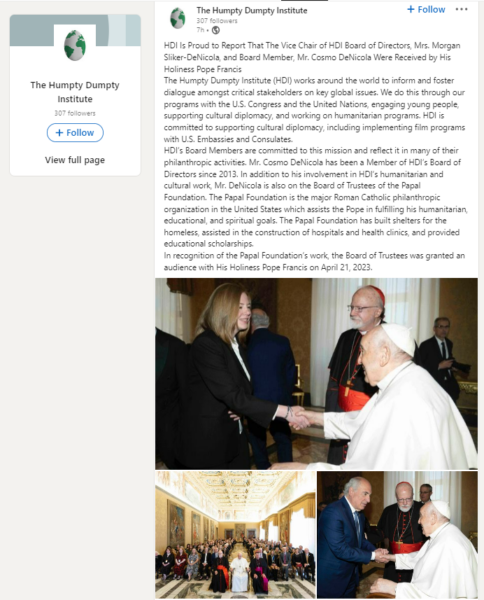 National File has previously reported on the close ties between Epstein's HDI and the Vatican. Indeed, according to Julian Assange's Wikileaks, HDI's current CEO, Joseph Merante, was formerly Chargé D'Affaires US Embassy to the Holy See – and held that position on or around the time Epstein-Maxwell met with Pope John Paul.
Since leaving his cushy and well-paid US State Department post and joining Epstein's HDI, Merante has been instrumental in forging ever-stronger and largely suspicious ties between radical elements of US Congress, itinerant RINOs, the Chinese Communist Party (CCP) and its military arm, the People's Liberation Army (PLA), utilizing a "mask" or "beard" known as the "Taihe Institute".
Jeffrey's brother Mark is often pictured in these closed-door meetings.
Curiously, other "conservative" outlets in and around the DC beltway broadly refuse to touch the National Security topic that is the CCP-PLA connected "Humpty Dumpty Institute," likely because of tangible involvement from the State of Israel, ostensibly a key US ally. Some, when they do cover HDI, selectively remove the long-standing and apparently active participation of Mark Epstein in the organization.
GOP member of Congress Marjorie Taylor Greene, with knowledge of HDI's links to the Chinese Communist Party and its PLA military arm, has refused to touch the issue, despite multiple of her colleagues being wrapped up in the group's Congressional Advisory Board.
National File will continue to go where the corporate liberal media and Con Inc refuse to tread and will run point on the circus that is Epstein and the CCP's Humpty Dumpty Institute.