Election Forum Walkouts After Craig Kelly Labels Vaxxine Mandates 'An Abuse of Human Rights'
By Staff Reporter
Mainstream media feign shock that "that Craig Kelly's vaccine mandates are abuse of human rights "despite forcing people to take a phase 3 medical injection disguised as a quackzinne is just that.
The Guardian is at it again. Those so-called bastard ions of truth
And the poor labor candidate says "I think there are more important things than worrying about vaccine mandates  such as food and cost of living".
Mmm
The vaccine mandates I think will solve someone's cost of living – as when you're dead from the supposed "safe, effective and necessary "vaccine your costs of living have dropped to a big fat zero.
About the same number of people that can be proven to have died in Australia of Bs 19.
Such Covid fraud deniers are everywhere in society.
Poor hapless "boosted" souls, who as they suffer a heart attack seconds from death will no doubt shout out – but it's not from the vaccine.
Election Forum Walkouts After Craig Kelly Labels Vaccine Mandates 'An Abuse of Human Rights'
Several audience members walked out of a candidates' forum in the southern Sydney seat of Hughes on Wednesday evening after the maverick MP Craig Kelly labelled mandatory vaccination in workplaces "an abuse of human rights" and "a very dark period in Australia's history".
Kelly, who quit the Liberal party last year, and is now standing for the United Australia party, said Australia was violating human rights by allowing workplaces to insist on vaccination.
"The people who engage in the mandates in this country, forcing other Australians against their free will and without their consent to force them into a medical intervention, are blackmailing people," he claimed.
"It's unAustralian and against everything we stand for."
Several people in the audience walked out, while other panel members looked perplexed.
The Labor candidate, Riley Campbell, suggested voters had much greater concerns.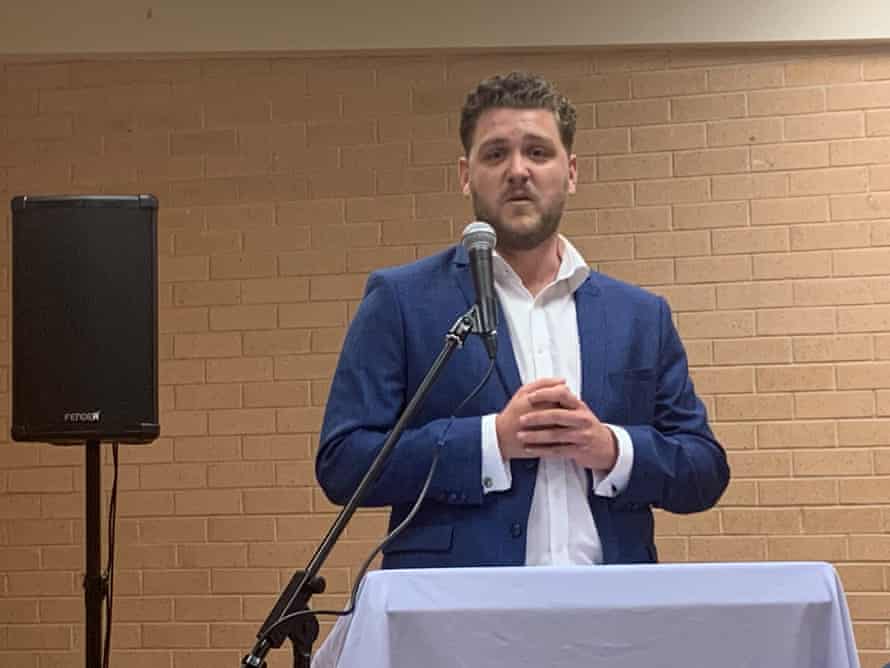 ALP candidate Riley Campbell said voters had bigger problems than vaccine mandates.
"Be more worried about the cost of living, be more worried about the cost of petrol, whether you can eat," he said.
The race in Hughes is likely to be one of the more colourful and unpredictable of the election.
The Liberals, who have held the seat for nearly two decades, named their candidate, Jenny Ware, just days before the campaign was announced. Labor was forced to change candidates at the last minute due to citizenship questions.
Two candidates have emerged from the community independents' movement – Georgia Steele and Linda Seymour – while the Greens are running Peter Thompson and One Nation has chosen Narelle Seymour.
Ware was unable to attend the forum due to a prior commitment in the electorate and Narelle Seymour did not respond to the invitation.
Climate change, the federal integrity commission, the national disability insurance scheme, public education and aged care dominated the debate.
The climate exchange brought a range of views on the reduction target for 2030 – from 50% to 75% – and promises to advance electric car uptake.
But Kelly again bucked the trend, claiming that plans to ban coal would play into the hands of the Chinese and undermine Australia's sovereignty.
Resources: https://www.theguardian.com/australia-news/2022/may/05/election-forum-walkouts-after-craig-kelly-labels-vaccine-mandates-an-abuse-of-human-rights