Even Mainstream Media Acknowledge the Anger of Lismore Residents Who Have Been Abandoned
By Stephanie Convery and Mostafa Rachwani
Lismore residents protest Scott Morrison's visit as PM says disasters mean Australia 'getting hard to live in'; NSW flood death toll rises to nine after man's body found in western Sydney; second Japanese encephalitis death recorded as outbreak spreads to South Australia; Indigenous teenager shot by NT police fighting for life; at least 34 Covid-related deaths nationwide. This blog is now closed
– Scott Morrison says defence force 'not available on a moment's notice' to respond to floods disaster
– Damaging wind warning for NSW east coast after thousands flee homes as flooding swamps Sydney
– Sydney floods: before and after photos show how city roads and parks became rivers and lakes
And that's a wrap for the blog. Here are just some of the things that unfolded today:
– Scott Morrison visited flood-affected regions of NSW's northern rivers but received the opposite of a hero's welcome, with residents of flood-devastated Lismore protesting his visit and calling for meaningful action on climate change.
– Lismore residents said they were "devastated" that the prime minister "snuck in through the back door" so he would not have to face the crowd.
– Morrison was in town in the wake of the flood disaster to announce a suite of assistance measures for flood-affected areas, as well as his intention to declare a national emergency for those parts of Queensland and – NSW, as the cleanup continues across those states.
– The body of a man has been found in flood waters in Sydney's south-west. It's believed to be a delivery driver who was reported missing on Tuesday amid the city's torrential rain after failing to make a delivery. It brings the death toll from the floods in the state to nine.
– NSW has recorded its first death from Japanese encephalitis, with a man in his 70s who died in February having been found by post-mortem examination to have had the virus. It follows confirmation of cases of the disease in South Australia, and a death recorded from the virus in Victoria yesterday.
– An Indigenous teenager is fighting for his life in hospital after being shot at by police in Palmerston near Darwin yesterday.
– Victoria announced it will hold a state funeral for cricket great Shane Warne at the MCG on 30 March.
– And Australia has recorded at least another 34 deaths from Covid-19 as case numbers tilt upward again in NSW.
Scott Morrison's announcement of extra disaster payments for people in the Richmond Valley, Lismore and Clarence Valley LGAs will be welcomed by residents, but locals are livid that three other northern rivers council areas – Ballina, Byron and Tweed – have been left off that list.
Morrison said the three listed LGAs were "the highest impacted areas" and "facing catastrophic conditions". But the member for Richmond, Labor's Justine Elliot, says she is "disgusted" that the other three were not included.
Elliot said:
People up here desperately need it. The rest of the package goes nowhere near what we need.
She said the town of Mullumbimby, in the Byron LGA, had been devastated by flooding and deserved more support. Elliot also said Ballina, Murwillumbah and Chinderah had been hit hard, leaving "thousands" of people currently homeless – including many people who had been living in caravan parks.
We have emergency housing needs, thousands of people have nowhere to live. The level of incompetence is overwhelming – where will these people live in the short and long term?

It's astounding … it's just more rolling incompetence. They're completely useless.
The Australian energy minister, Angus Taylor, has criticised "activists" for opposing new oil and gas development in the Beetaloo Basin, declaring European nations are now regretting not pursuing a "gas-fired recovery", writes Guardian Australia political editor Katharine Murphy.
Because of the climate risks associated with the development, last year more than 60 leading climate scientists issued a dire warning over the plan to frack the Beetaloo Basin, saying it must be halted if the Northern Territory government cannot meet a promise to fully offset emissions.
The Victorian premier, Daniel Andrews, has announced that the state will hold a funeral at the Melbourne Cricket Ground on 30 March for the late cricketer Shane Warne, who died suddenly last week.
Andrews said on Twitter:
There's nowhere in the world more appropriate to farewell Warnie than the 'G.

Victorians will be able to pay tribute to Shane and his contribution our state, and his sport, at a memorial service at the MCG on the evening of March 30th. Info and tickets will be available soon.
A 50-year-old man became the first Victorian to face court for an exit trafficking offence today, after he allegedly deceived a woman into travelling to Sudan in order to cancel her visa and prevent her from returning to Australia.
According to a statement from the Australian Federal Police, the man was expected to appear in Melbourne magistrates court, charged over allegations he tried to cancel his then-wife's Australian visa without her knowledge in 2014 and left her stranded overseas.
The statement says that AFP officers charged the man on 27 February with "organising or facilitating the exit of another person, from Australia, by deception" which is against the law and carries a maximum sentence of 12 years in jail.
The AFP acting commander, Ray Imbriano, said:
Exit trafficking is an insidious offence which is increasingly coming to the attention of the Australian Federal Police human trafficking team. Exit trafficking is not often discussed, or even considered to be an issue in Australian society, however it does happen here.

It is often unreported and victims in our communities are suffering in silence.

No one has the right to 'cancel' another person's visa, including the visa sponsor. This type of behaviour is a commonwealth offence and carries a potential 12-year jail term.
Earlier today, the prime minister, Scott Morrison, privately visited a dairy farm in Lismore (media weren't invited) that had been severely affected by the floods.
It turns out that farm that Morrison visited was owned by Paul Weir, who lost half of his 300 cows when they were washed away by the flood water – a deeply distressing incident that Weir captured on video.
Weir just spoke on ABC radio, saying the prime minister was "very empathetic" in his visit today.
This is pretty striking – images of Sydney before and after 17 straight days of rain.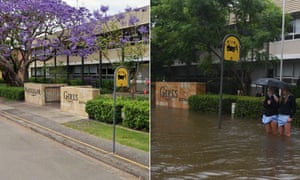 Flooding from a swollen Manly Creek inundated cars and the street at Campbell Parade in Manly Vale, north of Sydney, on Tuesday.