It Appears There Are Long-standing, Deep and Tangible Links Between Jeffrey Epstein's Brother's "Humpty Dumpty Institute" 'Non-profit' and the Chinese Communist Party (CCP)-People's Liberation Army (PLA)-Ministry of State Security (MSS/"Chinese CIA")
Meet The Epstein, Chinese-Tied Republicans Who Voted 'YES' on Nancy Pelosi's House Rules
Congressman Barry Moore (AL), along with Congressmen Troy Nehls (TX) and Tony Gonzales (TX), were part of a delegation which made a trip to Kiev, Ukraine, in August 2021. The trip was sponsored by HDI, its chief purpose apparently was to meet with President Zelenskyy.
Among the Republicans who are loyalists to House Minority Leader, apparent establishment demigod and fourteen times failed Speaker nominee, Kevin McCarthy (R-CA-23), are a group of representatives who serve on the Congressional Advisory Board of the Epstein-CCP tied "Humpty Dumpty Institute" (HDI), a non-profit organization Directed and Financed by Mark Epstein and directly connected to the Chinese Communist Party (CCP) and its People's Liberation Army (PLA). These McCarthy-Epstein-CCP wingmen have been dubbed the Republican establishment's "Humpty Dumpty Congressmen."
@RepBarryMoore is on the congressional advisory board for the Epstein-Tied Humpty Dumpty Institute (HDI).

Humpty Dumpty is closely associated with the Chinese Communist Party and the CCP's army, the PLA (People's Liberation Army).

No surprise Barry is voting for China Kevin. pic.twitter.com/eGGb6rrnD3

— National File (@NationalFile) January 6, 2023
Despite claims from Rep. Barry Moore that Epstein is no longer involved with HDI, he is listed on the NGO's most recent 990 tax form as its Director and $100,000 financier. HDI sent National File its 2021 990 tax form directly.
Establishment Republican members of Epstein-CCP's Humpty Dumpty Institute Congressional Advisory Board include the following:
Past establishment Republican members, Associate Republican members of Epstein-CCP's Humpty Dumpty Institute Congressional Advisory Board:
Former North Carolina Representative and White House Chief of Staff Mark Meadows.
Former South Carolina Representative and Governor, 2020 failed Presidential candidate, Mark Sanford.
Former Acting Director of National Intelligence (DNI) and US Ambassador to Germany, Richard 'Ric' Grenell.
Former US Ambassador to the United Nations and National Security Advisor, John Bolton.
Meadows, former Chief of Staff in the Trump Administration, was appointed to the HDI Congressional Advisory Board in 2013 and served in that capacity until as recently as April 2019.
WATCH!

We spoke with Epstein-Tied @RepBarryMoore about his ties to the CCP-connected Taihe Institute, which runs HDI, which Barry is on the Congressional Advosory board of.

No wonder Barry keeps voting YES on China Kev for House Speaker! pic.twitter.com/NdYwegw79Q

— National File (@NationalFile) January 6, 2023
Congressman Moore (AL), along with Congressmen Nehls (TX) and Gonzales (TX), were part of a delegation which made a trip to Kiev, Ukraine, in August 2021. The trip was sponsored by HDI, its chief purpose apparently being to meet with President Zelenskyy. When questioned by National File repeatedly about the trip over several months, the offices of Moore, Nehls and Gonzales declined to respond. Senior staffers with the congressmen, some with military backgrounds, indicated to National File that they had been instructed by their GOP Congressmen to stonewall the issue. An event which furthers intrigue is Zelenskyy's instruction of "Humpty Dumpty Congressmen" ally, Speaker Kevin McCarthy, to send more cash to Ukraine on the first day of McCarthy's command of the Speaker's gavel.
Rep. Moore was confronted in Washington DC on Thursday by National File's publisher, Noel Fritsch. Fritsch asked Congressman Moore, a McCarthy ally, to detail his work with Epstein-CCP-connected HDI, which, along with their CCP-PLA-tied partner, the Taihe Institute, Moore refused to disavow. During the interaction Rep. Moore also denied that he met with Zelenskyy, despite the fact each of his, Nehls and Gonzales' US House of Representatives Committee on Ethics Trip Sponsor Forms (all duly signed) show a meeting on their itineraries with President Zelenskyy, Ukrainian generals and Ukraine's Space Agency on August 14th, 2021.
Moore himself, along with HDI's CEO, Joseph Merante, signed and certified the official House Disclosure Form on August 30, 2021. Nehls and Gonzales' did the same on their House Disclosure Forms. Ukraine's Space Agency reported the presence of Rep. Moore, Rep. Nehls, and Rep. Gonzales that day via the Ukrainian press, a translated version of which can be found for National File readers here.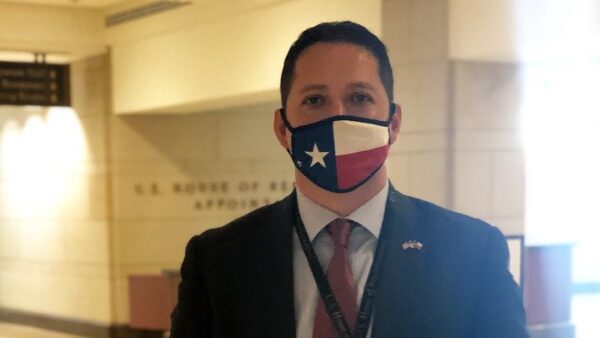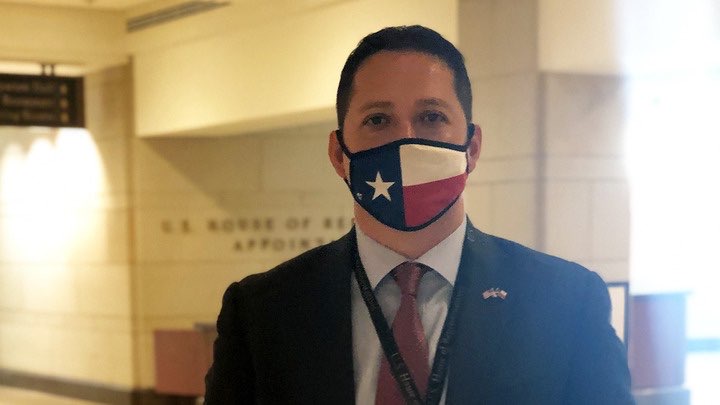 A masked-up Congressman Gonzales.
The Ukrainian media outlet described the McCarthy-Epstein-CCP-aligned Humpty Dumpty Congressmen and their visit as a help to "…set the stage for Zelenskyy's upcoming trip to the USA," further commenting that "after all it is the understanding of the 'elites' that is the key to stability in the world." Contrary to the image Epstein-CCP's HDI presents to the English-speaking public, the Ukrainian media assert that HDI is "science and business" focused, as opposed to "humanitarian" focused.
Notwithstanding the three incontrovertible House Disclosure Forms, a senior Congressional staffer, who is also a decorated war hero, contended to National File that to the best of his knowledge, the McCarthy-Epstein-CCP aligned "Humpty Dumpty Congressman" with whom he works did hold an in-person meeting with Zelenskyy whilst in Kiev.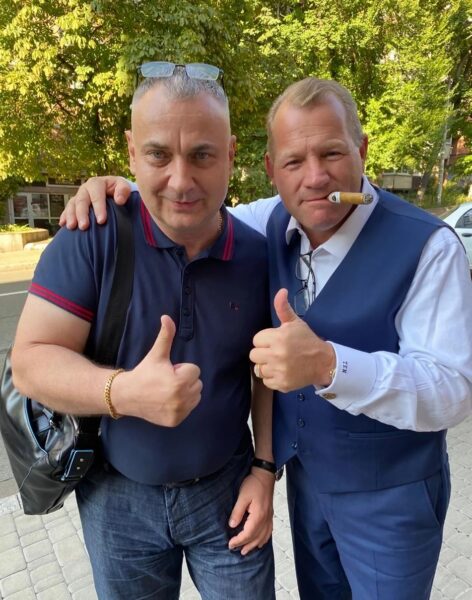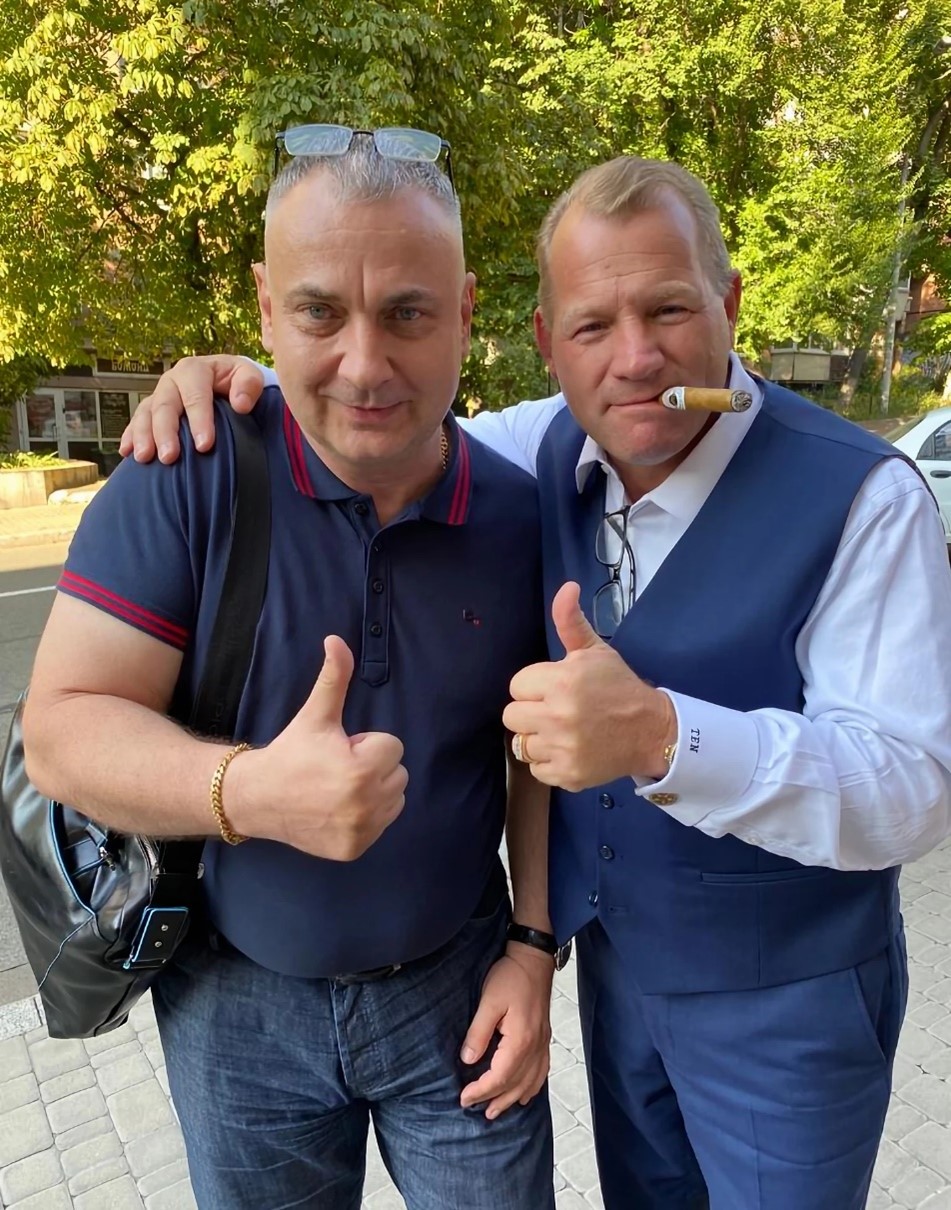 Is that a fine Cuban cigar which Rep. Nehls smoked in Ukraine?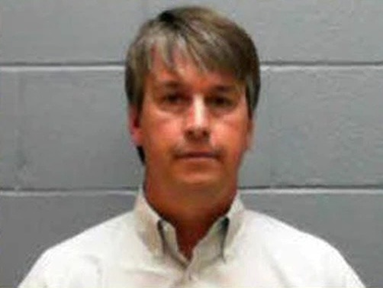 Rep. Moore, who was convicted and then acquitted of felony perjury in the past, has questions to answer from the American public and the good people of Alabama. It is apparent that Moore likely lied on tape to a journalist about his meeting with Zelenskyy in Kiev. Given the seriousness of the allegations and in the interests of total fairness and transparency, National File's Pressroom and its affiliates invite Moore, as well as Nehls and Gonzales, to speak publicly with them on the issue at any time.
Surprisingly, after sustained pressure from the National File's groundbreaking reporting, Epstein-CCP's HDI removed all the names of the Republican representative members of their Congressional Advisory Board from its website on Friday morning.
HDI, however, updated its website since then and the Congressional Advisory Board is once again actively published.
Until Friday, the US Congressional Programs tab showed the HDI 'Congressional Advisory Board' on its drop-down menu. When contacted on Friday, HDI's long-time CEO, alleged deep-state operative, Vatican relations alumnus, Mao Zedong torch-bearer, and long-time Epstein associate, Joseph Merante, declined to comment. This is congruent with a pattern observed of Epstein's HDI to refuse to answer any questions from the media about their operations – incongruent with a typical children's 'non-profit.'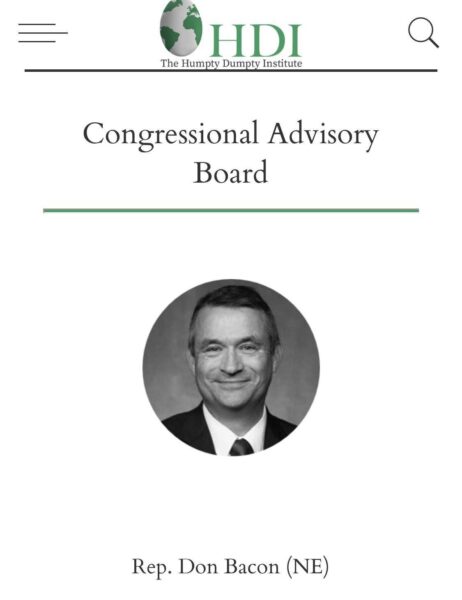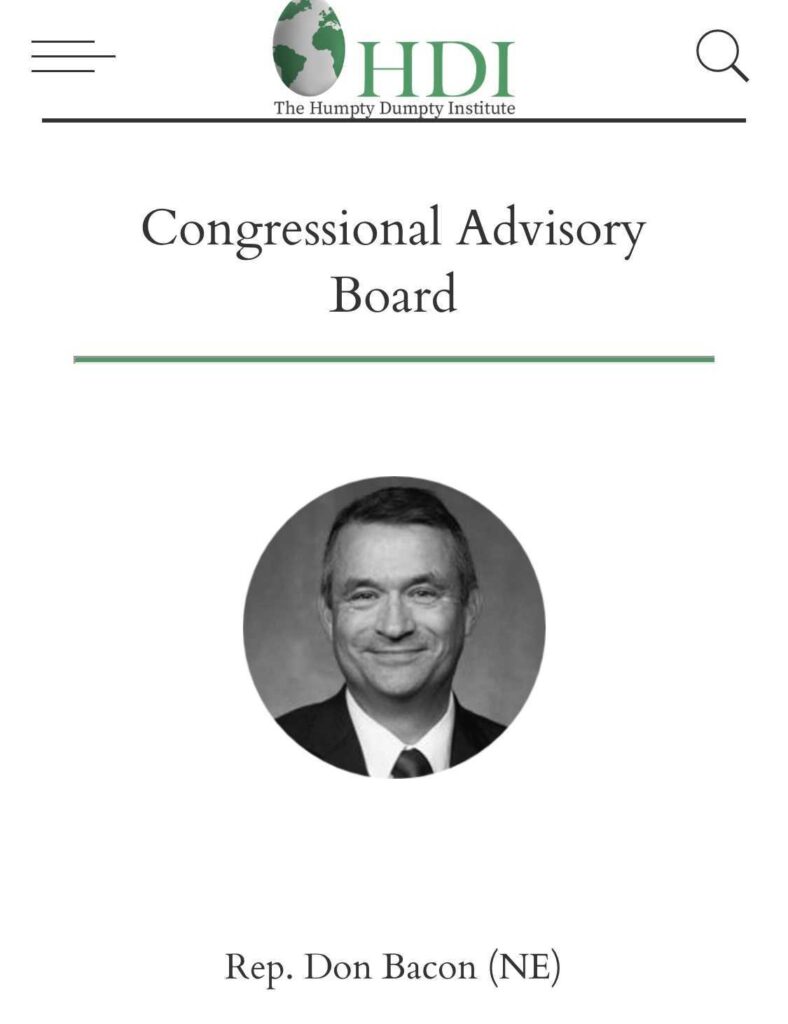 Until the morning of the 12th attempt by the U.S. House to achieve a consensus on the next Speaker, Congressman Bacon appeared on the Humpty Dumpty Institute's website as a member of the group's "Congressional Advisory Board." HDI recentlyrepublished its Congressional Advisory Board page.
Rep. Bacon also made a threat on Thursday to collaborate with Democrats and support a liberal candidate for Speaker of the House if McCarthy could not secure enough votes.  This may not be all that surprising because, given the unbalanced ratio of Democrats to RINOs on the HDI advisory board, Rep. Bacon probably has a lot of close chums on the other side of the aisle.
After extended correspondence about HDI and its connections to the CCP, the office of Marjorie Taylor Greene (R-GA-14) made a written request to National File not to email Greene on her Congressional email account, where all communications are considered part of public record.
In addition to reluctance from HDI to address questions from reporters, they have also opted to threaten National File's First Amendment rights and the status of a free American press through multiple Cease & Desist letters lodged by their elite, white shoe New York City based  attorneys, Falcon Rappaport & Berkman LLP.
It's surprising that a supposedly budget constrained non-profit  (HDI has not released its non-profit tax returns publicly since FY19) can afford legal representation at such a high level.
Furthermore, Falcon Rappaport & Berkman seem to be more focused on Real Estate, Private Equity and Trust law. Unlike noted attorney and National File donor, L. Lin Wood, who recently won and settled a $275,000,000 suit against CNN, among others, defamation law does not appear to be Falcon et al's sweet spot.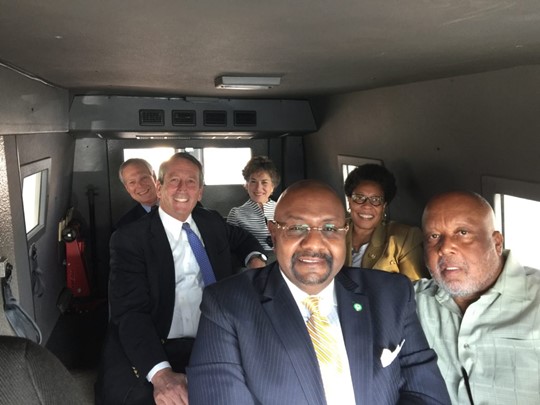 On The Road in Khartoum, Sudan, with the Epstein-CCP-PLA wedded 'Humpty Dumpty Institute' in 2015
Rep. Mark Sanford (R-SC) joins hard left Democrat colleagues Rep. Bennie Thompson (D-MS), Rep. Marcia Fudge (D-OH), Rep. Jan Schakowsky (D-IL), HDI Chairman Dr. Al Khalafalla and infamous DNC activist Robert 'Birddogg' Cremer
It is believed that the now disgraced and likely compromised Sanford was the only GOP member aside from Mark Meadows to be associated with Epstein's HDI in 2015.
HDI Director Khalafalla and HDI CEO Merante partook in a ceremony before the state of Communist supreme leader, Mao Zedong, in Beijing China with members of the Taihe Institute.
Then-Chairman and now-Director of the Humpty Dumpty Institute (HDI), Al Khalafalla, and HDI Executive Director & CEO Joseph Merante joined Taihe Institute Chairman Binge Peng and Taihe Institute Fellow, Ruby Wang, in ceremony before a large statue of Mao Zedong in mainland China. pic.twitter.com/ICq8g8DdH0

— Addy Adds (@OneAddyAdds) January 6, 2023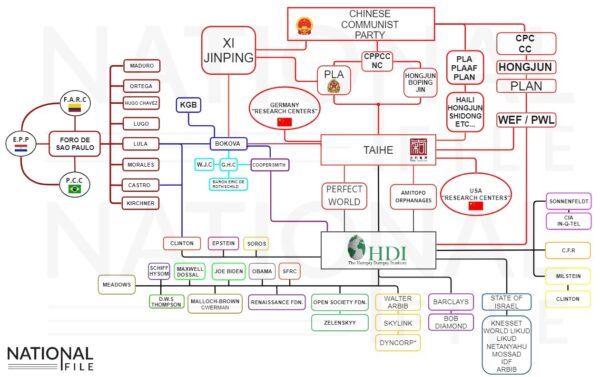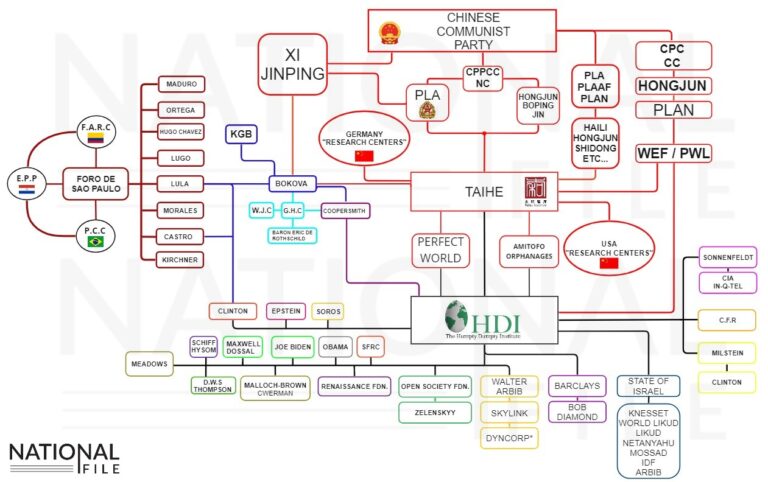 Cartography from National File's Frankie Stockes and British Texan Research
British Texan Research was recently described by Trump Administration figure and General Flynn associate, Garrett Ziegler, Founder of the renowned  "Marco Polo" thinktank, as foremost experts on the CCP's infection of US Congress…more attuned to CCP infiltration than almost anyone in America."
National File continues to break the stories on Mark Epstein's HDI whilst Conservative Inc. runs outright interference or buries the topic. Despite this shocking story being in the hands of a plethora of establishment media outlets, including 'conservative' ones, the coverage remains superficial at best and dishonest at worst. Only one outlet, Newsmax, has attempted to cover the Epstein-CCP visit to Kiev, though it made zero mention of the relationship between HDI to Epstein-CCP-PLA, nor of the McCarthy-Epstein-CCP wingmen's pre-war meeting with war chieftain, Volodymyr Zelenskyy."