John Barilaro To Resign As NSW Deputy Premier
By 
Lucy Cormack

 and 

Tom Rabe

Deputy Premier John Barilaro has called time on his political career, citing the pressures of media scrutiny and an ongoing defamation case as having taken a toll on himself and his family.

Announcing his departure on Monday, Mr Barilaro said he had been planning an exit from politics for some time but brought the move forward after the recent resignations of Premier Gladys Berejiklian and Transport Minister Andrew Constance.

"I've been thinking about this for a while I had another day picked in mind, not too far off," he said.

"At some point this week under Dominic Perrottet as Premier, he'll be swearing in a new cabinet and it would just be unfair … to get sworn in and only weeks later, to step aside."

Deputy Nationals leader Paul Toole issued a statement on Monday saying he was now considering how he could best serve the party.

Water, Property and Housing Minister Melinda Pavey also took to the airwaves with her intention to make a bid for the leadership.

"I've been thinking a lot over the weekend. This state needs strong leadership, it needs good ministers that have been prepared to stand up for our communities and that's what I do every day," she told radio station 2GB.

Meanwhile, Upper House MP and Mental Health Minister Bronnie Taylor is being touted as a potential replacement for Mr Barilaro in the lower house seat of Monaro.

Mr Barilaro said he would support Ms Taylor, who lives near Cooma, if she decided to run."I would always back Bronnie Taylor, she's already the unofficial member for Monaro" he said, before adding he was unsure whether she would run for the seat.

Education Minister Sarah Mitchell was on Monday considering a tilt for the role of deputy leader.

The Deputy Premier refused to answer questions whether the impending ICAC investigation into Ms Berejiklian had played a part in his resignation, or whether he would be called to give evidence to the public hearings.

"The first rule of fight club is not to talk about fight club. A great movie. The truth is this, if you are being subpoenaed by ICAC, you can't talk about it. Leave the ICAC stuff alone, it is an independent body that needs to make judgement on issues," Mr Barilaro said.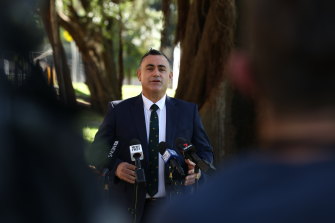 NSW Nationals Leader John Barilaro announces he will resign as NSW Deputy Premier at Parliament House in Sydney on October 4, 2021.
Mr Barilaro said his ongoing defamation case involving YouTube personality Jordan Shanks-Markovina was a major factor in his decision to resign. He said the case had seen him forced to defend himself "from vile and racist attacks in a social media setting "
He said he would formally resign as leader and call for a ballot at a party room meeting on Wednesday, before a byelection is triggered in his seat of Monaro.
Mr Barilaro also ruled out a tilt at federal politics, having last year considered running for the seat of Eden-Monaro.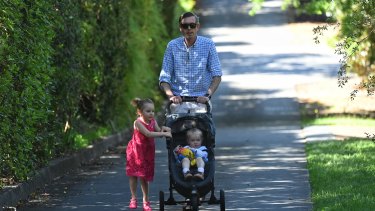 Treasurer Dominic Perrottet has struck a deal with the party to nominate as the next Premier
"I have no intention and no will [to run] for Eden-Monaro or for federal politics," Mr Barilaro said.
"I'm looking to a new career. I turn 50 in November, maybe a bit of a midlife crisis, but definitely thinking about what happens next. I will take some time out, but I genuinely won't be running for federal politics".
It is the latest development in a chaotic few days at NSW Parliament, after Ms Berejiklian was named as the subject of a public corruption inquiry to be held later this month.
The probe will examine whether she breached the public trust or encouraged the occurrence of corrupt conduct during her secret relationship with disgraced former MP Daryl Maguire.
Ms Berejiklian resigned hours after the Independent Commission Against Corruption announced its investigation on Friday, saying she had "been given no option" but to resign.
NSW Transport Minister Andrew Constance also announced his resignation from state politics on Sunday, revealing his intention to nominate for preselection for the federal seat of Gilmore with Prime Minister Scott Morrison's backing.
After a deal was struck late Sunday, Treasurer Dominic Perrottet confirmed he would nominate to be premier with Jobs Minister Stuart Ayres his surprise running mate, however a ballot of Liberal MPs will be needed on Tuesday, with Planning Minister Rob Stokes digging in and remaining in the race.
In a statement on Monday Mr Perrottet said he was "deeply saddened at the loss of a close friend and formidable colleague" in Mr Barilaro.
"However I know it is a decision John has been considering for some time, and I understand and support him in his decision," Mr Perrottet said.
"This is an important opportunity to inject new energy and leadership across the government so that we can continue the work of the NSW Liberals and Nationals."