Major Australian Bank Starts Cutting Cash Services At Branches
By Lis Wang
Australians, one of the most card-reliant economies in the world.
One major Australian bank has begun phasing out cash transactions at a number of its branches saying it is keeping up with the changing behaviour of customers.
Australia and New Zealand Banking Group (ANZ)—one of Australia's "Big Four"—revealed it would begin removing cash withdrawals and deposit services on March 30.
Customers will only be allowed to withdraw or deposit cash through onsite Smart ATMs and coin deposit machines.
"There are a small number of branches where we no longer handle cash at a counter," the ANZ spokesperson told NCA Newswire.
"At these branches, cash and cheque deposits and cash withdrawals can continue to be made by using our Smart ATM and coin deposit machines and we have staff on hand to help customers that might be using them for the first time."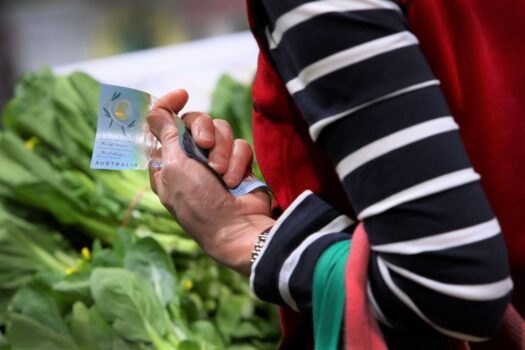 A shopper holds money to make a purchase of fruit and vegetable produce at Paddy's Market in Sydney, Australia on Oct. 22, 2022.
Over the past four years, ANZ has experienced a 50 percent decline in over-the-counter transactions across its branches.
ANZ Managing Director Katherine Bray said "just eight percent" of its customers relied on branches for daily banking.
"That means we must evolve the design of our branches to keep up with how customers want to do their banking," she said in a statement.
With the increased use of online and mobile banking, customers are encouraged to visit a branch after making appointments and to assist with larger and more complex needs, such as home loans or opening a business card account for a new business.
According to data from the Australian Prudential Regulation Authority (APRA), commercial banks shut down 1,680 branches across the country between June 2017 and June 2022, among which 677 were in regional and rural areas (40.2 percent).
Among the jurisdictions, New South Wales experienced the sharpest drop in the number of bank branches at 526, followed by Victoria at 403 and Queensland at 364.
What Are the Other Banks Planning to Do?
Competitor and fellow "Big Four" bank, Westpac, said it did not have any plans to reduce over-the-counter cash handling services.
"Our customers can access over-the-counter cash services at all Westpac Group branches five days a week and at more than 3,500 Australia Post outlets nationwide through our partnership with Bank@Post," a Westpac spokesperson told NCA NewsWire on March 30.
National Bank of Australia (NAB) also confirmed it did not have plans to reduce in-branch cash handling services.
While the Commonwealth Bank did not comment on whether it had plans to close the services, it confirmed that it would "not close any regional branches" for the duration of the Senate Committee inquiry into bank closures in regional Australia.
The inquiry is due to finish on Dec. 1 and looks into the impact such closures have on regional communities.
Card Payments Taking Priority Over Cash
The Reserve Bank of Australia (RBA) published "The Cash-use Cycle in Australia" on March 16 revealing a decline in cash transactions since the mid-2000s.
"The use of ATMs has been declining since 2008, with the number and value of ATM withdrawals falling by about 60 percent and 40 percent," the report stated, noting that previous declines had been more steady but during the pandemic, the trend accelerated.
Head of payments policy at the RBA, Ellis Connolly, told the Australian Financial Review Banking Summit on March 28 that over the past 15 years, there has been a striking shift from paying by cash to paying by card.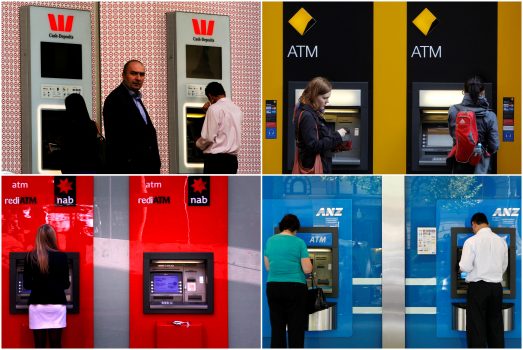 A combination of photographs shows people using automated teller machines (ATMs) at Australia's "Big Four" banks – Australia and New Zealand Banking Group Ltd (bottom R), Commonwealth Bank of Australia (top R), National Australia Bank Ltd (bottom L) and Westpac Banking Corp (top L).
The RBA Consumer Payments Survey conducted in late 2022 found only 13 percent of transactions were made using cash; with the share of cash purchases halving over the past three years.
The rest of all transactions are made up of tap-and-go cards, mobile payments, and direct online transfers.
The use of mobile devices for card payments has also grown rapidly with around a third of consumers using contactless payments in the latest survey, particularly among younger Australians.
Three-quarters of payments are made using cards, with half using debit cards and a quarter with credit.
"Australians make card payments more frequently than in many comparable economies, including those with very low rates of cash usage, such as Sweden," Connolly said.
Meanwhile, APRA's annual report on Deposit-taking Institutions' Points of Presence showed the ongoing trend of branch closures.
The report found a 7.1 percent decrease between 2021 and 2022. The number of ATMs has also halved dropping from 13,814 in 2017, to 6,412 in June 2022.
Digital Carbon Credit Units Now Being Traded
In a sign of the shifting times, ANZ and Grollo Carbon Centures announced the completion of the bank's first service on April 5, as part of the Central Bank Digital Currency (CBDC) pilot run by the RBA and the Digital Finance Cooperative Research Centre.
This announcement will allow ANZ and Grollo Carbon to test the tokenisation of "real-world, nature-based assets" starting with Australian Carbon Credit Units (ACCUs).
ANZ has tokenised existing ACCUs and issued its stablecoin, A$DC, which will enable Grollo Carbon to purchase tokenised ACCUs with settlement occurring via ANZ smart contracts.
ACCUs are issued by the Australian government's Clean Energy Regulator and are a financial instrument awarded and issued to a registered person's account, where every ACCU represents one tonne of carbon dioxide equivalent stored or avoided by a project that is not released into the atmosphere.
"ANZ is pleased to be working with [Grollo Carbon] to test what's possible as we explore secure access to the digital economy in a way that also supports the community and environment," said ANZ banking services lead Nigel Dobson.
"When applied to carbon markets, tokenisation has the potential to improve efficiency and transparency, reduce risk and preserve the unique characteristics of underlying projects to incentivise investment in climate solutions."