Marjorie Taylor Greene's Office Covers for CCP, Epstein-Tied Influence Operation
By Frankie Stockes
HOW LOW CAN SHE GO? TANTRIC ADULTERER, REP. MARJORIE TAYLOR GREENE, REFUSES TO DISCUSS EPSTEIN'S 'HUMPTY DUMPTY INSTITUTE,' CCP-PLA TIES, AS HER KOCH INSTITUTE STAFFER CLAIMS IT COULD 'IMPLICATE' MCCARTHY
Representative Marjorie Taylor Greene (GA-14) is refusing to discuss the Epstein-led, Chinese Communist Party (CCP)-aligned Humpty Dumpty Institute, despite knowledge of its involvement with foreign influence operations and the brother of Jeffrey Epstein, for fear that investigating HDI could implicate Kevin McCarthy and other members of the GOP establishment.
National File can exclusively report that Rep. Marjorie Taylor Greene has knowledge of the Humpty Dumpty Institute and its subversion of the United States Congress, but has refused to act, for fear that investigating HDI, the CCP, and People's Liberation Army's (PLA) malign influence operations could bring down Kevin McCarthy and other members of the GOP establishment.
After initially thanking National File for exposing the HDI-CCP-PLA infiltration of Congress, MTG spiked her office's involvement with further exposure of the influence operation.
National File has extensively reported on the Humpty Dumpty Institute's tangible connections to the CCP, its PLA, and the Taihe Institute, a CCP-PLA-aligned think tank devoted to spreading communism around the globe.
HDI publicly lists and has listed numerous members of Congress as part of its "advisory board," including Mark Meadows, Adam Schiff, and Bennie Thompson.
It's also tainted the executive branch, with former DNI Richard Grenell appearing prominently in HDI archives from his days with the Bush Administration.
In September of this year, one of MTG's staff members, Taylor LaJoie, who's employed as her "Chief Policy Advisor," held an hour-long video call with National File and others, to discuss the Humpty Dumpty Institute and its deep ties to the CCP, PLA, and Taihe Institute, as well as to Mark Epstein, the brother of deceased pedophile and deep state alum, Jeffrey Epstein.
As National File will soon uncover, Mark Epstein was described by Fox News' Senior Reporter, Charlie Gasparino, as a "double agent." This is particularly noteworthy as Gasparino, who was once ridiculed for claiming he was a Pulitzer Prize nominee, was the last known reporter to have interviewed Jeffrey while he was alive.
The conversation with LaJoie was part of numerous two-way communications with the MTG staffer, who has a background within the GOP establishment, including stints with the Koch Institute and Heritage Foundation, before he found work with Rep. Greene.
At the conclusion of the September 2022 call, MTG's office expressed receptiveness to the HDI issue, and her staffer stated that he would be informing Rep. Greene of the Humpty Dumpty Institute and its ties to the CCP, the US Congress, and radical Democrats, expressing a desire to speak further on the issue in the future.
Rep. Marjorie Taylor Greene's office also asked National File for an organogram, laying out HDI's ties to the CCP, PLA, and other players on the anti-American world stage.
The organogram, pictured below and constructed by National File, with help from British Texan Research, was promptly provided to Rep. Greene's office.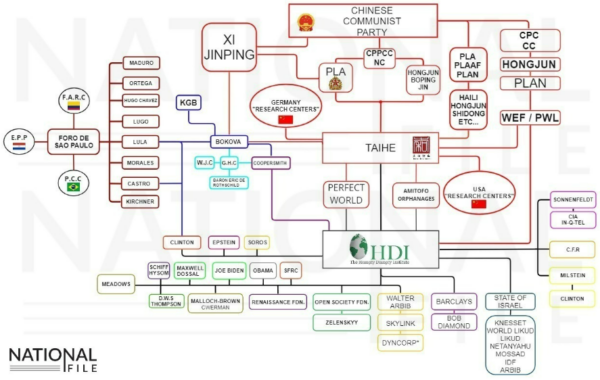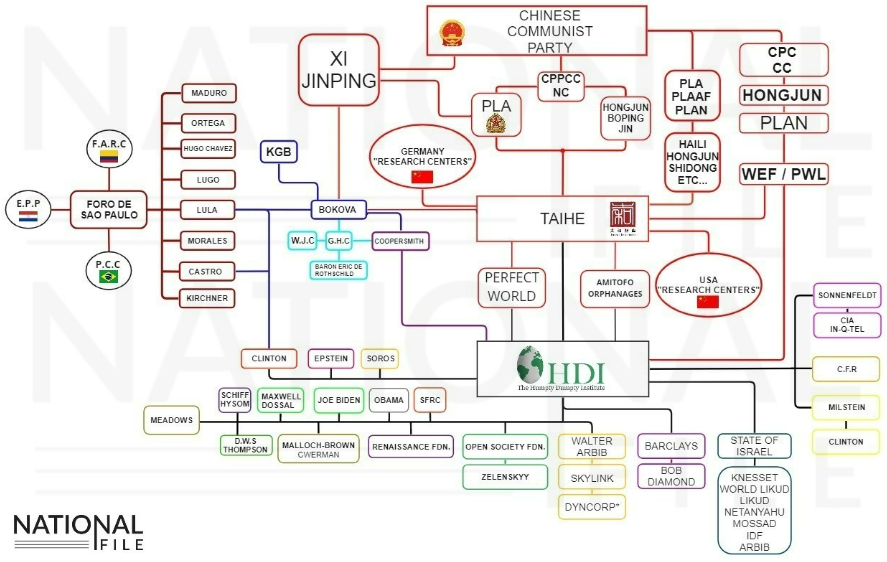 Three weeks later, with MTG yet to move on the issue, the staffer informed National File that he had indeed given all the information he'd received on HDI and the CCP-PLA to Rep. Greene.
He chalked her lack of responsiveness up to a multitude of reasons, including "personal" ones, as this occurred while Rep. Greene's husband was filing for divorce after her affair with a "tantric guru" was publicized.
Tantric relations, according to Wikipedia, "involves offerings of impure substances" to "fierce deities," and utilizing the participants'  bodily fluids as ritualistic "power substances," which are lathered either externally or internally. It is not known, at this point, if MTG's tantric rituals occurred within her Georgia constituency, at MTG's cross-fit gym, or within MTG's marital home.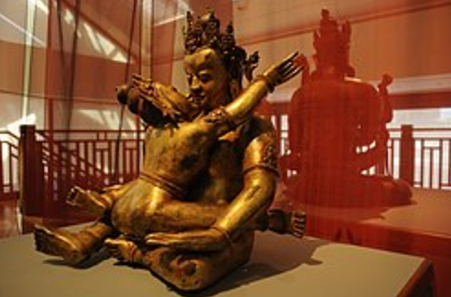 Curiously, after initially heaping praise on National File and their US National Security-focused reporting on HDI and the CCP, while indicating that Rep. Greene would move on the issue, her office then went cold and even made a specific written request, for National File not to email MTG on her Congressional email account, where all communications are part of the public record and open source.
This was even as stories about HDI and its CCP links were airing on cable news networks, like Newsmax and OANN, after being brought to the forefront by National File over a sustained period of time beginning in November 2021.
Just over a month later, on November 6th, MTG staffer LaJoie became suddenly interested in the HDI story once more, asking National File "how (HDI) implicates the Republicans," and indicating that HDI-CCP-related videos from Chris Salcedo's Newsmax TV program had been shared with Rep. Marjorie Taylor Greene, as had National File's organogram previously pictured.
The staffer stressed, however, that he "needs to know who is implicated on our (GOP) side," expressing particular concern about the likes of Mark Meadows and GOP establishment leader Kevin McCarthy.
The conversation took place just days before the 2022 midterms.
Shortly thereafter, MTG announced her support of Kevin McCarthy for Speaker of the House, reportedly on the condition that she will gain back her committee assignments if he wins the gavel. In doing so, MTG turned against her conservative Freedom Caucus colleagues, who are vowing to block McCarthy's speakership campaign.
"I've sent her the info I have and asked her to call me…" the staffer told National File's affiliates, before implying that it may be a problem for Greene, that National File is exposing not just Democrats, but also Republicans who are in bed with HDI-CCP-PLA.
"…but you have published articles that say Mark Meadows and three other Republicans were involved," he said.
At the close of the conversation, the staffer advised National File that "Marjorie said she and I will chat about it next week."
A day later, the MTG staffer assured some associates of National File that he will "do a deep dive on all of this (HDI) today…I have started writing a memo putting all this together for her (MTG)."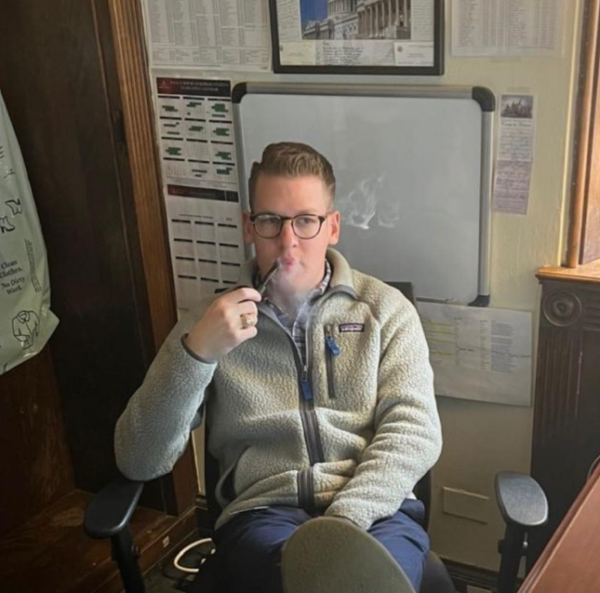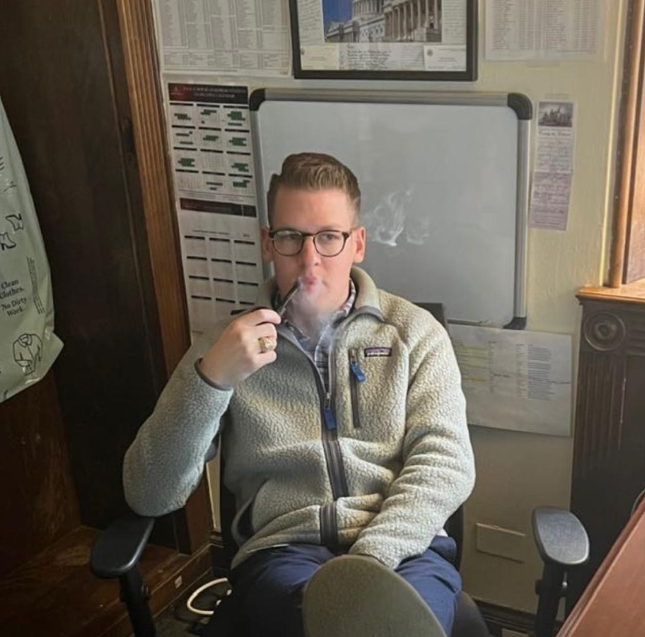 One of the aforementioned National File and House Freedom Caucus associates was recently described by the Trump Administration's Garrett Ziegler as "…more attuned to CCP infiltration than almost anyone in America, and a conversation with them is worth anyone's time."
This same associate was also described to National File by a well-known Reverend as "…a fine young person…wholeheartedly commended as a person of integrity."
The associate has also recently been "thanked" for their National Security-focused efforts by Donald Trump's former Chief Strategist, Stephen K. Bannon.
Now, over a month later, no action has been taken by Rep. Marjorie Taylor Greene or her office.
While Rep. Marjorie Taylor Greene has been sitting on National Security information about the Chinese Communist Party and its People's Liberation Army, she's been out campaigning for establishment leader Kevin McCarthy to be the next Speaker of the House – the same man her staffer expressed concern about being linked to China just ahead of the midterms.
And seemingly for good reason.
In addition to being busted using FTX cash to sabotage America First candidates, McCarthy has been linked to Communist China by way of both his Big Tech relationships, and one of his top lieutenant's involvement in a CCP theft scheme inside the United States.