New York Times: "Stolen Valor: The U.S. Volunteers in Ukraine Who Lie, Waste and Bicker. James Vasquez, in Fact, was Never Deployed to Kuwait…"
James Vasquez the famous tiktok mercenary in Ukraine got his ass beaten on the subway in America. Well the real world isn't TikTok James. Bet you weren't even near Ukraine 
 pic.twitter.com/fQLE4svhRs
— Jos Quinten (@TaranQ) July 15, 2022
Gonzalo Lira II (Coach Red Pill): "2022.05.01 James Vasquez Is A Liar and A Fake"
American Fighting in Ukraine Shares Gruesome View from Frontline Trench
Avideo taken by an American fighting in Ukraine showcases the intense daily combat experienced by all soldiers.
James Vasquez is a U.S. Army veteran who on Tuesday celebrated his one-year anniversary of helping fend off Russian forces in Ukraine. He routinely posts wartime videos on his Twitter account, which has amassed over 444,000 followers.
While he fights abroad, support of continued aid to Ukraine by the U.S. is decreasing stateside. A poll conducted by the Associated Press-NORC Center for Public Affairs Research and released in mid-February found that 48 percent of Americans surveyed favored sending more U.S. weapons to Ukraine—down from 60 percent in the war's first three months.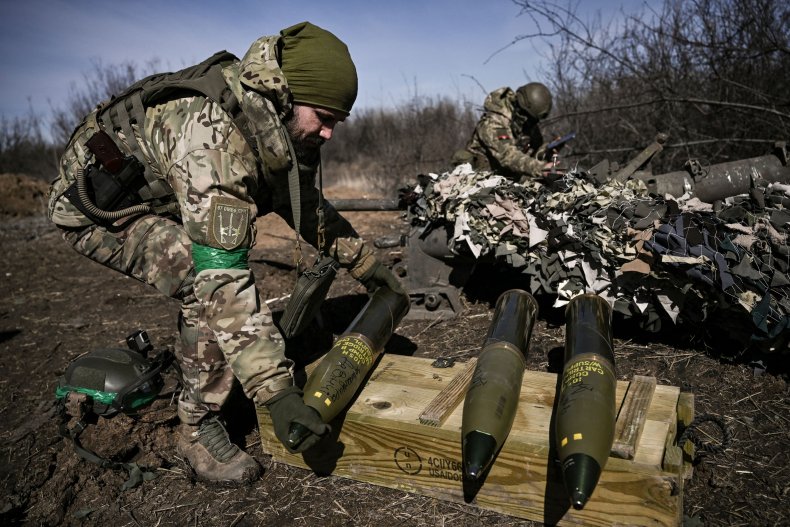 A Ukrainian serviceman prepares a 105 shell to fire at Russian positions near Bakhmut, on March 14, 2023. One American U.S. Army veteran has documented his year spent fighting in Ukraine, routinely posting videos of him involved in combat.
American support of Ukraine reclaiming the Crimean peninsula has also dwindled. A recent poll conducted for Newsweek found that just 28 percent of respondents said that Kyiv should strive to recover all territory lost since February 2014 before a peace settlement—a view strongly shared by Republicans like Representative Marjorie Taylor Greene.
Vasquez's newest video posted on Wednesday shows his vantage point from a wooded area. Recorded among the backdrop of a hail of gunfire, Vasquez takes cover in a trench situated "in a hot zone." He says that one of his vehicles is continually shooting at the enemy.
Warning: Some viewers may find this video disturbing.
He points in a straightaway direction, explaining that Russian soldiers are in that vicinity.
"There is a dead Russian soldier right there, about 12 feet away from me," he said while zooming in on the body. "We're expecting others to be coming shortly."
The video was viewed over 462,000 times by Wednesday morning. The location could not be verified by Newsweek.
The Connecticut native decided in March 2022 to go to Ukraine and aid their cause. He told News 12 Connecticut last June that there was no option for him not to go, especially knowing that his grandmother fled Soviet-controlled Latvia during World War II.
He collected medical equipment, military gear and renewed his passport—and he even reportedly shipped his Jeep overseas while selling numerous other belongings in preparation.
"I didn't know what I was going to do, where I was going to go," Vasquez said last summer. "I just knew I was going to get to the frontlines, somehow, some way."
He flew to Poland and then crossed into Ukraine, eventually meeting other soldiers through contacts he had. His first forays involved helping to clear villages outside of Kyiv prior to taking heavier action in the Donetsk oblast in eastern Ukraine.
Post-U.S. military service, Vasquez partnered with retired U.S. Marine Corps Lieutenant Colonel Ripley "Rip" Rawlings to provide on-the-ground support through a foundation called Ripley's Heroes.
In July, the pair testified in front of the Helsinki Commission, a U.S. government agency composed of congressional members and federal agency representatives.In July, the pair testified in front of the Helsinki Commission, a U.S. government agency composed of congressional members and federal agency representatives.
Americans on Ukraine's Frontlines
Vasquez is among an unidentified number of Americans who have traveled to Ukraine to fight.
Ukrainian Foreign Minister Dymtro Kuleba said in a March 2022 statement that over 20,000 volunteers had already joined to fight alongside Ukrainians, including "an estimated several thousand" American citizens.
One was a U.S. Army veteran from the Midwest who had previously fought in Iraq. He spoke to Newsweek in October on the condition of anonymity, calling the conflict "insane" compared to what he experienced in the Middle East.
Others have included U.S. Marine Corps veteran Andy Huynh and U.S. Army veteran Alex Drueke, both from Alabama, who according to ABC News were captured by Russian forces and tortured daily for 105 days—including one month in a Russian "black site."
Retired U.S. Marine Corps Colonel Mark Cancian, a senior adviser at the Center for Strategic and International Studies, told Newsweek that Kuleba's estimates were likely way higher than the actual number of Americans fighting in Ukraine.
There are no official statistics to determine such amounts, either.
"U.S. citizens seem to be in ones and twos," Cancian said. "If there were several thousand, there would be entire units made up of Americans. It might be that over the course of the year, several thousand Americans cycled through Ukraine for one purpose or another, but the number of Americans on the front line would be, in my personal estimate, under 100."
One reason for his low estimate, he added, is due to what he described as reliable reports in the war's infancy that the majority of foreign volunteers were deemed unsuitable to partake in action.
"They didn't have military experience and were ineffective in combat," he said. "Ukraine instituted much stronger recruiting standards, so the numbers went way down. But the people who got through would be more suitable."
Resources:
https://www.investmentwatchblog.com/new-york-times-stolen-valor-the-u-s-volunteers-in-ukraine-who-lie-waste-and-bicker-james-vasquez-in-fact-was-never-deployed-to-kuwait/
https://www.newsweek.com/american-fighting-ukraine-shares-gruesome-view-frontline-trench-1787961