NSW Premier Says the SES and Agencies Would Make Mistakes Re Flood Rescue – Yet How Could They When They So Far Are Nonexistent – They Are Only Now Being Deployed – A Week Later and Where Was the Warnings To Evacuate?
By Elias Visontay

Many NSW north coast residents, like Luisa Duffy of Lismore, are critical of the bureaucracy needed to access government help after the floods.
Tensions are boiling over across flood-affected parts of New South Wales and Queensland, with frustration at the speed at which official support is being rolled out, as the death toll from the catastrophe mounts.
On Saturday afternoon, a woman was found dead in flood waters in south-east Queensland, bringing the state's toll to 11. Queensland police divers found the body in Mudgeeraba, on the outskirts of the Gold Coast, with investigators yet to confirm whether it was a 42-year-old woman who was last seen on 27 February.
Meanwhile, in NSW, the death toll sat at six, with the Resilience NSW commissioner, Shane Fitzsimmons, reiterating that the state had "got to brace ourselves" for further deaths, with many towns and houses still cut off by flood water.
He made the comments at a press conference with the premier, Dominic Perrottet, and various government ministers on the outskirts of Lismore on Saturday, as officials continued to visit flood-affected parts of the northern rivers region.
Perrottet vowed he was "not going to spare a dollar" in flood recovery efforts, and promised to "not just rebuild" Lismore despite its flood prone environment.
"Lismore is a great town and we're going to make it greater."
Perrottet acknowledged that the official government agencies would likely make some mistakes throughout the mammoth cleanup task of rebuilding Lismore.
He also said immediate housing for residents who had lost homes was a primary concern.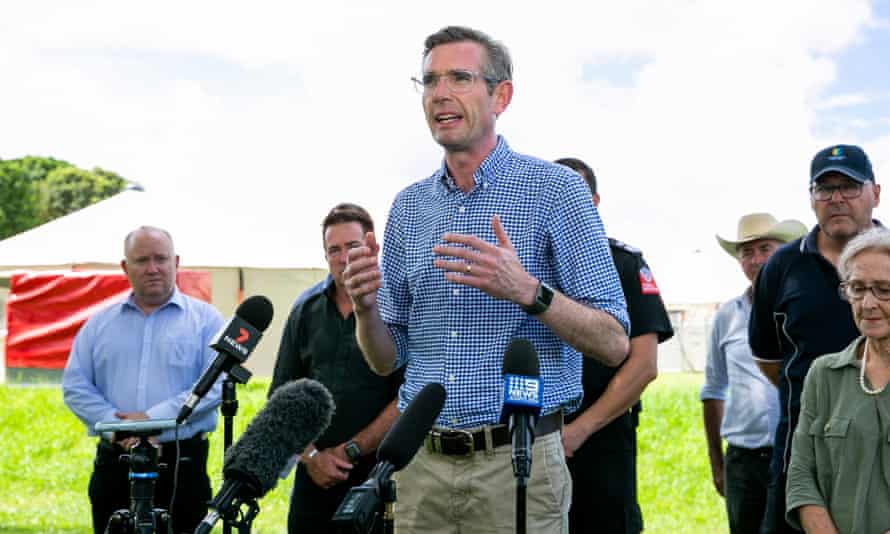 Premier Dominic Perrottet speaks to the media in Lismore about the NSW government's flood recovery plans.
The emergency services minister, Steph Cooke, said that of the roughly 1,400 rapid property damage assessments carried out in Lismore, 900 homes had already been deemed uninhabitable.
Cooke also defended State Emergency Service workers following what she claimed was "unwarranted" criticism, as some communities – such as Mullumbimby and surrounding hinterland – had resorted to volunteer-led rescues.
Cooke said that 5,000 defence force personnel would be deployed across NSW to assist with flood recovery, with the first 900 of them starting on Sunday.