Putin Concedes 'There Can Be No Winners in a Nuclear War'
By Jack Phillips
Russian President Vladimir Putin said Monday that there would be no winners if a nuclear war broke out and said it should not be considered.
"Russia consistently follows the letter and spirit of the [Treaty on the Non-Proliferation of Nuclear Weapons]," Putin wrote, according to state-run media.
Moscow's "obligations under bilateral agreements with the United States on the reduction and limitation of relevant weapons have also been fully fulfilled," Putin added, saying his government believes "that there can be no winners in a nuclear war and it must never be unleashed."
The Russian leader made the remark to participants of a conference on the nuclear nonproliferation treaty about five months after the start of the Ukraine–Russia war. Days after the start of the Feb. 24 invasion, Putin ordered the country's nuclear forces to be placed on a state of heightened alert, sparking worldwide concern regarding the risk of a nuclear war or World War III occurring.
Around the time of the invasion, which Russia describes as a special military operation, Putin delivered a speech that made reference to the country's vast nuclear weapons arsenal and warned NATO and the U.S. not to interfere.
"Whoever tries to hinder us … should know that Russia's response will be immediate," he said. "And it will lead you to such consequences that you have never encountered in your history."
Negotiations
Russia's military doctrine (pdf) allows for the use of nukes if there is an existential threat to the Russian state, according to the Congressional Research Service. Both Russia and the United States are believed to each possess thousands of nuclear weapons.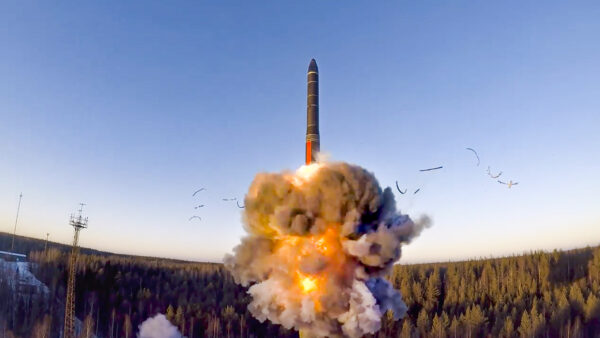 Ahead of Russia's statement to the nuclear nonproliferation treaty conference, President Joe Biden called on Russia to partake in negotiations on a new arms-control agreement to replace the New START treaty, which is slated to expire in 2026.
"Negotiation requires a willing partner operating in good faith," Biden said in a statement released by the White House. "In this context, Russia should demonstrate that it is ready to resume work on nuclear arms control with the United States."
Also on Monday, a Russian foreign ministry source questioned the seriousness of comments by Biden calling for talks on a nuclear arms control framework to replace a treaty expiring in 2026.
In April, Russia conducted a first test launch of its new Sarmat intercontinental ballistic missile, capable of mounting nuclear strikes against the United States, and said it planned to deploy the weapons by the fall of 2022.