Queensland Shootings Police Report Released
QUEENSLAND SHOOTINGS
See Aussie_News post today + links to all background info on Wieambilla + Police Report released last night: t.me/Aussie_News/8092
MESSAGE FROM ONEEGS 17feb23
Let me first state very, very clearly that I condemn and vehemently oppose ALL forms of violence.
And I do personally believe the Trains had become radicalised and dangerously aggrieved with the world as we know it.
But this is the first time in Australian history, we have seen the message of Christ's return now linked to "domestic terrorism."
Australia has millions of Christians.
We are a nation built on Christian values and the message of Christ himself.
But now the MSM wants to paint Christianity as a dangerous and radical cult?
New lows, but once again, not surprising at all.
I wonder how Christians within the police force feel about this new narrative?
Please be mindful of comments. Zero tolerance here for any aggro comments.
'Religiously motivated terrorist attack': Police believe trio of Queensland cop killers acted alone
Queensland authorities have announced the trio who shot and killed two police officers were acting as part of a 'religiously motivated' terrorist attack.
The trio who executed two Queensland police officers and an innocent neighbour on a remote property acted alone and were religiously motivated, police have said.
Nathaniel Train, his brother Gareth and sister-in-law Stacey shot dead constables Matthew Arnold, 26, and Rachel McCrow, 29, along with Alan Dare at Wieambilla, more than 300km west of Brisbane, on December 12.
After examining 190 documents, including Stacey's extensive diary entries, Queensland Police Deputy Commissioner Tracy Linford said investigators believed the trio "acted as an autonomous cell and executed a religiously motivated terrorist attack".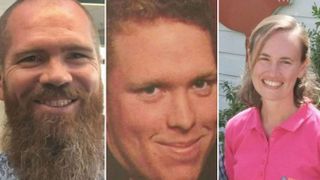 Nathaniel Train, his brother Gareth and sister-in-law Stacey shot dead two police officers and an innocent neighbour at a property in Wieambilla.
She noted the investigation was "far from" over and that the coroner would make a final ruling on motivation.
Linford said the trio appeared to have subscribed to a "broad Christian fundamentalist belief system" known as premillennialism.
"The basic interpretation is that Christ will return to Earth for a thousand (years) and provide peace and prosperity," she said.
"It will be preceded by an era of tribulation, widespread destruction and suffering."
She said it was the first extremist Christian terror attack in Australian history, but noted similarly motivated attacks had taken place overseas, such as the Waco siege in the US in 1993.
The Train family referred to police as "monsters" and "demons" in a number of statements, Linford said.
"We don't believe this attack was random or spontaneous," she said.
"We do believe it was an attack directed at police."
Despite early reports which suggested the Train trio might be part of the sovereign citizen movement, Linford said there was no evidence they had explicitly declared themselves as sovereign citizens.
But, she said, there were certain similarities in behaviour, including anti-government sentiment and a withdrawal from society.
Linford said the property appeared to have been set up for an attack.
She said there were numerous camouflaged hides with "well-worn tracks" between them.
CCTV had also been installed at the property, along with multiple barriers of earth, wood and steel.
Mirrors had also been affixed to trees, which Linford said could have been used to give advance warning of approaching vehicles.
Linford dismissed a suggestion that there had been a "ringleader" among the trio and said there was no evidence they had had any assistance from anybody in Australia.
The trio had posted on social media, where people had interacted with them online.
In a chilling video shot on the night of the deadly siege, Gareth and Stacey Train addressed a "Don" and said they would see them at "home".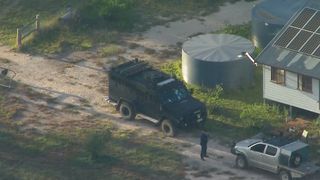 Aerial imagery from above the scene of the shooting in Wieambilla. 
Linford said "Don" was believed to be a person of interest in the US, and "home" referred to the Christian heaven.
Australian authorities have met with the FBI and passed over evidence and material.
Linford said Nathaniel had crossed into Queensland from NSW in December 2021.
Nathaniel had not received a COVID-19 vaccine and so did not meet the in-place border crossing requirements.
Instead, he crashed through an e-gate, damaging it and abandoning his car after it got bogged.
He left behind two firearms in the car, and police believe he took three others with him.
All five were legally registered to Nathaniel.
Ahead of the ambush, a police officer visited Gareth and Stacey's property at Wieambilla, finding the gate locked and CCTV monitoring the place.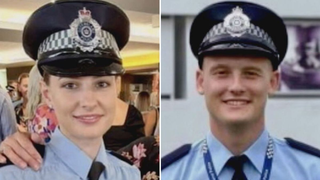 Constables Matthew Arnold and Rachel McCrow were killed in the line of duty.
The police officer wrote on a card that he wanted to talk to them and left it in the mailbox.
A week later, the card was still there, fostering a belief that nobody was at the property.
This led to a warrant being issued for Nathaniel over the abandoned firearms.
At the property after the ambush, police recovered six guns, including one that dated back to 1904, three compound bows and arrows, and "a number" of knives.
Linford said the Trains had purchased ammunition "many months" before the attack, noting that it wasn't an uncommon practice for rural properties to buy in bulk.
Despite the apparent preparations for an attack at the property, Linford said officers had not been "lured" there on the day of the ambush.
She said it seemed the Trains had become aware Nathaniel had been reported as a missing person and that he was being sought by police.
Nathaniel was not believed to have been staying at the house with Gareth and Stacey, and was instead likely to have been camping nearby.
Linford said none of the three had any criminal record to indicate they were violent or dangerous.
She said mental illness was being investigated as a factor, but pointed out that given the three were acting together and were "equally aligned", it would be unusual for mental health to be a factor.
Stacey's diary and other statements seemed to indicate there was no single motivating factor behind the trio's radicalisation.
The COVID-19 pandemic, climate change, global conflict and social disparity were all name-checked, along with a heart attack Nathaniel survived in 2021.
"He seemed to become more religious as a consequence," Linford said.
————————————
Resources:
https://t.me/Aussie_News/8106
https://amp.9news.com.au/article/95effce7-eedd-419b-83f6-09272f2aae81