Richard Grenell, Adam Schiff Share Mutual Ties to CCP-Linked, Epstein-Led Humpty Dumpty Institute
By Frankie Stockes
Richard Grenell publicly opposes Adam Schiff, but both men worked behind the scenes with the shadowy Humpty Dumpty Institute for years.
Richard Grenell and Democrat House Intel Committee Chair Adam Schiff share close and long-standing ties to the CCP-linked Humpty Dumpty Institute (HDI), a shadowy foreign policy influence outfit that has been led by Mark Epstein, the brother of notorious sex trafficker and alleged Mossad asset, Jeffrey Epstein. While Grenell publicly claims to oppose Schiff, both men have spent years working behind the scenes with the Humpty Dumpty Institute, and according to HDI's own records, have done so at high levels.
Grenell, the former Acting Director of National Intelligence and Ambassador to Germany is being pushed by many within the GOP and corporate media as a VP pick for 45th President Trump in 2024. During the Trump Administration, he became the nation's first openly-gay cabinet member, and since then has been playing a central role in the GOP's embrace of the LGBT movement, headlining GOP "pride" events. His links to Adam Schiff go back decades, and both men, who now work at the highest levels of the United States government and political system, have spent a great deal of time working alongside the Humpty Dumpty Institute – Grenell as a high-ranking member of the George W. Bush Administration, and Schiff as a member of Congress.
HDI, a globalist "think tank," seeks to play an active role in influencing foreign policy, is tied to the Chinese Communist Party, and has been led by Jeffrey Epstein's brother, Mark Epstein. It also boasts major ties to alleged Mossad assets and those linked to other foreign intelligence-gathering bodies that may seek to harm America. This throws up a major red flag when it comes to Grenell and the GOP Establishment's VP aspirations, and another red flag when it comes to Rep. Adam Schiff and his Congressional career, which has coalesced in leading an anti-American incarnation of the House Intel Committee for Nancy Pelosi.
Schiff, as well as a laundry list of other Democrats linked to HDI, have been tireless in their attacks on 45th President Trump and the America First movement, something that makes the HDI ties of Richard Grenell and other supposedly conservative Republicans all the more alarming.
To this day, Adam Schiff is listed on the CCP and Mossad-linked Humpty Dumpty Institute's website from his time as a member of its "Congressional Advisory Board," along with J6 Committee ring leader Bennie Thompson.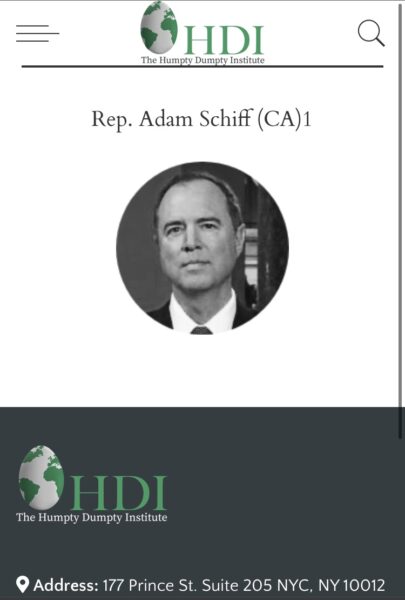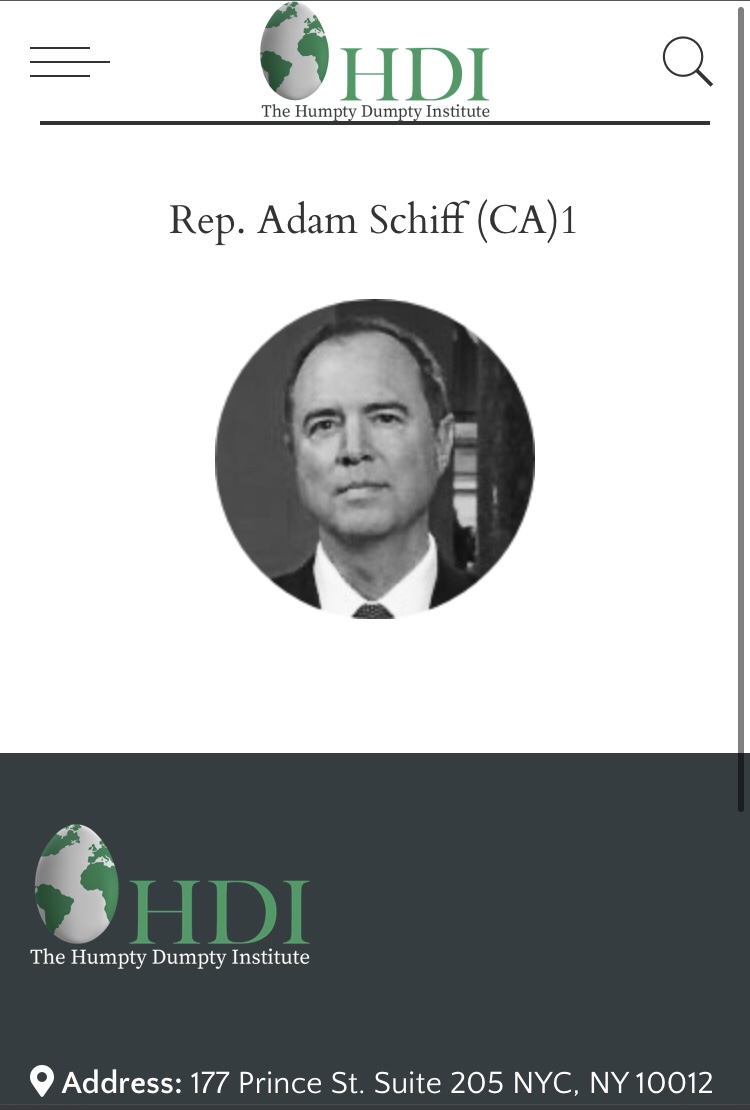 Far-left California Congressman and Pelosi Intel Committee Chair Adam Schiff is listed on HDI's website as an important Congressional connection.
National File recently reported on Richard Grenell's close links to the Humpty Dumpty Institute, mentioning the process that he worked closely with the office of California Rep. Adam Schiff and high-ranking members of his staff as part of HDI's United Nations and Congressional "delegation" program. All of this information was memorialized in Humpty Dumpty Institute web posts, which are now nearly two decades old.
As National File reported last month:
"Before he was a purported member of the America First movement, Richard Grenell spent years working for the administration of President George W. Bush, serving at a high level in the US Mission to the United Nations from 2001 to 2008…According to photographs and logs detailing the Humpty Dumpty Institute's (HDI) relationship with the US Mission to the UN, Grenell was deeply tied to the globalist, Epstein-led non-profit during his time in the Bush Administration and appeared as a speaker at HDI's "Staff Delegation to the United Nations" at least twice, in 2005," National File reported on Grenell's links to HDI – where he joined Adam Schiff's staff in "high level" meetings.

In June of that year, Grenell joined a group of 'senior US diplomats, high-level UN officials, and spokesmen from a number of UN agencies and departments,' to address HDI's 15th Staff Delegation to the United Nations. According to an HDI webpage memorializing the event, 'the intent of this program was to give congressional spokesmen an opportunity to view first-hand the inner workings of the UN while providing them with a network of capable counterparts throughout the UN system.' According to the webpage profiling HDI's delegation, Grenell addressed the group as part of a 'breakfast briefing,' offering a 'description of his own background and specific duties.' Grenell, the HDI's summary goes on to explain, urged attendees to work through him while dealing with both the US Mission to the UN and the UN as a whole…Grenell 'emphasized his intermediary role between the US Congress, the US Mission, and the United Nations, and urged future dialogue through his office,' HDI's webpage reads.

Attendees at the 15th Delegation included the staff members of several uni-party Congressmen and Senators, including Rebecca Kutler, who at the time was Press Secretary to far-left California Rep. Adam Schiff. HDI leadership was also present at the event."
The same day that National File's viral report on Richard Grenell's ties to the globalist Humpty Dumpty Institute was published, linking him to far-left Adam Schiff in the process, Grenell went on a Twitter rant against Schiff and made a Newsmax appearance to discuss his supposed beef with the California Congressman.
Ironically, the entire topic of discussion and disagreement was centered around Schiff's draconian actions as a member of the House Intel Committee, a seat he came to hold while collaborating closely with the intelligence and foreign policy-oriented Humpty Dumpty Institute, rising through the ranks of the uni-party political elite at a similar rate to that of Grenell, albeit Grenell has never actually been elected to anything.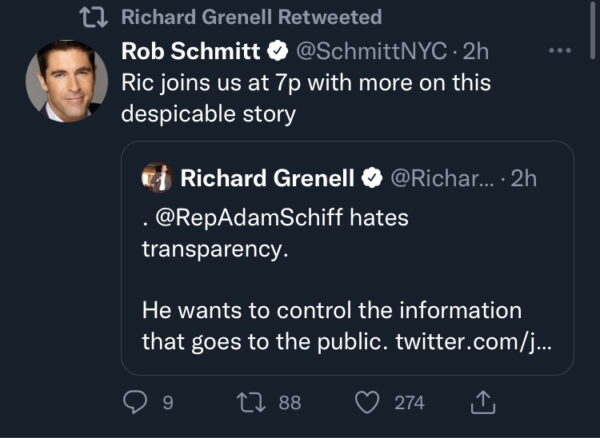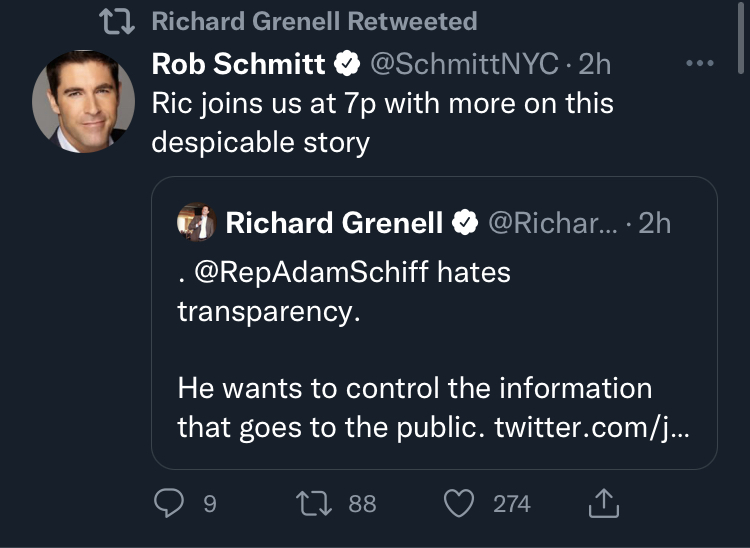 While the Humpty Dumpty Institute has largely collaborated with left-wing Democrat members of Congress, Grenell isn't the only member of President Trump's orbit who has been closely linked to the CCP-tied, Epstein-led influence operation.
President Trump's Chief of Staff, Mark Meadows, who deep state prosecutors boast is close to turning against the 45th President and aiding them in their hyper-partisan "witch hunt" investigations, also worked closely with the Humpty Dumpty Institute and, alongside Schiff, was a member of the HDI "Congressional Advisory Board" until 2019.
Mark Meadows, the former Republican House Freedom Caucus Leader and former Chief of Staff for President Donald Trump, was appointed to the HDI Congressional Advisory Board in 2013, and served in this role as recently as April 2019, National File previously reported.
During that time, Mark Meadows was the ONLY Republican member of Congress to serve on the HDI board.