SA Border Backlash As Truckies Threaten Stockade, Refuse To Deliver to State
Freight drivers are refusing to deliver to SA as Victorian truckies say they'll create a border stockade to stop food if the Premier ignores their demands.
Freight drivers are refusing to deliver goods into South Australia and Victorian truckies are threatening a state border blockade to stop food supplies, in a backlash to restrictive new Covid-19 rules.
Industry leaders warned the State Government that urgent changes are needed to "unrealistic and unfair" snap testing directions implemented to combat the country's deteriorating coronavirus crisis.
The government on Friday night condemned the "incredibly disappointing" blockade threats as South Australians rushed to get tested.
More than 35,000 Covid tests were taken in the state this week as Victoria plunged into its fifth lockdown linked to Sydney residents, including a removalist crew. SA Health on Friday night urged anyone who visited Victoria's Philip Island between last Monday and Thursday to take an "urgent" Covid test.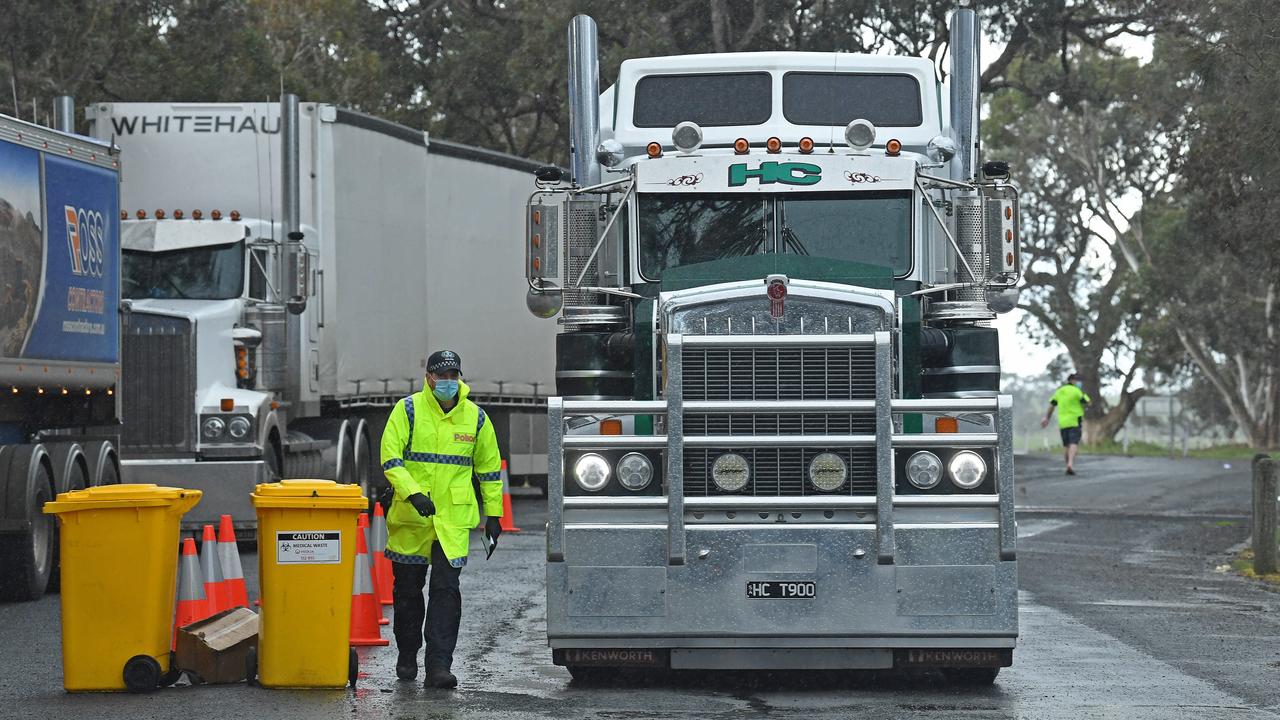 Police stopping trucks at the Victorian border near Bordertown
NSW authorities this week also fought a rising tide of patients with the highly contagious Covid-19 Delta strain.
The three removalists, two of whom have contracted the Delta variant, travelled to McLaren Vale and then through Tailem Bend while infectious leaving hundreds in mandatory 14 days quarantine.
The Transport Workers Union urgently wrote to Ministers, SA Health and SA Police objecting to the "unfair impact" testing rules that Police Commissioner Grant Stevens authorised from 12.01am on Thursday.
Its letter, a copy of which was obtained by The Advertiser, warned it was "unrealistic" to expect the essential workers to take a Covid test within 24 hours of each border crossing.
TWU SA branch secretary Ian Smith warned this would leave scores of drivers needing multiple tests a week including those living within the 70km Victorian border bubble.
He called for more border testing stations and priority checks after reports some drivers were waiting up to five hours to get a test, ahead of crisis talks with senior health officials and police on Monday.
"As a result of the directions many local freight drivers are now refusing to transport freight into South Australia," he wrote.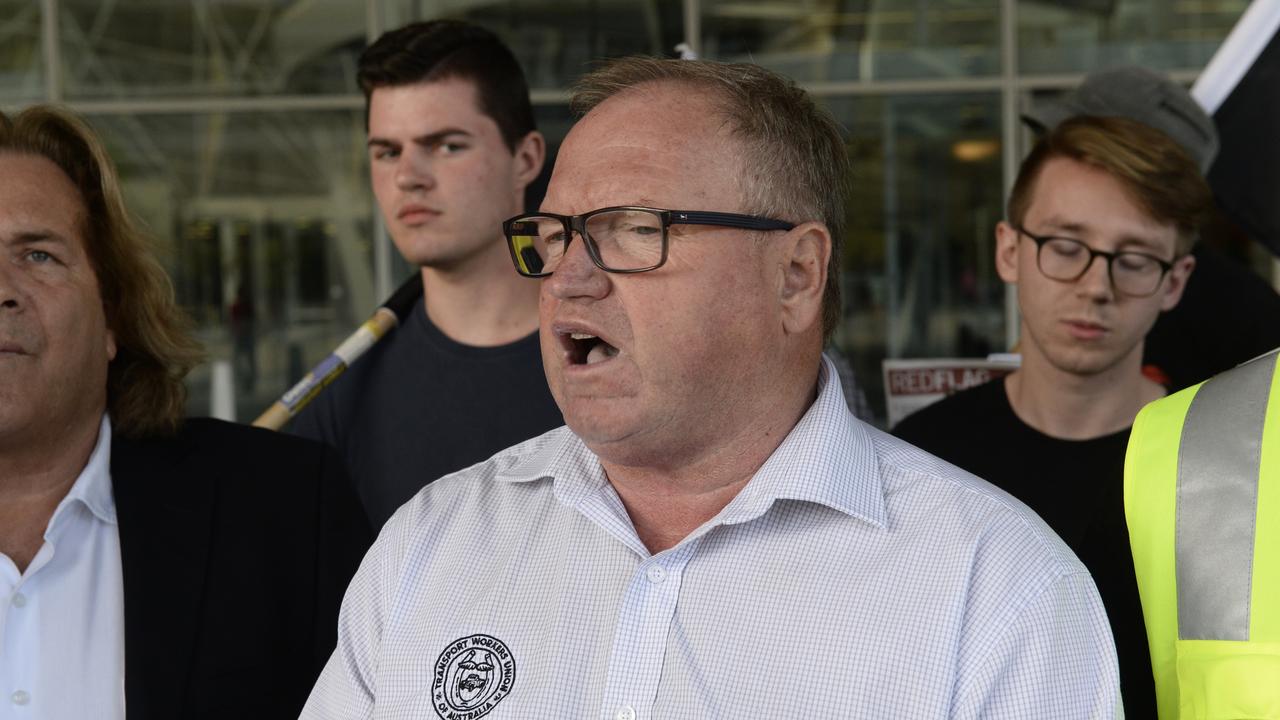 TWU SA branch secretary Ian Smith said the union had been told Victorian truck drivers were threatening to block supplies in SA
"We have been advised Victorian transport drivers are threatening a truck stockade at the border to stop supply of food into South Australia in order to gain the attention of the Premier (Steven Marshall). We are requesting urgent attention is given to this issue to avoid a blockade."
Neither Mr Smith nor South Australian Road Transport Association executive officer Steve Shearer supported the blockade threats.
While both said the industry supported health advice, the previous once a week testing rules had already sparked an exodus of drivers critical to ensure ongoing supplies.
"These people have carried Australia during this pandemic," Mr Smith said.
Mr Shearer said even a loss of between five and 10 per cent of drivers would trigger major freight shortages across SA.
"Despite 15 months of border crossings we have not had any Covid transmission until the recent removalists and the industry has been extremely safe," he said.
A state government spokeswoman said officials understood the latest restrictions "are tough for the trucking industry, but they are necessary to keep our state safe and the economy strong".
"The entire country is in this together, and for some Victorian transport drivers to be threatening a truck stockade at the border is incredibly disappointing," she said.
"We thank all businesses, all industries and all South Australians for making collective sacrifices to keep our people safe … (which) are keeping our state from going into a lockdown."
Mr Stevens, who authorises legal directions as state co-ordinator, told FIVEaa radio that officers who faced a "perfect storm" had taken a "risk-based approach and waved a few people through".
He said that authorities were becoming "quietly more confident that we might've dodged a bullet there" as no community transmission has yet been detected from the removalists' scare.
SA Health has reported three high-risk exposure sites linked to the crew. An urgent alert was issued for the OTR Motorsport Park service station as a "location of concern".
Anyone who visited the service station between 7.20am and 8.15am last Friday needs to immediately quarantine and get tested.
Another two exposure sites are at the Tailem Bend Shell petrol station, on the Princes Highway along with the adjacent Coolabah Tree cafe, where the crew visited last Friday night.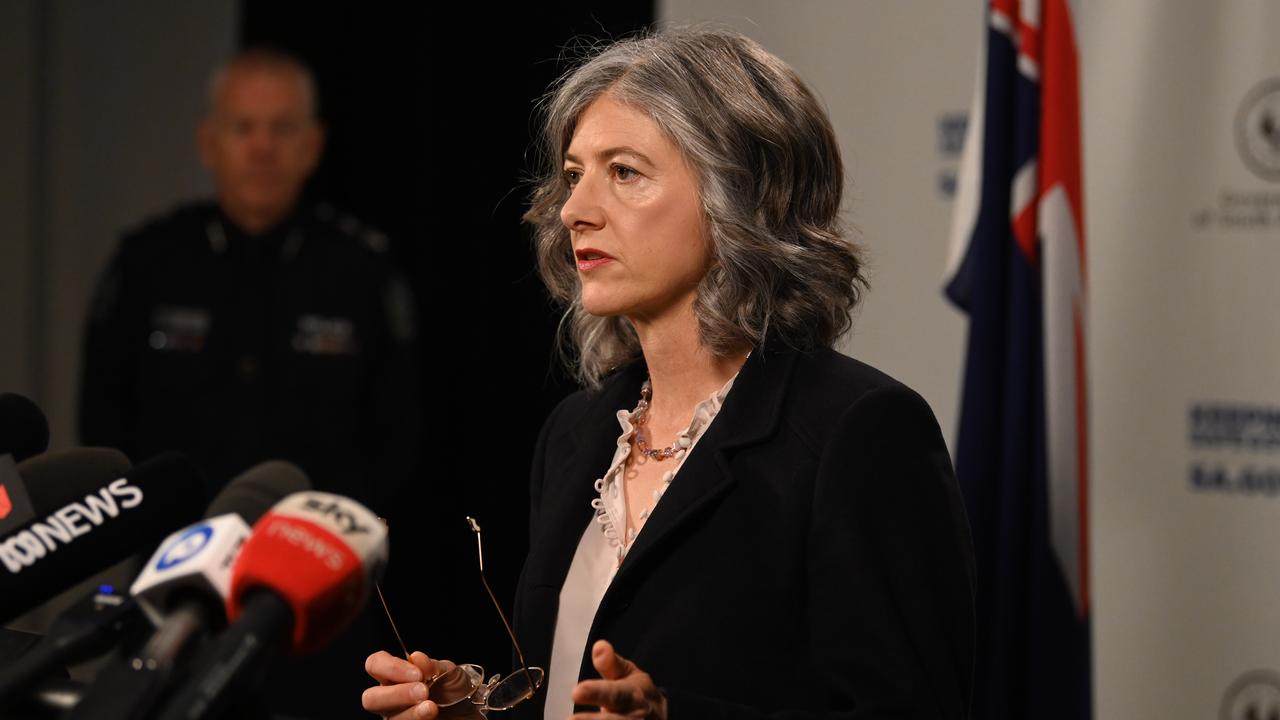 Chief public health officer Nicola Spurrier.
Anyone who visited between 5.20pm and 7pm must also isolate and take tests.
At least 367 people are in quarantine and have so far recorded negative Covid tests, which officials said suggested any potential spread appears to have been stopped.
A possible fourth exposure site along the Dukes Highway has been ruled out.
SA Health announced on Friday night its Tailem Bend testing clinic would operate around the clock from today to meet surging demand.
Adelaide's biggest clinic at Victoria Park is also operating 24 hours a day as it faced massive queues.
This week's surging daily test rates reached nearly 8000 on Thursday. Chief public health officer, Professor Nicola Spurrier, said it was a "great representation". "I cannot urge people enough, especially with the existence of this Covid-19 Delta variant, how important it is to get tested if you develop symptoms, no matter how mild," she said.