They Don't Want You To Travel. Jetstar Dumps 130 Passengers
By Vanessa Brown
More than 100 passengers were forced to sleep on the floor of a community gym or on the couch inside a stranger's house after Jetstar "abandoned" a flight.
More than 100 passengers were dumped and "abandoned" and forced to sleep either on the floor of a ferry terminal or in the home of a stranger, after a Jetstar flight from Hamilton Island to Sydney was cancelled.
Around 130 passengers were ushered onto a ferry from the island to Airlie Beach after flight JQ849 was cancelled late on Monday.
One passenger, who didn't want to be named, said the ferry ventured through stormy waters from the island to Airlie Beach in Queensland, but once all passengers disembarked into the terminal, there wasn't a soul from the airline to meet them or provide further instruction.
"We were explicitly told not to stay on the island and get on the boat as they had a plane sorted to take us all back to Sydney last night," the passenger told news.com.au.
"They shuffle us on a ferry in a storm and then we get to Airlie Beach. No one is here, no communication and no where to stay. I wish I was joking."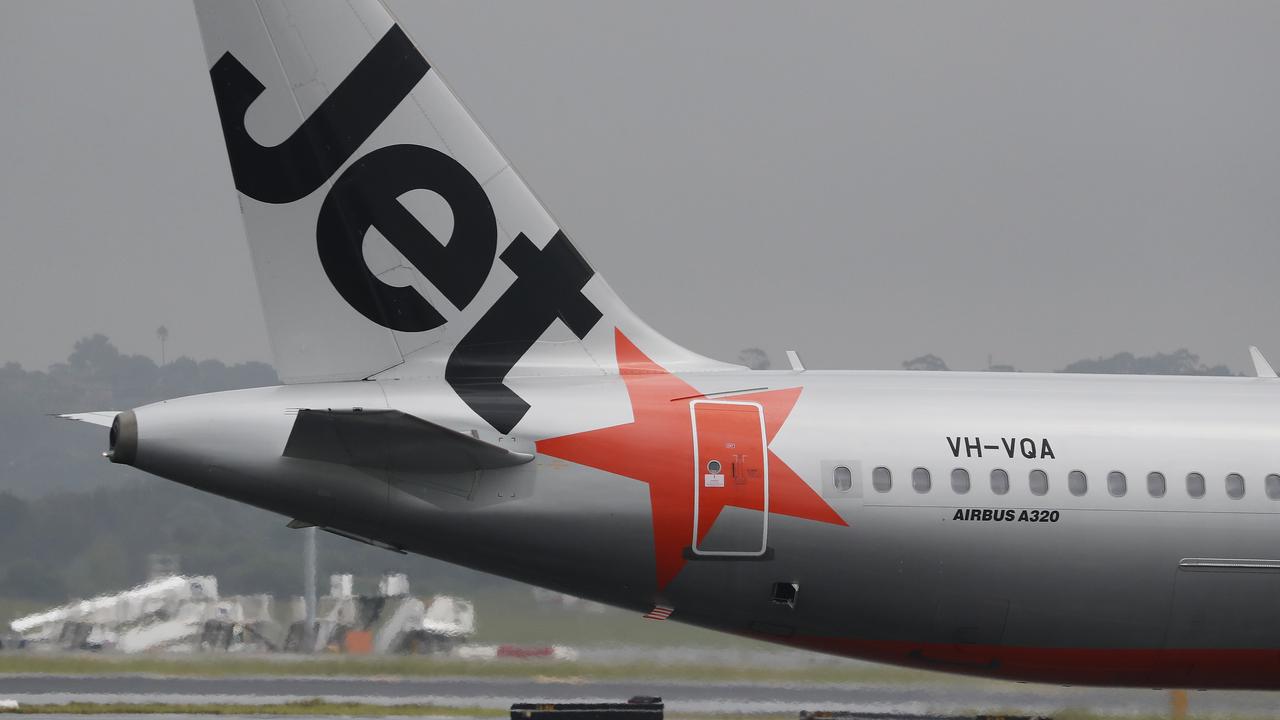 Jetstar allegedly abandoned passengers in Airlie Beach on Monday night after a flight from Hamilton Island was cancelled.
At first, passengers thought they would have to sleep on the floor of the ferry terminal until the morning, however it is understood locals and the local council stepped in to offer a solution.
"The whole town was booked out," the passenger explained.
"The local council opened the PCYC (Police and Community Youth Club) … providing emergency accommodation."
Passengers said locals came forward and not only helped out with food, but also the option of a bed or couch to stay on for the night given the town was heavily booked out due to the school holiday tourism surge.
"Jetstar was just MIA," she explained, adding she was forced to book a Qantas flight on Tuesday morning due to the lack of communication from Jetstar.
"Local families have been offering spare bedrooms and couches … we stayed in a stranger's spare bedroom.
"Other businesses dropped off food for people … the generosity was unbelievable."
Sergeant Billy Li, Manager of PCYC Whitsundays where the passengers stayed if they were unable to find alternate accommodation, told news.com.au that people filed into the gym "wet and cold" and curled up on some of the exercise mats for the night.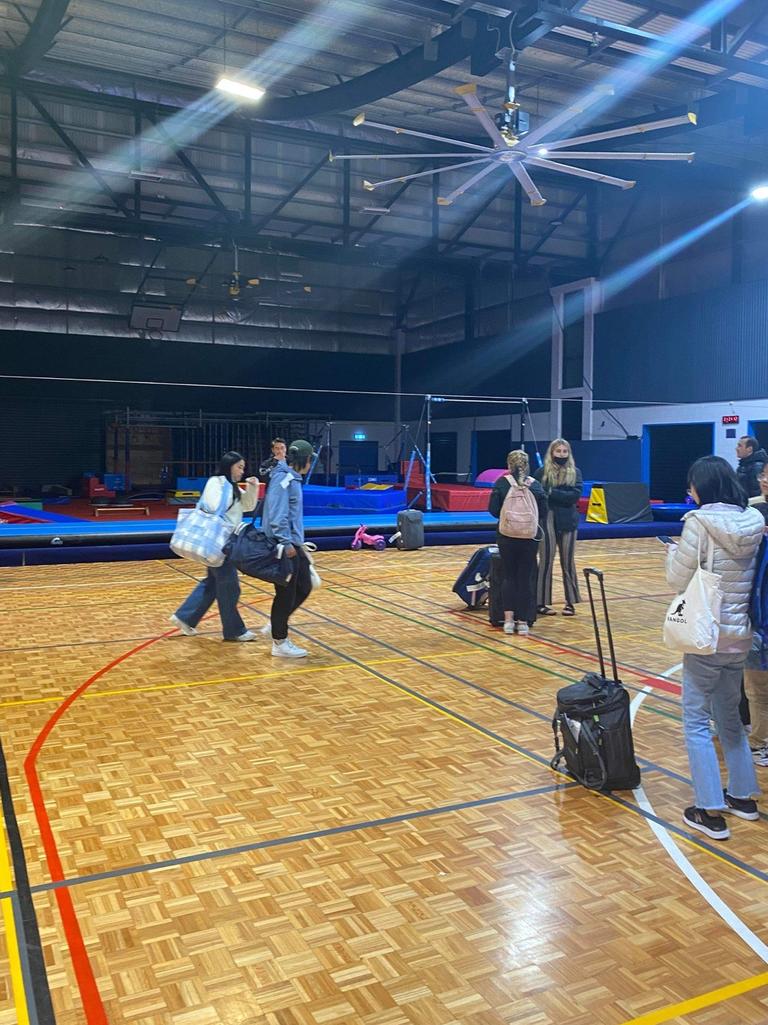 Local council was allegedly forced to open the Airlie Beach PCYC for stranded passengers.
Local businesses provided food for passengers who were "abandoned" in Airlie Beach after a flight from Hamilton Island to Sydney was cancelled at the last minute on Monday night.
"I was made aware by the local council about the situation who asked if I could open the PCYC," Sergeant Billy explained.
"They said they had 100 odd people stranded in the rain, very bad weather, so they are all cold and wet. We have a big basketball court, so we got the soft gymnastic mats out for them to sleep on the floor for the night as well as the bathroom and shower facilities here so they could keep warm."
Sergeant Billy said the community really stepped up to the plate to assist, with many offering spare bedrooms and couches to anyone who wanted a little more privacy for the night.
"There was 100 odd people, some ended up getting accommodation so we ended up getting 70 people initially," he explained.
"The community kept coming to the club to help people and offer their homes, so in the end we had about 20 people staying here."
While there was frustration evident from passengers, Sergeant Billy said the main focus was just getting a roof over their head for the night.
"They just wanted to be dry for the night," he explained.
"They were just grateful they had shelter for the night, otherwise they really had nowhere to go."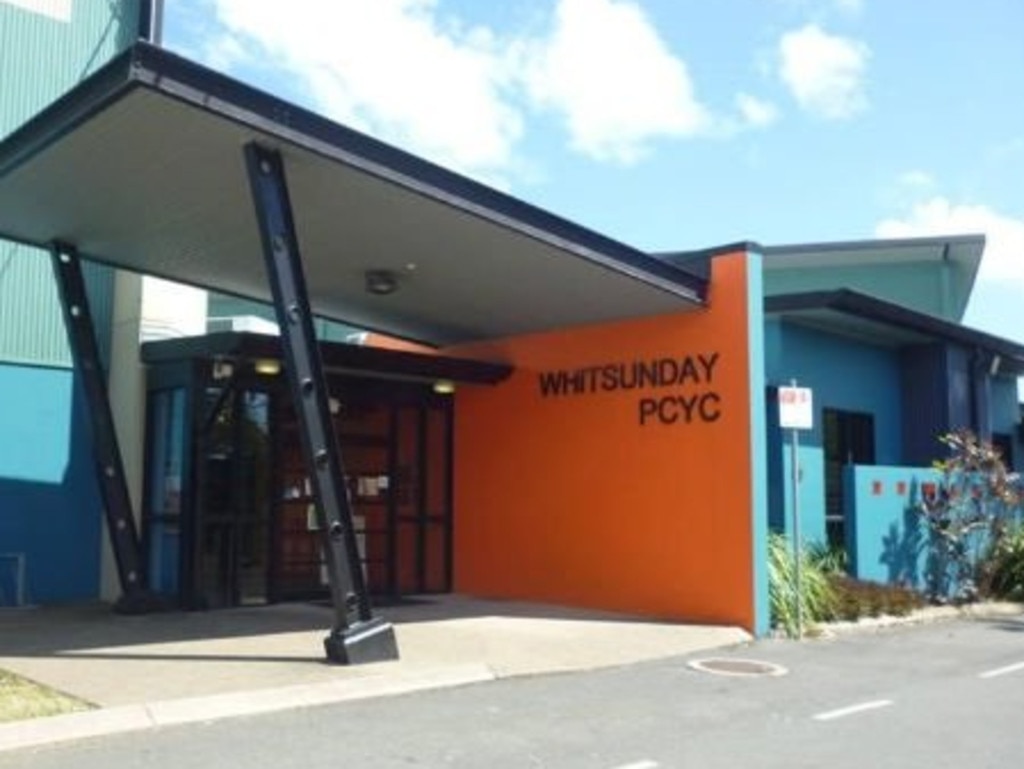 The PCYC where Jetstar passengers were forced to take shelter for the night
Online, passengers were quick to call out the lack of communication received from the budget airline.
"Jetstar have abandoned a Hamilton Island flight in Airlie Beach," one person wrote.
"130+ passengers sitting in Airlie Beach Ferry terminal … unfortunately Jetstar haven't come with us."
In a statement sent to news.com.au, a spokesperson for the airline said they "sincerely apologise and deeply regret the extreme disruption passengers experienced" on Monday evening.
"Due to an engineering issue, our flight from Hamilton Island was cancelled and bad weather meant we were unfortunately unable to operate a replacement flight last night," the statement read.
"Passengers were provided a ferry to Airlie Beach as there was no accommodation available on Hamilton Island.
"Our teams worked hard to try to secure accommodation in Airlie Beach, however there were extremely limited accommodation options available on the Whitsundays Coast. As a result, a local community centre was used to provide accommodation for those who needed it."
The airline extended their gratitude to the local Airlie Beach community and are working to get passengers back to Sydney as soon as possible.
"We will provide reimbursement towards any accommodation, meals and transport costs "incurred as a result of the disruption," the spokesperson added.
We're also thoroughly looking into what has happened to make sure it doesn't occur again in future, and are reaching out to customers individually to sincerely apologise for this situation."
Passengers were left wet and cold after being forced onto a ferry from Hamilton Island to Airlie Beach after the Jetstar flight to Sydney was cancelled. 
Since publication, several passengers involved in the cancellation claim they have been provided with a food and drinks voucher to the value of $8.
The ordeal comes just days after a Qantas flight dumped more than a hundred international passengers at Christchurch Airport on Sunday night after their flight to Wellington was diverted – and no accommodation was provided.
The Qantas flight took off from Sydney, and was destined for the capital but when it missed the curfew for Wellington Airport it was redirected to Christchurch.
No international flights can land at Wellington Airport between 1am and 6am, New Zealand Herald reported.
Mike, a Platinum One flyer with Qantas, told the Herald the passengers disembarked, collected their bags and then were "dumped" in the airport.
"It's 2.30am, there's not a single member of Qantas anywhere … there were plenty of families with young babies and no one was there to help them."
Mike said he and his co-workers slept on a bench before boarding another plane at 8.45am this morning with a $15 food voucher from the airline – something he says was nice, but didn't make up for the poor service.
A Qantas spokesperson told the Herald the flight was diverted because it would not have reached Wellington Airport before its curfew and a new crew had to be flown to Christchurch due to crew duty limitations.
However, Mike said if they knew the flight would not make it to Wellington, it would have been better to not fly at all.
The spokesperson for Qantas apologised to customers for the inconvenience, saying they appreciated the understanding.