Trump Calls Ashli Babbitt's Mother: 'We Are With You'
By Jack Phillips
Former President Donald Trump spoke to the mother of Ashli Babbitt, who was shot and killed during the Jan. 6 Capitol breach, as she held a rally for Jan. 6 prisoners in Washington.
"It's a terrible thing that has happened with a lot of people that have been treated very, very unfairly. We love Ashli and so horrible what happened to her," Trump can be heard saying in a video as he spoke to Micki Witthoeft, the mother, via a speaker phone.
"You look at all of the riots that took place—for a long period of time, not just 2020, the last long period of time, and almost nothing has happened to those people," he continued, referring to the widespread Black Lives Matter-related unrest that occurred in the summer of 2020.
Trump recently said that if he becomes president again, he will issue pardons to some individuals who were charged by the Department of Justice in relation to the Capitol breach.
While Trump did not elaborate on whether he would issue more pardons during his call with Witthoeft, the 45th president said that he is supporting her in her efforts to uncover more details about Babbitt's death. Witthoeft held a rally outside the District of Columbia jail where some Jan. 6 detainees are being kept.
"We are with you. We are working with a lot of different people on this. We can't let this happen," said Trump.
Babbitt, a 35-year-old U.S. Air Force veteran, was gunned down by an officer outside the U.S. Capitol Speaker's Lobby on Jan. 6. Video footage showed Babbitt climbing through a side window into the Lobby and was subsequently shot by Capitol Police Lt. Michael Byrd.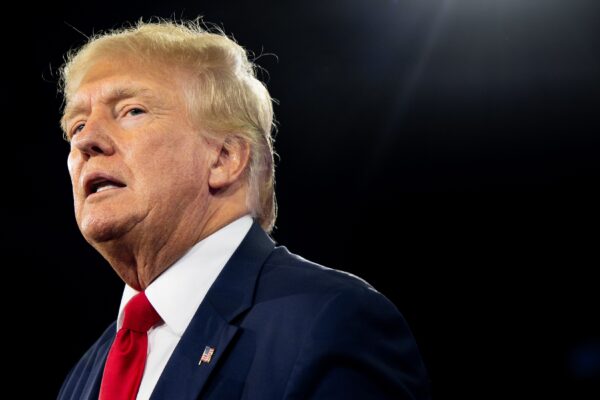 Former President Donald Trump speaks at the Conservative Political Action Conference in Dallas, Texas, on Aug. 6, 2022. 
Her family members, including her husband, have said that she was murdered by the officer, who was not charged in connection with the case. One use-of-force expert told The Epoch Times for its "Real Story of Jan. 6″ documentary that he believes the shooting was unjustified.
"My conclusion … based on what I saw and observed in the video clips, is that Ashli Babbitt was murdered," said Stan Kephart, a 42-year veteran of law enforcement and former director of security for the 1984 Los Angeles Summer Olympics.  "She was shot and killed under color of authority by an officer who violated not only the law but his oath, and committed an arrestable offense," he said.
An attorney for Byrd disputed his assertion, saying the conclusion was "unsupported and erroneous." Byrd, he added, opened fire after Babbitt allegedly entered through the window and "[refused] the verbal commands."