We Must Change': Australia Post Boss Reveals Postal Service's Grim Financial Situation
By Nina Nguyen
Australia Post's boss has warned that the national mail service is at the crossroad as it faces the technology revolutions, saying changes are needed for the struggling service to survive.
Chief Executive Paul Graham on Thursday gave a frank assessment about the organisation's financial situation, which posted a $169 million loss this financial year alone. The service also announced last week 400 jobs were set to be axed by the end of the financial year.
"The bottom line is this: We are spending more and more money to deliver fewer and fewer letters," he told the American Chamber of Commerce in Melbourne.
Graham said the traditional postal service business model has been eroding since the global financial crisis, while the deterioration in its outlook is gathering pace.
"Until the year 2000, mail volumes tracked the economy – growing at around the same rate as gross domestic product – but after Y2K mail volumes began to flatline," he said.
"Then, during the GFC, mail volumes fell by five percent – and they have been falling ever since."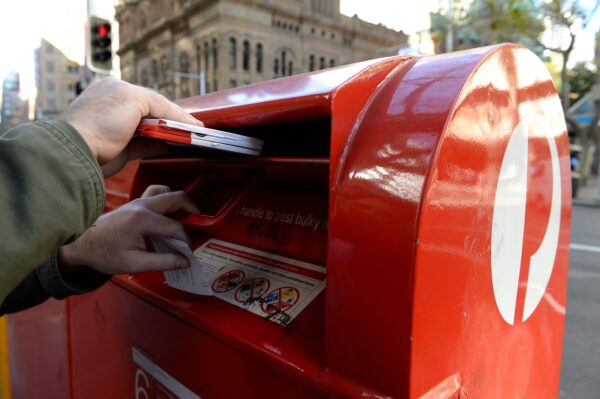 A man posting mail at an Australia Post postbox in Sydney, Australia, Sept. 2, 2013.
Mail volumes then plummeted in 2007-2008 to 66 percent due to the financial crisis.
Today, the average household receives less than two letters per week and sends less than three percent of all mail. Graham noted that the Australia Post office network is also suffering lower foot traffic as digital services dominate over-the-counter transactions and people opt for flexible options such as parcel lockers.
The number will continue to decline, with per-houshold mail volumes predicted to halve in the next five years.
"The reasons for this dramatic shift – email, apps and smartphones – have been well documented," he said.
Australia Post was governed by the 1989 Australian Postal Corporation Act, a regulation that Graham said was no longer "fit for purpose."
"[The regulation was] legislated before the internet boom and the creation of smartphones, when letters were the dominant form of communication, online shopping was yet to take hold, and digital service provision largely did not exist."
"It's a stark message, but the Australian community must understand that without change to their national postal service, its long-term viability is at risk."
It comes after the organisation revealed in March that it was bracing for "significant losses" due to a decline in letter deliveries after the federal government released a discussion paper aimed at modernising the organisation. The paper closes on April 27 at midnight.
"The consultation process that closes tonight will help us develop the blueprint for change. But there is no question we must change."
A Global Decline
But Australia Post is not the only postal service that is facing structural headwinds, as the situation is global.
Graham said postal services overseas that were not supported to change and adapt have not been able to survive, with some dramatically negative impacts on the community and the public purse.
"We do not have to follow that path, but doing nothing is simply not acceptable."
"There have been more than 11 reviews of Australia Post over the past 10 years, and we do not need any more to repeat the same fundamental message: that the status quo is no longer an option for our business."
He urged the parliament to show commitment and goodwill to make the changes necessary to deliver a sustainable future.
"My simple request is to put the national interest first."
"We want to keep Australia Post strong for all Australians and especially communities in rural and regional Australia, but this is only possible if we are financially sustainable."
'An Essential Community Service'
Graham, however, describes Australia Post as "one of the last of Australia's great, publicly owned commercial endeavours." Its financial viability is important because Australia Post is owned by the Australian taxpayer, although the service is not financed by taxpayers but entirely self-funded, he said.
"Qantas is no longer owned by Australian taxpayers, neither is Telstra. Australia Post is.
"We're proud to be a self-funded public enterprise – and we want to remain that way.
"We want to keep delivering essential public services to Australian communities and businesses – without taking a penny from consolidated revenue. That is funding that should go to schools and hospitals, not Australia Post."
The service has over 4,000 offices nationwide, covering "every corner" of the country, and a workforce of more than 65,000 direct or indirect employees.
He described Australia Post as "an essential community service – like water or gas or electricity."
"That's why nothing stops us. Not even the pandemic," he said.
"When much of the country was locked down due to COVID-19, we kept open and kept delivering.
"In addition, we are the backbone of the digital economy – especially Australia's $67 billion online retail industry, delivering over 500 million parcels in FY22.
"In summary, our DNA is not changing, but we need to evolve to better meet our customers' expectations in the modern economy."