Westpac: Record Immigration Drives "Sharp Escalation in Rents"
By Unconventional Economist in Australian Property
Westpac's latest Housing Pulse estimates that a record high 400,000 net overseas migrants landed in Australia in 2022, which was also the second highest growth rate (i.e. as a share of the total population) since the end of the Second World War: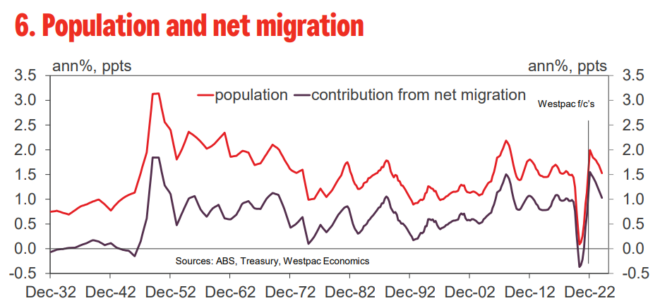 Westpac also expects net overseas migration to remain red hot in 2024 and 2025.
"It's just over a year since Australia's external border reopened and all signs suggest net migration inflows are continuing to outpace expectations".
"Westpac now estimates that net migration totalled +400k in 2022, reflecting a temporary 'catch–up'".
"A gradual easing is expected to emerge over the course of 2023 and 2024, to +350k and +275k respectively", the report notes.
Westpac blames the record immigration inflow for the severe tightening of Australia's rental market and the "sharp escalation in rents".
"The stronger–than–expected surge in migration also helps explain the significant tightening in rental markets and sharp escalation in rents", the report notes.
"Sydney and Melbourne in particular have seen rental vacancy rates drop 1.7ppts and 3.5ppts respectively since late 2021 while asking rents are rising at 15–20%yr across the board (noting that vacancy rates were already at very low levels in other capital cities)".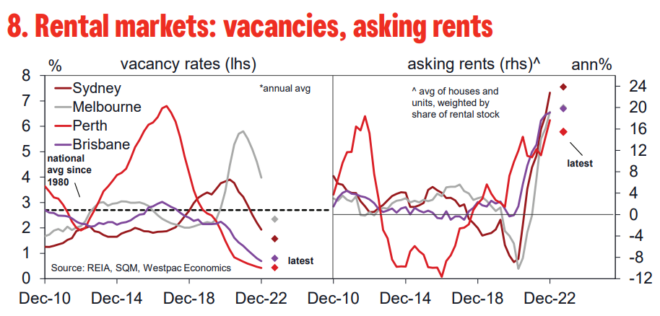 Westpac estimates that the stronger than forecast immigration "adds about 30k a year to the underlying demand for new dwellings taking it to just over 200k a year".
And this will occur "at a time when new building is set to fall away, especially once the large backlog of unfinished detached houses rolls off".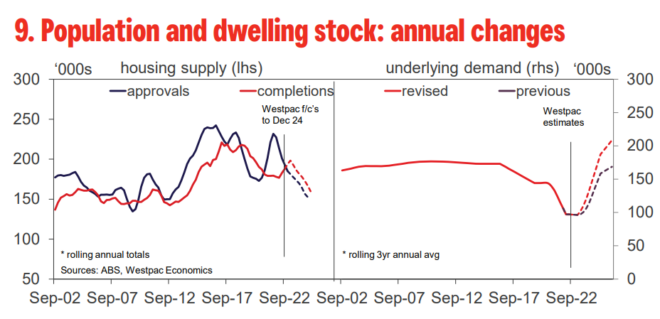 In other words, Labor's record immigration push is behind Australia's rental crisis.
Where will the hundreds of thousands of extra migrants expected to arrive every year live when there is already a chronic shortage of homes for the existing population?
The only outcome from Labor's 'Big Australia' immigration policy are permanent housing shortages, rising rents, and increased homelessness.