Who and Why Inside The Government Blocked Not Just the ADF Helping Rescue Flood Victims but Also "Standby Emergency Helicopters"
People still don't get that we are under attack..
Private helicopter operators say they were never called upon by the NSW government to assist during this month's flood emergency, even though it pays them to be on standby so they can rapidly respond to natural disasters, including floods.
Multiple businesses confirmed to the Herald that their aircraft – specially equipped to respond to catastrophic situations such as the flooding event – remained grounded throughout the crisis while they awaited a call to help that never came.
The pilots said they were perplexed and frustrated at the decision not to draw on their resources, amid reports locals were so desperate for help they were forced to charter helicopter flights themselves or use crowdfunding campaigns to cover the expense.
The owner of one of the businesses approached by the Herald, Mark Harrold of Sydney Helicopters, said the situation was ridiculous.
"We have the capabilities and the community, I understand, has been screaming for these kinds of resources."
Mr Harrold said he was blindsided when his aircraft were deployed to Cooma on March 1, while on the other side of the state, Ballina was being evacuated and two people died as floodwaters peaked in Lismore.
"We were expecting the phone call to go to Ballina and were told to go to Cooma, and it was like, okay, really? So we flew from Penrith to Cooma," Mr Harrold said.
"We sat there for a day and-a-half in Cooma and obviously didn't do anything, and then we were stood down."
The revelations are likely to reignite controversy over authorities' handling of the flood disaster, with both state and federal governments already under fire over allegations an anaemic official response left locals to fend for themselves.
The NSW Rural Fire Service (RFS) operates the State Air Desk, which tasks aircraft to assist during fires, floods and storms.
At its disposal is a growing fleet of in-house RFS aircraft, as well as a pool of helicopters belonging to private operators who are under contract with the RFS to assist during emergencies.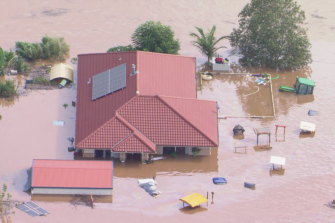 Sydney Helicopters flew to Cooma on March 1, despite Ballina being under water.CREDIT:
An RFS spokesman said the NSW SES was the lead agency during the flood disaster and was responsible for determining the number of aircraft required and where they were deployed for flood rescues, transport, resupply and reconnaissance purposes.
"All requests for aviation support received from the NSW SES were actioned by the State Air Desk," the spokesman said. "Alongside government aircraft … private operators were and continue to be utilised across the state as part of this flood emergency."
However, the manager of a helicopter business that wasn't contacted by the State Air Desk during the floods said they were "absolutely" surprised about it.
Their government contract requires the business' helicopters are fuelled and have crew on standby so they can be deployed with fifteen minutes' notice.
"If someone from the government told them [there was no demand], they're being lied to."

Ross Meadows
"We're still on one of those contracts and haven't been deployed which says to us that we're not needed. But it's contradictory to what we're hearing in the reported media," said the manager, who declined to be identified due to concerns about repercussions for the business.
The manager said their helicopters were highly specialised and fitted with winches and hooks to meet strict government requirements. "It's not feasible for the general public to charter that calibre of aircraft. It's not fair."
Ross Meadows spearheaded a crowdfunding campaign to source helicopters privately to drop supplies to flood victims across northern NSW.
He was stunned when the Herald put it to him that private helicopter operators were given the impression there was no demand for their services. "If someone from the government told them that, they're being lied to."
Mr Meadows said his team's helicopters arrived to find the town of Coraki "decimated".
"We were the first ones there and the only ones there. I'd say nearly every single person we went to had received no food and had pretty much no food left.
"There could have been another five aircraft in the air, without a shadow of a doubt."
Trevor Breed, the owner of a commercial helicopter business based at Bankstown Airport called Helitreck, circulated a letter of complaint to multiple MPs on Friday.
In the letter, Mr Breed said he was contacted in late February by an acquaintance who was on the ground in Lismore aiding the emergency response, who alerted him to a shortage of helicopters.
Mr Breed said he contacted the State Air Desk and was told "they did not require any help at this stage, but there may be some requirement in a few days for fodder drops to livestock".
He opted to send two helicopters to the Northern Rivers at his company's expense.
One was allocated 21 hours of work by the State Air Desk and the other "sat for six days without turning a blade".
"We could see we were not going to be allocated any work and both aircraft returned to Bankstown," he wrote. "It seems the RFS and its State Air Desk are allocating most of the work to themselves.
Sydney Helicopters' Mr Harrold said pilots had to undergo years of training to be able to assist with emergency work and their expertise would be lost if their services were not called upon. "Then you're not going to get that pilot resource for the future when required."
Responding to questions about Mr Harrold's aircraft being sent to Cooma, the RFS spokesman said some aircraft were "preemptively deployed at the request of the NSW SES to parts of the state where flooding was forecast by the Bureau of Meteorology".
"However in some cases, flooding did not eventuate," the spokesman said.
The NSW SES did not respond to the Herald's questions before deadline.